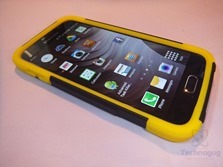 So I'm back again with another review of a case for my Samsung Galaxy S6, this one is another from Collen but this one is the rugged dual layer style which will provide good protection at an inexpensive cost. The case is decent overall, I like it, especially the yellow and black color scheme. Read on to learn more..
Specifications and Features
Once you unpack everything you'll find the case, installation instructions, glass screen protector in styrofoam and cleaning wipes.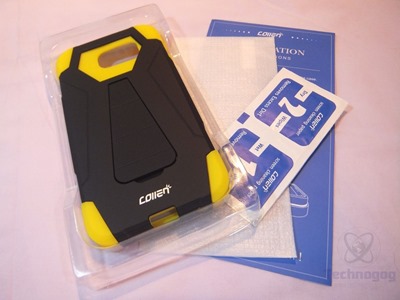 The screen protector is glass as I just mentioned and I broke it by accident so obviously I didn't install it on my phone but I already had a screen protector on my phone so I don't think I was going to install it anyway.
The case is yellow and black in color with the Collen logo in white on the back at the bottom.
The case is dual layer with a yellow rubber or silicone inner layer and a black plastic or impact resistant polycarbonate outer layer or shell as they call it.
The case is for the Samsung Galaxy S6 which is obviously what I have or I wouldn't be reviewing this case right?!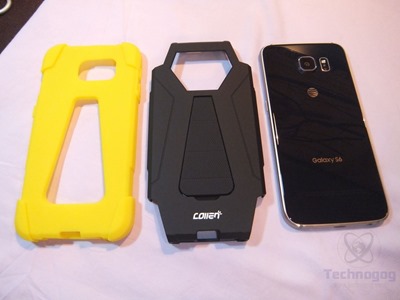 The silicone layer is very stretchy and you just pull and stretch the case over the phone, very simple to do.
You just basically push the second layer over the yellow silicone layer to install it. The black and yellow together look very nice, they give it a very rugged look. The black goes around the camera opening and doesn't interfere with the camera or flash.
The stand on the back of the case pops out and locks itself into position to hold the phone upright for landscape viewing on your desk.
The case has openings for the speaker, microphone, audio jack and the infrared port along with buttons over the buttons on the phone that stick out so you can easily feel them without looking.
The yellow rubber part of the case does come up over the edges of the phone to further protect it which is something I like to see in a case.
Conclusion
This Collen rugged case does add some bulk to the Galaxy S6, but that's to be expected as it's a rugged two layer case, but it seems it will do a decent job of protecting the phone inside.
The yellow and black colors are a nice combination, to me yellow and black also meant rugged, sort of like my DeWalt tools I have I guess.
The case is inexpensive for a rugged case but it's well worth it for sure as most rugged cases of this type will typically cost three times as much as this one from Collen does.
I don't think I'd use the stand, but it's a nice bonus to have it there if need be.
If you're looking for inexpensive and rugged protection for your Galaxy S6 then this case is for you.
Pros:
+Inexpensive
+Rugged dual layer protection
+Doesn't interfere with phone
Cons:
-None really
| | |
| --- | --- |
| Grading | Scores Out of 10 |
| Overall | |
| Design / Aesthetic | |
| Value / Price | |
| Performance / Usage | |
Disclosure: This product was given to us for review by the company for review purposes only, and is not considered by us as payment for the review.
To learn more about our review policy please visit this page HERE.