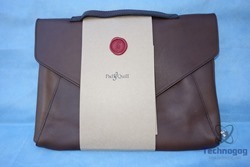 With the change of seasons to fall it means its back to school time for many folks. Today's review item is from the folks at Pad & Quill who are known for their Apple accessories, which are handcrafted, using the highest quality materials. The Valet Leather iPad Pro Bag is designed to house the larger iPad Pro with its 12.9" pocket. In addition it can carry a Bluetooth keyboard, documents, AC chargers or other small items. If you use an Apple Pencil, there are two penholder slots as well.
Specifications and Features

Pad & Quill Valet Leather iPad Pro Bag
Mad Men meets the Wild West, this slim bag is made from full grain U.S.A. steer leather and lined with our signature 24-oz filter twill waxed canvas. It has enough room to fit an iPad Pro 12.9 or 13″ laptop along with all the necessary accouterments.
The Valet Leather iPad Pro Bag: Your Personal Assistant In Disguise
When do you call a leather bag a sleeve and a leather sleeve a bag? It all becomes confused with the sheer epic-ness of Apple's new iPad Pro. Not to mention the assortment of accessories such as the Apple Pencil, charger cords, and the Smart Keyboard which make keeping it all organized a nightmare.
Thankfully, Pad & Quill's new luxury Valet Leather Bag for iPad Pro is crafted with the stream-line simplicity of a sleeve, has all the organization of a personal assistant, and includes the versatility of our luxury leather bags. Our design team integrated American Full-Grain Bridle Leather, parachute grade stitching, and our signature bookmark accent into a bag which bundles all of your essentials into one gorgeous, easy to transport parcel.
With a main pocket for the iPad Pro, a secondary pocket for the Smart Keyboard, two pen holders for the Apple Pencil, and yet another pocket for the cord and charging block the leather Valet Bag for iPad Pro is the perfect personal assistant with just a fraction the salary.
Valet Leather iPad Pro 12.9 Bag Features:
NOW with handle on top
Free Domestic Shipping
Made with American Full-Grain Bridle Leather
Dedicated iPad Pro 12.9 pocket
Fits iPad Pro 12.9 with Contega Slim or Oxford case
2 pen holders for Apple Pencil
Spacious secondary pocket for keyboard and documents
Additional pocket for charger cables and block
Secure flap with our signature tuck-locking bookmark accent
Parachute grade stitching
25-year leather warranty & 30-Day Money Back Promise
Dimensions: 13.5 in x 10 in x 1.5 in
Price: $109.95 (from Amazon at time of review)
The Review
The Pad & Quill Valet Leather iPad Pro 12.9 Bag ships in a plain white cardboard box featuring an enthusiastic greeting on the inside flap – "Huzzah! Welcome to the beginning of something awesome!"
The bag is wrapped in bubble wrap and is protected by a plastic sleeve. It comes sheathed in a thin cardboard wrapper sleeve closed with a Pad & Quill embossed wax seal. The use of the wax seal makes the bag seems like it was shipped from Westeros. It is geeky but unique and memorable.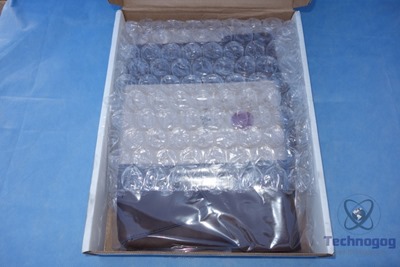 Opening the wrapper sleeve reveals another message – "Welcome To The Family" along with an invitation to post your Pad & Quill accessory on social medial using the #padandquill hashtag. The rest of the sleeve lists the satisfaction guarantee, 25-year leather warranty, and email contact information.
The Valet Leather iPad Pro12.9 Bag comes in three-color choices – Galloper Black, Chocolate or Chestnut. For our review we received the Chocolate version. The bag case measures 13.5" x 10" x 1.5" and is constructed with American Full-Grain Bridle Leather which is held together using parachute grade stitching.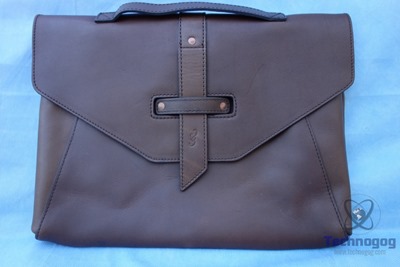 The largest pocket sits in the rear of the bag and this is for holding the iPad Pro. During my testing I found it also could accommodate a 13" MacBook Air or 13" MacBook Pro Retina. The MacBook Air 13" was a little snug due to it's width while the MacBook Pro Retina was able to slide in and out comfortably with its smaller form factor.
A divider separates the bag into a secondary pocket designed for holding documents or a keyboard. An additional smaller pocket is available for charger cables and/or adapters.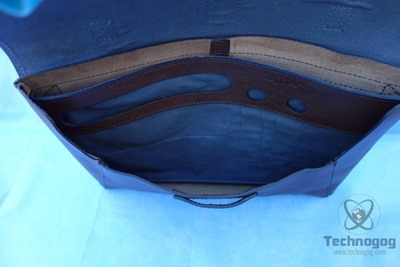 The Valet Leather iPad Pro12.9 Bag closes with a secure flap with the Pad & Quill signature tuck-locking bookmark accent. On the top of the bag is a handle for carrying the bag.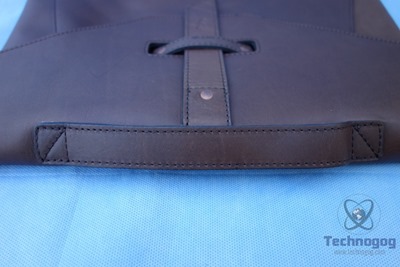 The first thing one will notice about the Valet Leather Bag for iPad Pro is its quality build and craftsmanship. The leather is thick yet slightly buttery. Once this bag has been broken in for a few months it will become even suppler.
For testing the Valet Leather Bag for iPad Pro I used both the large iPad Pro housed in a Contega case, a 13" Retina MacBook Pro (Early 2015) as well as a 13" MacBook Air (2011). Each device was individually able fit inside the Pad & Quill Leather Bag, although the MacBook Air was slightly more snug and will require a break in period before it will quickly slide into the bag.
Inside the bag are additional pockets where I was able to pack either a MacBook Pro/Air or iPad Pro charger and cable, along with a Logitech Bluetooth keyboard. In addition there was room for papers and folders as well as an Apple Pencil or other pens/pencils.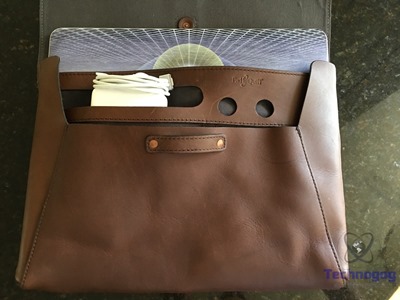 The bag closes by locking the bookmark accent on the top flap through the loop found on outside the main pocket. This system keeps the bag closed but does not seem as sturdy as a frame/prong system found on a belt closure.
The Valet Leather Bag for iPad Pro can be carried using the handle or as a portfolio. For those who wish to sling the bag over one's shoulder, sadly there are no straps on this bag.
Overall this is a beautiful looking travel bag that is appropriate for all types of settings.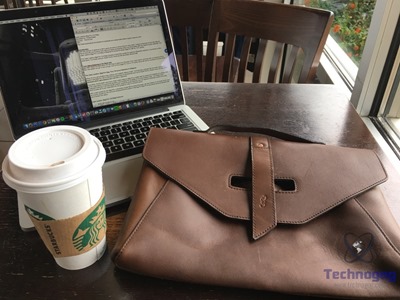 Conclusion
The Valet Leather Bag for iPad Pro is an elegant bag for transporting your tech devices such as iPads, 13" or under laptops, etc. Pad & Quill made this bag using the same quality materials and expert craftsmanship that we've grown accustom to from them. If you want something elegant, sturdy and well designed then the Valet Leather Bag for iPad Pro is an excellent choice.
Pros:
+Fits largest iPad Pro
+Can house 13" MacBook Pro or MacBook Air
+Gorgeous appearance
+Hand crafted
+Well designed
Cons:
-No shoulder strap
| | |
| --- | --- |
| Grading | Scores Out of 10 |
| Overall | |
| Design / Aesthetic | |
| Value / Price | |
| Performance / Usage | |
Disclosure: This product was given to me for review by the company for review purposes only for free or at a discounted price.
To learn more about our review policy please visit this page HERE.