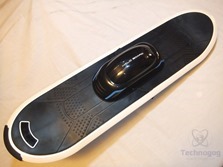 Up for review today I've got something fun, what should really be called a hoverboard and not those two wheeled things out there now, but that's another story. The product is called the Halo Board and it resembles a big skateboard and it's similar to a snowboard, it's like a cross between them both. The Halo Board has a single dual wheel in the center at the bottom of the board and that's it, you balance on the board and go forward and back by leaning either way. The board also has built-in Bluetooth speakers so you can even listen to music while riding. The board has bright blue LEDs all around the outside edge that make for a very nice look, especially in the dark. My kids and I had lots of fun learning and then riding the Halo Board. Read on to learn more and see a few video of the Halo Board in action….
Specifications and Features
SPEED: UP TO 12 MPH
RANGE: UP TO 12 MILES
TIRE SIZE: 8 INCH NON-FLAT TIRES
WEIGHT LIMIT: 45 TO 264 LBS
CHARGE TIME: 1 HOUR
NEW SELF BALANCING: HALO BALANCING TECHNOLOGY
HILL GRADE: UP TO 18 DEGREES
WEIGHT: 25 LBS
HALO LED LIGHTS: YES
BLUETOOTH SPEAKERS: YES
BATTERY LIFE: UP TO 2 HOURS
BATTERY: CERTIFIED SAMSUNG LITHIUM ION BATTERY
CHARGER: UL CERTIFIED CHARGER
GUARANTEED WARRANTY
Price: $1,097.00   (from Halo Board at time of review)
The Review
Let's start with a video overview, it's sort of an unboxing without the box as the official box wasn't ready at time of review:

Included in the box was the Halo Board and the charger, standard stuff.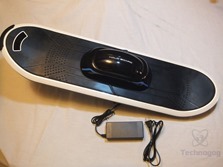 The first thing you'll notice abut the Halo Board is that it's heavy, it weighs in at 25 pounds which might not seem like a lot but it is really. The board is about 33 inches long and about 9 inches wide and about 1.75 inches thick. The Halo Board is made of plastic but it's thick and well made.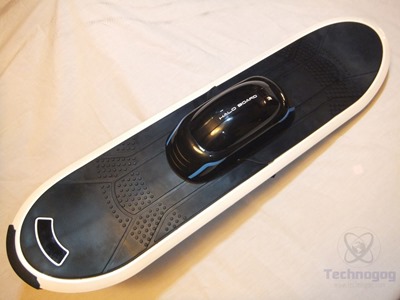 The top of the Halo Board is covered in a non-slip rubber surface with raised dots at the front and back where you would put your feet. The front of the board has a semi circular section that's about 3.5 x 1 inches which is the battery level indicator.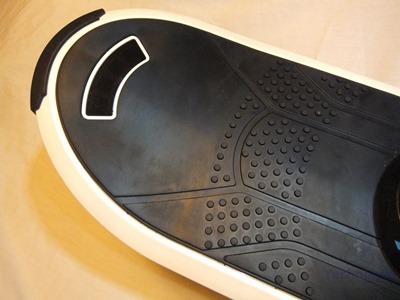 On the left side of the board is the main power button and the charging port with a rubbed cover over it. When you turn the board on it beeps and talks and says Halo Board Bluetooth is ready to connect and the lights on the sides of the board light up a bright blue as well. The profile of the board is similar to a skateboard but I think it more resembles a snowboard myself with the upturned front and back. The Halo Board certainly has a futuristic look to it and I like it.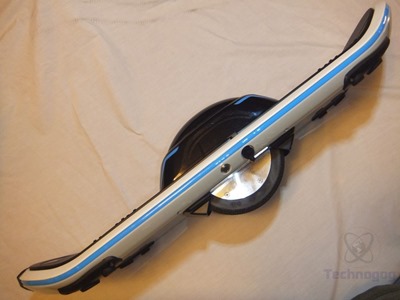 The wheel on the bottom is actually a double wheel and looks like an all-terrain tire and it has a metal 'hubcap' on it.
The front of the board has three bumper pads, two on the bottom and one at the front. There is also a single LED here which is set between two speakers. The speakers are Bluetooth and fairly loud and nice and clear so you can enjoy music while you're riding.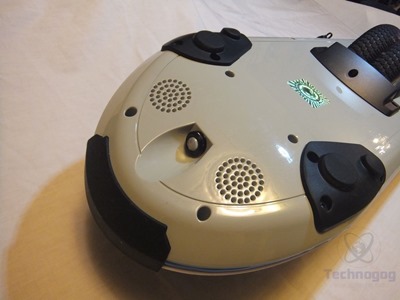 At the back edge of the board is two more rubber bumpers and then an oblong hole which is the handle so you can easily carry it around with you if need be.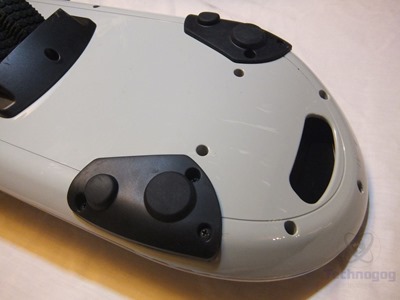 The Halo Board has blue LEDs all around the outside edge which makes for a nice look in the dark for sure. It also has a single bright blue LED on the front underneath that sort of acts like a headlight. On the top, towards the front is a set of LEDs that indicate battery charge so you can easily see how much battery is remaining while you're riding. The board really looks nice at nighttime, it makes it look as though it's floating like a UFO almost.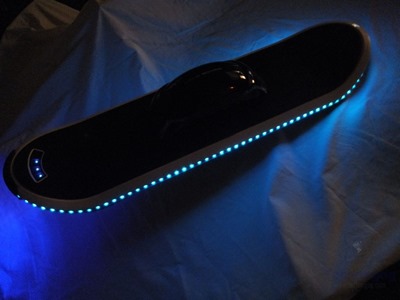 Here's a few pictures of my kids riding and learning to ride. On the official Halo Board channel is an instructional video telling you to hold onto someone while riding to make learning easier, and it does work.
To ride the board you put your back foot on the back of the board and then your front foot on, when you push down with your front foot the Halo Board will move forward, the harder you press down the faster the board will move. To slow down you just shift your weight towards the back, and then you actually go backwards by leaning all the way. The board does have a bit of a learning curve, but a couple or few hours of practice and you'll be good, but if you have experience with skateboards or snowboards you'll learn faster. It's been many, many years since I was on a skateboard and my kids never were really and I picked it up fairly quickly, maybe about 2 hours and I was riding along just fine for long periods. My kids took a bit longer, but as time went by they got better. A big thing to note is make sure you wear protective gear while learning as you can get hurt (even after learning). My son Nick is 14 and he was wearing a helmet but fell off and he got a slight concussion and some scrapes and a black eye but he's fine now, just really down for two days and he was fine.
Now I've got a few video for you of the kids and I learning to ride the Halo Board and then riding it fairly well:
The first video is of my kids learning to ride, this was the first time they rode it:
The next video is of my 14 year old son Nick riding after a couple/few hours practice:
Here's a video of a 11 year old son riding it, he's still learning but doing very well:
He's me riding the Halo Board, I picked it up faster than my kids, but I'm still not perfect yet:
Finally here's a first person video of me riding the Halo Board, I was holding my phone and riding at the same time:
As you can see it's fun to ride really, and it's well made, we beat it up quite a bit between the four of us.
One small issue is the pads on the bottom of the board, it would be nice if they included replacements as we did rip of two of them.
Conclusion
So I'm 44 years old and I love the Halo Board, I got it for review more for my kids, or at least that's what I told myself as I think I've rode it more than they have combined.
The Halo Board does have a slightly high learning curve to riding it, but if you have any experience with skateboard or snowboard you should be fine, but even then just an hour or so of practice and you'll be good.
I'm very much impressed with the build quality of the Halo Board, my kids and I really rode it a lot and honestly it got a bit beat up but it still works great. The rubber pads took a beating but eventually ripped off and no replacement are included.
Battery life is impressive, you can ride for hours, specs say up to two hours but we easily got way more than that.
The built-in speakers are nice I guess, but personally I would never use them, but my 15 year old son just thought that was the greatest thing having the ability to connect his phone to the board and play music.
All in all I very much like the Halo Board, it's a lot of fun to ride and just cool really. My kids have a lot of fun riding it, they couldn't wait to try it out. If you're looking for something interesting and fun other than those two wheeled fake hoverboard then give the Halo Board a try, you'll be happy you did.
Pros:
+Very well made
+Built-in Bluetooth speakers
+Looks great at night
+Lots of fun to ride
+Long battery life
Cons:
-Fairly high learning curve possibly
-Might be considered expensive
| | |
| --- | --- |
| Grading | Scores Out of 10 |
| Overall | |
| Design / Aesthetic | |
| Value / Price | |
| Performance / Usage | |
Disclosure: This product was given to me for review by the company for review purposes only for free or at a discounted price.
To learn more about our review policy please visit this page HERE.