Today for review I've got one of my favorite types of products, yes it's the NAS box! This one though is from a company that you might not expect, Patriot Memory. Today I'm taking a look at the Valkyrie 2 Bay NAS box, not only do I have the normal stuff to show you about this product but I've put it up against eight other NAS boxes for comparison. The Patriot Valkyrie is the least expensive NAS box that I've reviewed, but how doe it hold up against ones that cost 2-3 times more? How is the performance in comparison and the features? Read on to find out…

We'll start off with the video unboxing for you:
Then I've got the still pictures for you:
The Valkyrie is packaged well in styrofoam.
Included with the NAS Box is the power supply, ethernet cable, user manual and software disc.
The box itself is nicely made, with a metal housing to help keep the heat down. The right side has the Valkyrie logo and the left side just says nas storage.
The has several LEDs on it to indicate power and both HDD and USB activity, along with the main power button and a USB port.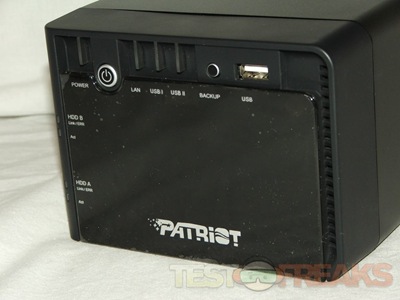 The front is actually a door that folds down to reveal the hard drive cage and the racks.
Once the racks are out you can see the cooling fan and the SATA connectors inside:
On the back you'll find the power connection, ethernet port, cooling fan and another USB port along with a reset button.
Specifications:
Valkyrie 2 Bay Network Attach Storage
PCNASVK35S2
The Patriot Valkyrie Dual Bay NAS device is ideal as a central storage server, digital media hub, or FTP server for remote users. Valkyrie is equipped with two 3.5″ drive bays, a 500MHz embedded processor, 128MB of RAM., fast Gigabit network capabilities, RAID 0, 1 and JBOD support to keep your data safe and secure. Some of the built in features are: UPnP media server, iTunes server, user/group management, One Touch Backup (OTB), scheduled backup, PC-less download via P2P Network, Active Directory Services (ADS), and Dynamic DNS. The easy to use interface and comprehensive setup options bring the versatility of a robust network storage device to everyone.
Features:
* System: Embedded 500MHz Processor / 128MB Embedded Ram / 16MB Flash
* 10/100/1000 Ethernet
* Built in RAID 0,1, JBOD
* Supports SATA II, up to 4TB storage
* Supports USB external storage
* Supports Network file protocol CIFS/SMB/AFP/NFS/HTTP/FTP
* Supports UPNP Media Server
* Supports user / group management
* Supports folder management
* Supports OTB (One Touch Backup)
* Supports Unicode file name
* Supports system backup, scheduled back and direct USB backup
* Supports FTP, iTunes and Print servers
* Supports PC-less download (BT/HTTP/FTP/e2DK (emule/edonkey))
* Supports ADS Active Directory Services
* Supports Dynamic DNS
* Supports multi-lingual user interface
Price: $165.00 (From Amazon at time of review)

To start off with I'm using two Western Digital Caviar Black 750gb hard drives, the same ones I used for my Nas Roundup I did a while back.
To install the drives in the racks you remove the black plastic spaces and use the provided screws to attach them the racks, very easy no problems there.
Here's the Valkyrie when it's powered on and active:
The easiest way to access the Valkyrie is run the program on the disc. From here you can launch the web interface to get it all set up and running.
On the main page you're greeted the System Info of the Valkyire: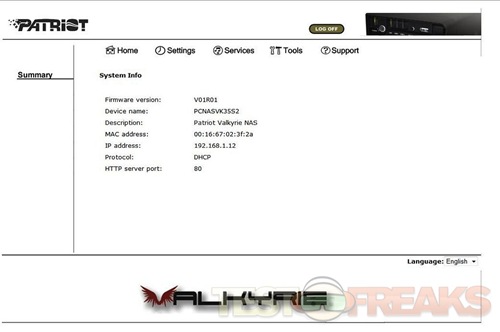 The first thing you'll need to do is initialize or format your hard drive and get them set up in Raid if you want to. I've got them set up in Raid 1.
If you click on Settings at the top, then appear down the left side are several options for Devices Settings, Network Settings, Disk Management, Disk Settings, User Settings, Group Settings and Folder Settings. Just click the pictures below to see them larger.
On the top of the interface you've got even more options. Under the Services tab you can set ADS, DDNS, FTP, UpNP, iTunes, Downloads, MLdonkey, Print Server and Backup.
Then we have the Tools tab where you can access System things like Restart, Scheduling, Backup and Restore and reset to factory default. You can also update the firmware, configure the admin section and check out the system log.
One thing odd about this NAS box is that there actually is no web interface for users without admin rights to access the box, they'll have to FTP into the box to access their folders and files. To me it's no big deal as I work with FTPs all of the time, but to the novice user they may have no clue and not understand what to do.
The box itself is fairly quiet, I've got it turning right now sitting less than two feet from me on my desk, there is slight hum coming from it but nothing overly loud, my typing this actually is louder… Then again I do have a loud clicky keyboard!
The main reason I used the same hard drives as before was so I could just add the Valkyrie into my comparison charts. My computer and network setup are the same as before.
So as of now I've got nine different NAS boxes form companies like Synology, Qnap, Thecus, Seagate and now Patriot.
For my testing I test the transfer speeds and times from my computer to the NAS boxes of three different things, Small Video File Transfer (900Mb), Large File Transfer (3.02GB), and a Files and Folders Transfer which is a total of 3.02GB with 874 files within 199 folders.
We'll start with the Files and Folders Transfer Test:
The Patriot Valkyrie comes in second slowest…
The next test is the large Single File test:
Again the Patriot comes in second to last here as well..
and the final test is the small file test:
and yet again the Valkyrie is in the same position.
The Valkyire might not be the fastest of the bunch, but it is certainly the least expensive.
I went to Amazon and grabbed the lowest price for each box:
Qnap TS-109 Pro II  = $249
Patriot Valkyrie = $165.00
Qnap TS-210P = $399.99
Thecus N2200 = $179.00
Qnap TS-419P = $599.99
Black Armor NAS110 = $237.95
Black Armor NAS220 = $279
Thecus N3200 Pro = $354.59
Sysnolgy DS209 +II = $459.99
The one that comes closet is the Thecus N2200 but it's still about $15 more. The others aren't even close to the price of the Valkyrie.
For the price you can't get much better truly than the Valkyrie. It might not have all of the features of higher priced NAS boxes but it's close, it has most of them.
Conclusion:
For the price you can't find a better NAS box I'm sure. The Patriot Valkyire might be budget priced but it dos have the features of those costing two-three times more than it does.
Overall I like this little NAS box, it's easy to use and set up, it's well made and it's quiet. It might not be the fastest out there, but it's still faster than using USB to store your files, and this way you can access them from anywhere.
If you're looking for a decent NAS box but don't want to spend a lot of money, then you can't go wrong with the Patriot Valkyrie.
Pros:
+Nicely made
+Easy to use and set up
+Front USB port for easy access
+Relatively quiet
Cons:
-A bit slow, but not the slowest
-No web interface
| | |
| --- | --- |
| Grades: | |
| Overall | |
| Design | |
| Performance | |
This product was given to technogog for review by the company for review purposes only, and is not considered by us as payment for the review, we do not, and never will, accept payment from companies to review their products. To learn more about our review policy please visit this page HERE.