If you've read any of my NAS reviews then you'd know that I'm a big fan of NAS boxes, I much prefer them over any other external storage system. They are and can be much more than just a storage device, they can run surveillance, FTP and Web servers, along with different types of media servers and numerous other things. I find them to be the best all around storage devices out there today. With a NAS box I don't have to carry anything with me, all of my files are accessible via the internet, meaning no need to carry an external hard drive or even a USB drive. This also means I've got a central place to backup my files, and anyone else on my network can do the same thing. NAS boxes also allow network users to share files and any types of media across the network, everything is right there for you in one central place.
Today I've gathered eight different NAS boxes for comparison. They range from four drive boxes down to single drive ones. The brands I've collected are a sampling from Seagate, Thecus, Synology and QNAP. These companies are the biggest and most popular NAS box providers out there, and the ones I have represent low end to high end versions for both home or personal use up to higher end feature packed boxes.
Here's seven of the NAS boxes:
I had a late arrival to this collection so it wasn't here at the time the 'family' portrait was taken
The boxes in this roundup are these, with links to my own reviews of them if you wish to read about them more in-depth.
Thecus N3200 Pro (review HERE)
Thecus N2200 (review HERE)
QNAP TS-109 Pro II (review HERE)
QNAP TS-419P (review HERE)
QNAP TS-219P (review HERE)
Synology DS209+II (review HERE)
HERE)
Seagate BlackArmor NAS220 (review HERE)
The product names for each box listed below are hyperlinked to their specific page on the manufacturer website so you can click those to learn more about the boxes as well.
The first thing I want to do is to briefly touch on the interfaces of the boxes themselves, both the Admin side and the User side. Again you can check the reviews above for more in-depth looks at all of the boxes and their interfaces.
We'll take a look at the QNAP Boxes First:
The TS-219P Turbo NAS is the 2-bay network-attached storage server with iSCSI dedicated to the SOHO and home users who need a mass storage center to store and share huge amount of digital data. The NAS supports 2.5? and 3.5? SATA hard drives, and is featured with excellent hardware design for storage expansion, outstanding data access performance, high system reliability, and numerous powerful software applications. The TS-219P is the top-class model in the current home and SOHO NAS market.
CPU: Marvell 1.2GHz
DRAM: 512MB DDRII RAM
QNAP TS-419P Turbo NAS is the 4-bay, 2.5-inch and 3.5-inch SATA HDD network-attached storage server with iSCSI applications dedicated to SMB, SOHO and home users. As a storage centre for mass data backup, management and sharing, the TS-419P Turbo NAS supports excellent hardware design, outstanding performance, high system reliability, and numerous powerful software applications.
CPU: Marvell 6281 1.2GHz
DRAM: 512MB DDRII RAM
A reliable network-attached storage (NAS) is an important asset for most small business nowadays to keep their data safe and sound. The high performance, all-functions-in-one TS-109 Pro II is their best choice. The NAS adopts Marvell 500MHz CPU and 256MB DDRII memory which largely enhances system performance and remains highly stable even when there are multiple simultaneous accesses to the services. The friendly web-based interface enables users to easily set up a network system for all sorts of storage applications without MIS help.
CPU: Marvell 5182 500MHz
DRAM: 256 MB DDRII
The QNAP boxes all have the same interfaces, it's an AJAX based system and it looks really nice. With the new firmware updates, even the oldest one, the TS-109 Pro II looks and works just like the newest models. Since all the interfaces look the same, I only have to show you one set of pictures really.
The admin side is an icon based system that's very easy to navigate. It has dual navigation actually, a tree style on the left side and in the main window is the graphical icon style,
The web based user interface is simple and easy to use with a personal folder as well that can be created for the user that only they can access.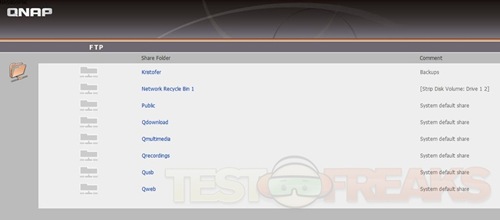 Next up is the Synology:
DS209+II
High-Performance 2-bay SATA NAS Server for Small-and-Medium Business Users
Synology Disk Station DS209+II offers PC server equivalent performance for efficient data sharing and backup. Its high performance coupled with sophisticated Synology Disk Station Manager 2.1 provides an ideal solution for cross platform sharing, secure server backup, Windows ADS integration, business mail server, and corporate surveillance.
CPU: 1.06GHz, 64bit@DDR533, with floating point
Memory: 512MB
The Synology interface is a bit brighter in colors.
The Admin side of things is similar to the QNAP in that it's icon based, but it's arranged a little bit differently. It has the same style though with the navigation tree on the left and the main widow has larger icons.
The User interface is graphical based when you login, nice large icons allow you to see everything easily. Depending on what services you've got enabled and what permissions you've set, the 'desktop' menu will change for end user.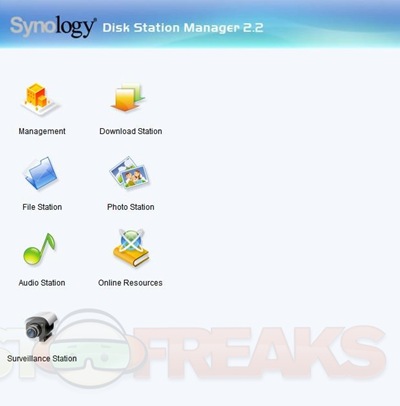 The file manager is simple but it works well.

There's also a very nice network music player as well built in: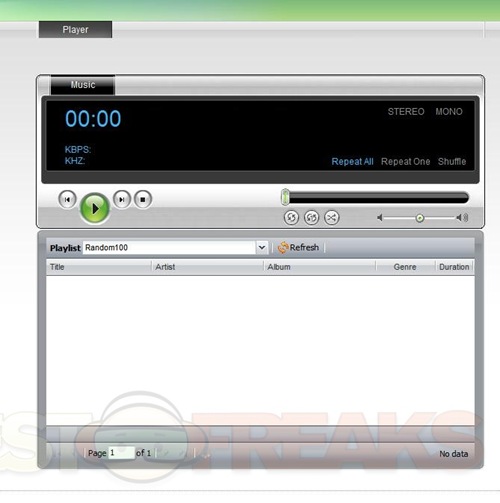 Next up we've got the Seagate BlackArmor NAS boxes. The interfaces are the same for both boxes.
BlackArmor NAS 110
Desktop storage with an easy USB interface.
With centralized storage and automatic full-system backup for up to 10 PCs, BlackArmor NAS 110 is serious hardware. And with easy media streaming, remote access and intuitive interface, it makes accessing and sharing your content seriously easy.
CPU: 800 MHz Marvell 88F6192 Kirkwood CPU
Memory: 128 MB
Central networking that fits your business.
Network storage for up to 20 workstations. Designed with the small business in mind.
CPU: 800 MHz Marvell 88F6192 Kirkwood CPU
Memory: 128 MB
The admin end of the BlackArmor boxes is rather plain, mostly test, and no colorful graphical icons. It is easy to navigate and use though. It has dual menus, drop down style at the top and an expanded menu on the left side for the section that you're accessing.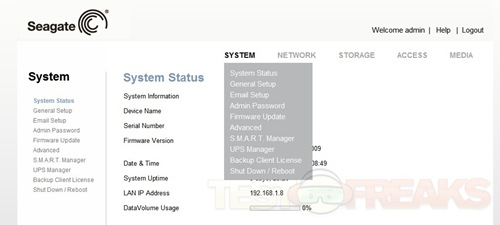 The web based interface for the BlackArmor boxes is a bit different than all of the others. Seagate uses something they call Global Access to access the boxes. You actually login to a special secure Seagate website to gain access to your files. This does make things very easy to setup, just enable the Global Access for the Account and then login to the site. There's no messing around with webs servers, or trying to figure out your router settings or any dynamic dns settings either, it does make like much easier for the end user. This way anyone can access the BlackArmor boxes from anywhere, just visit the website and login to access your files. Here's a picture of my account with box of the BlackArmor NAS boxes being accessed.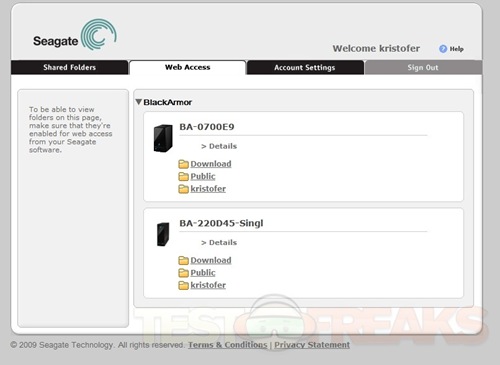 The two Thecus boxes are last up here.
Thecus N3200PRO
* Upgraded 3 Bay NAS with Vastly Elevated Performance
Committed to delivering the utmost performance and security, Thecus proudly introduces the revamped three-bay NAS, the N3200PRO. Powered by an AMD Geode CPU, the N3200PRO delivers the raw horsepower required to transfer files quickly and efficiently. With powerful RAID options (including RAID 5), a built-in LCM display, and vastly improved data throughput, the N3200PRO redefines the three-bay NAS once again with increased usability, functionality, and performance.
CPU: AMD Geode
Memory: 256 MB of DDR RAM
Designed for home use, the N2200 packs some useful features under the hood, including an iTunes server, a photo web server, and a media server (DLNA/uPnP compatiable). Sony's Playstation 3TM and other DLNA certified digital media players can automatically discover and stream content instantly from the N2200. The most praised download manager (with http, FTP, BT, and eMule download features) on the N2200 brings low power and stable downloading instead of using regular PC. You can even use the N2200 as a simple surveillance server by plugging in a compatible USB web cam or IP cam!
CPU: SOC
Memory: Unknown
The two Thecus boxes I've got have two different interfaces. With the QNAP boxes I showed you, the newest firmware even updates the older boxes to the new interfaces, with the Thecus boxes it doesn't. Not sure why this is, just how they do things I guess.  Personally I prefer the interface style of the older N3200 Pro over the new N2200 interface.
The N2200 admin interface fairly bland in itself, the navigation is a tree style located on the left side. One issue I have with this interface is that it's slow to do most anything, anytime you access something it says 'Please Wait' for several seconds.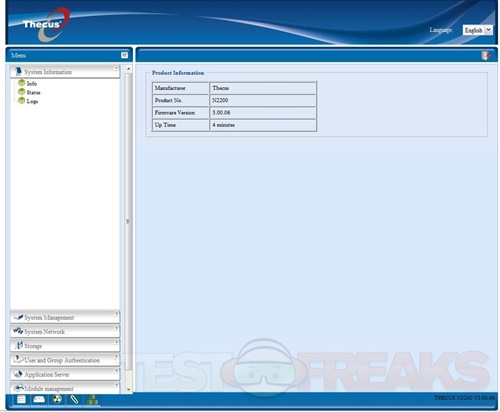 The User Interface varies between what you're doing, the Web Disk is for sharing files and it's simple. There's also a very nice photo sharing server as well that's easy to use.
Here's the Admin interface for the N3200 Pro, it's simple, easy to use, fast, and it's all drop-down menu style.
The user side interface is simple looking but easy to use.

All of these boxes perform the basic functions for you, with some minor differences between them really.
For testing I didn't run any internet access tests as it all depends on your own service as to how fast you'll access and transfer your files. I've got 20/30 FIOS so my transfers will be much faster than someone with regular DSL, so there's really no comparison to be made, and I was not going to sign up for several service providers, that would be ridiculous.
On my network I use a Netgear 8-Port Gigabit Switch and model GS608 actually.
All of the boxes were connected to the Netgear switch, on the same exact port actually. The transfers were done from my computer to the NAS boxes for testing on my network. My PC basically consists of an P7P55D-LE motherboard.
The two Seagate Black Armor drives come with their own Seagate brand hard drives, but the others in this testing do not comes with drives. I have four Western Digital Caviar Black 750GB hard drives that I used for all of the other NAS boxes.
(yeah I know there's only two in the picture…)
Since the BlackAmor NAS220 is configured for Raid 1 or Mirroring that's how I configured the other boxes as well at least those with two bays. The single bay boxes of course cannot be configured that way. The three bay and four bay boxes can be configured as Raid 1 and where for this testing, but of course that's just copying and copying the drives. Kind of pointless for Raid 1 with three or more drives really, you'd be better with Raid 5 or another level of Raid for three of more disks.
I ran three different tests on the boxes for transferring files and folders via FTP, measuring the time it took and the average speeds of the boxes.
The first test is a single .TS Video file that is 900MB in size.
The chart is arranged by the speed, slowest to fastest.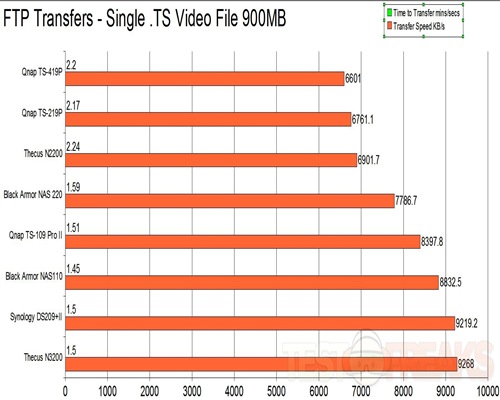 If you look at the speeds you'll see the Thecus N3200 Pro was the fastest, but if you look at the times it took to transfer the file you'll see the BlackArmor NAS110 is slower in speed but took five seconds less to transfer the same file.
The next test is a large single file test, a 3.02GB .ISO file.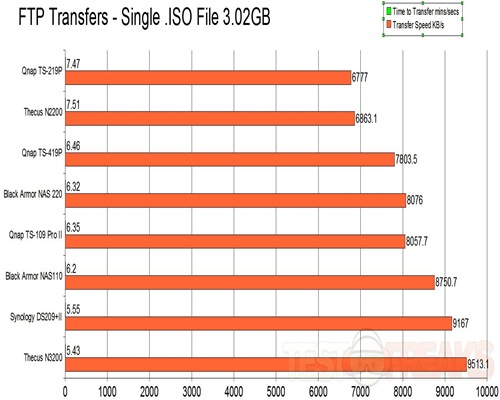 Here we see the Thecus N3200 coming in first place in both time and aver speeds for transferring the large file.
The last test I ran is a multiple files and folders test. The total size of the folder is 3.02GB but it contains 874 files within 199 folders, all varying sizes from a few KBs up to hundreds of MBs.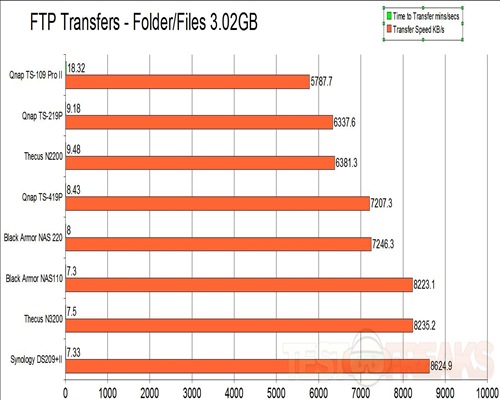 Here we see a big change in the ordering of this chart, or basically how the boxes handle this type of transfer. The Synology DS209+II is the fastest in terms of speed, but the BlackArmor NAS110 is actually 3 seconds faster for the transfer.
From this testing we can see the Thecus, Synology and the Seagate NAS boxes are the top of the performance list, with the QNAP boxes consistently falling a bit behind.
All of these boxes have their place though, it just really depends on your needs, not only storag4e capacity but what other things you might want them to be able to do as well.
To end this let's check on the prices.
There's many places to check the prices, but I stopped over at Amazon since it's a place common to everyone and found the lowest prices for these boxes. (Prices as of 12-20-09)
You have to also remember that both BlackArmor boxes come with the drives, and none of the others do so they will incur an additional cost to actually get them up and running. The BlackArmor NAS110 is a 1TB single drive model, the NAS220 is a 2TB two drive model.
Prices lowest to highest:
Thecus N2200:  $193.37
Seagate BlackArmor NAS110:  $228.99
QNAP TS-109 Pro II: $249.00
Seagate BlackArmor NAS220: $323.99
Thecus N3200 Pro:  $354.59
QNAP TS-219P: $379.00
QNAP TS-419P: $429.00
Synology DS209+II:  $469.69
Value wise I'd have to call the NAS220 as the winner with two 1TB drives already installed, but it's not the fastest according to my tests, and it does have some limitations as well.
As far as performance, well, it all depends on what types of transfers you do the most. Multiple file and folder transfers will work the best with the Synology, it handles them very well. You could also choose the BlackArmor NAS110 as it performs well, but you don't have raid security for your files since it's a single drive.
If you're using these boxes on your home network for personal use like pictures and files, pretty much any of them will work fine for these types of smaller transfers. You'll really notice the differences I think in more of a business setting or high volume file transfer setting.
The Theucs N3200 Pro is a 3 bay style NAS box and you'll need to purchase three hard drives to utilize it, depending on the size you choose is how much more it will cost you to get it up and running. Of course we have the same situation with the other 'empty' boxes as well, the QNAP Ts-419P requires four drives to fully utilize it, so you'll be spending quite a bit more money on that one.
There are other things to consider as well, the Thecus N2200 and both the QNAP TS-419p and the TS-219P can utilize both 3.5" and 2.5" hard drives. With the 2.5" drives installed you'll lower the noise level and the overall power consumption.
Bottom line really is that there is no clear winner to be declared, there are pros and cons to each one in this comparison. it will all depend on what your needs are really as to which one you'll choose.
Personally I can say that I use both the Thecus N3200 Pro and the Seagate BlackArmor NAS220 all of the time. The BlackArmor NAS220 is my private little server and backup device on my network. The Thecus N3200 Pro is actually web enabled with DyDns set etc so friends and family can access it if need be, and I use it also for my own backups as well. Yes I run two backups of my files in two separate places. I actually run the N3200 in RAID 5 mode to make sure my files are secure and safe.
So I've provided the information, I think you can make your own choices.