It's been a while since I've reviewed any USB drives here on technogog so today I've got one that Patriot has sent over. The drive is the Xporter Rage 32gb version or XT as it's called. The drive features a quad channel configuration of four nand chips that work together simultaneously to provide enhanced performance overall.

The Patriot XT comes packaged in a cardboard and plastic pack.
The drive is very small and it's capless, it just slides back and the USB connection appears. On the end is a hole for a lanyard, and actually inside of that hole is a very small red LED that blinks with activity, though you can barely see it. I would have never noticed it unless I was actually looking. The drive is plastic and very lightweight.
Specifications:
Extreme Performance Xporter Rage USB Flash Drive
Model: PEF32GRUSB
The Patriot Extreme Performance Xporter XT Rage is a USB Flash Drive with both performance and functionality. Featuring an innovative Quad Channel configuration, data is intelligently managed and transferred simultaneously to 4 NAND chips resulting in vastly enhanced performance, particularly write speeds: Rage improves on traditional USB 2.0 Flash Drives to offer up to 27MB/s read and 25MB/s write transfer speeds. Functionality and durability is designed in to the Rage with its rubber coating on the housing and retractable USB connector: the Rage is easier to hold and use, more durable to drops and daily abuse and the connector is protected when not in use. The Patriot Xporter Rage is available in 8GB, 16GB, 32GB and 64GB capacities and carries a lifetime warranty.
Features:
* Quad Channel technology for fast read/write performance
* up to 27MB/s Read
* up to 25MB/s Write
* Durable design extends the life of your drive
* Rubber coated housing protects from drops, spills, daily abuse
* Retractable design protects USB connector when drive not in use
Price: $71.19 (from Amazon at time of review)

For comparison testing I grabbed another 32gb USB drive, the OCZ Rally2.
I ran a few different tests using USB 2.0 and even USB 3.0 because I was curious.
First is ATTO using USB2.0:
The write speeds are very fast on the Patriot XT, but the Rally2 is faster at reading.
The next test I ran was Crystal DiskMark using USB 2 and USB 3:
As you can see there is actually a difference when using USB 3 over USB 2.
Here's the results with the OCZ Rally2:
The Rally2 is a bit faster than the Patriot XT as you can see.
Next up is using SiSoft Sandra 2011 Removable Storage Benchmark.
Removable Storage
The typical usage model for these devices is file operations, such as writing a file to the device, reading a file from it, and deleting a file, this benchmark exercises the devices in terms of these operations.
Combined Device Score: is a composite figure representing an overall performance rating based on the average of the Combined Score figures over the four file sizes. (Higher is better, i.e. better performance)
Endurance Factor: is a figure representing the Wear and Life Expectancy of flash devices; this is obtained by dividing the average performance (normal condition, i.e. sequential write) to the lowest performance (high-stress condition, i.e. same block re-write).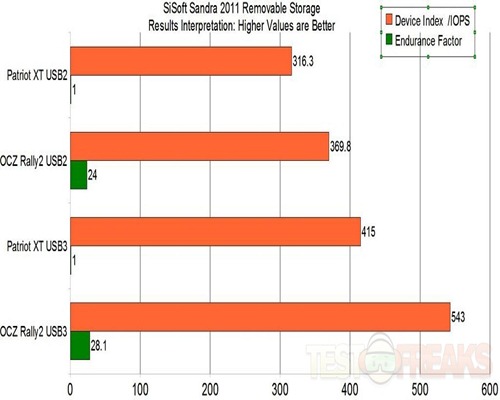 Obviously the Rally2 is faster in some respects, but it's actually bigger in size.  The Rally2 costs about $10 less than the Patriot though.
Conclusion:
The Patriot Xporter Rage 32GB USB drive isn't bad overall, it has very good write speeds, and decent read speeds.
It is a bit on the expensive side when compared to similar capacity drives though.
The Patriot XT is very small and it's capless, and it seems well made.
Pros:
+Small and portable
+Decent performance
Cons:
-Expensive
| | |
| --- | --- |
| Grades: | |
| Overall | |
| Design | |
| Performance | |
To learn more about our review policy please visit this page HERE.