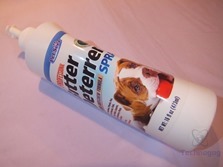 I've got a really quick review for you today of something that you might find useful if you have dogs or cats. Animals can get into things they're not supposed to and sometimes you need more than training and that's where this product comes in, it's from Petseer and it's a deterrent spray to stop your pets from getting into things they're not supposed to. It sort of works, read on to learn more..
Specifications and Features
Bitter Apple Spray For Dogs & Cat Deterrent PRO Training Aid for Destructive Pets from Petseer – New Patented No Chewing Formula – Long Lasting Instant
Dog Repellent Spray – Hot Spot Treatment Tea Tree Oil Agent – Save Your Home and Garden Now!
LONG LASTING BITTER TASTE – Our bitter taste last longer than Grannick's Bitter Apple and other brands. Perfect cat and dog repellent spray.
ELIMINATE DESTRUCTIVE BEHAVIORS – Designed to deter pet chewing and scratching on furniture, plants, wounds, walls, cords and more!
100% SAFE & STAIN PROOF – Perfect for all dogs and cats. No harmful ingredients, allergy free for pets & humans.
HOT SPOT FREE DOGS- Perfect hot spot treatment, features tea tree oil to heal hot spots, wounds.
SAVE YOUR HOME & GARDEN – Made in USA. ORDER NOW for our 90 Days Risk Free Guarantee!
Price: $19.97 (from Amazon at time of review)
The Review
Quick video for you:
The Petseer deterrent spray comes in a plastic bottle with information printed all over it. The spray is non-toxic so it's safe for dogs and cats and humans and it's non-staining. It's a fairly large bottle that contains 16 ounces of fluid which should last a long time. The ingredients are water, isopropanol, polysorbate 20, propolyene glycol, bitter principles and tea tree oil.
The top is the sprayer or pump, you just push down and the spray comes out, very simple.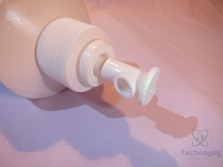 The spray does have a bitter smell to it but it's not bad, at least I don't mind it at all. I did not taste it, I just couldn't bring myself to do that.
I have two American Pit Bull Terriers, they're sisters, one was the biggest of the litter and the other the smallest.
Casey is very laid back and relaxed and doesn't cause much trouble.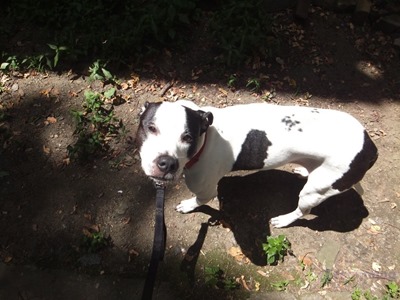 Sam or Samantha though is the trouble maker, she gets into everything, she's goofy and wound up all the time. The dogs are like night and day, total opposites of each other.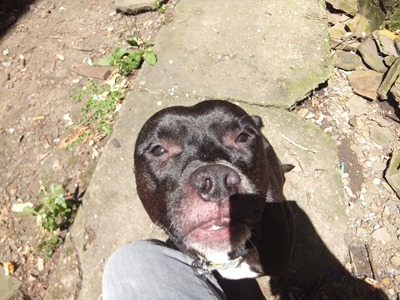 Both of my dogs like to get into the kitchen garbage when we're not home, Sam more so than Casey. I do have a lid on the garbage can but they've figured out how to get in even with the lid on.
I thought the Petseer deterrent spray would be a perfect test to see if it works and the verdict is 50% of the time.
It works with Casey, she stays out of the garbage when I spray it with the deterrent. She smells it and then turns around and walks away and goes about her business.
Sam could care less about the spray, I think she likes it actually. I sprayed the garbage can before I left and came home to find that Sam had gotten into the garbage again. The Petseer deterrent spray was not a deterrent at all for Sam.
I have two cats as well, they're old and they didn't get into anything so I didn't test it with them.
Conclusion
Does the Petseer deterrent spray work? Yes and no according to my dogs. It works with one and not the other, in fact I think she likes it.
I guess it will all just depend on your dog if this spray will work or not. Thankfully they do offer a 90 day guarantee so if it doesn't work for your pets  you can get a refund.
It is a nice large bottle and should last.
it does have a pleasant smell to it so it sort of acts as a deodorizer or air freshener as well.
Pros:
+Works
+Pleasant smell
+Large bottle
Cons:
+Might not work on all animals
| | |
| --- | --- |
| Grading | Scores Out of 10 |
| Overall | |
| Design / Aesthetic | |
| Value / Price | |
| Performance / Usage | |
Disclosure: This product was given to us for review by the company for review purposes only, and is not considered by us as payment for the review.
To learn more about our review policy please visit this page HERE.