Up for review today I've got a Playstation 3 controller, but it's not just any it's a special edition Batman Arkham City themed one. The controller is called the Batarang after the famous weapon that Batman uses. It's not your typical PS3 controller, it's styled more after an Xbox 360 controller in terms of the layout of the control sticks. The Batarang features seven different lighting effects so you can actually change  the colors depending on the mood you're in or even the game you're playing. Overall I like the Batarang, it's not a bad controller even if you're not using it to play the new Batman Arkham City game.

The Batarang controller comes in a nice looking Arkham themed display style box.
Inside of the box you'll find a user manual, USB cable, the controller and a Batmanesque USB dongle. I guess the dongle is supposed to be a wing?! The cable is 1.8m or about 6 feet long so you can play while you charge.
The controller itself is a bit larger than the regular PS3 one is. It's gray and black in color with semi-transparent parts on the grips and at the top, these parts can light up with varying colors which you'll see later. The stick and pad layout is more like that of the Xbox 360, so this can be a good thing or bad thing depending your console preferences. Personally I haven't played my Xbox 360 in  a long time as I've been playing the PS3 mostly. I know many people prefer the larger style controller of the Xbox 360 to the smaller PS3 one, so to each his own I guess.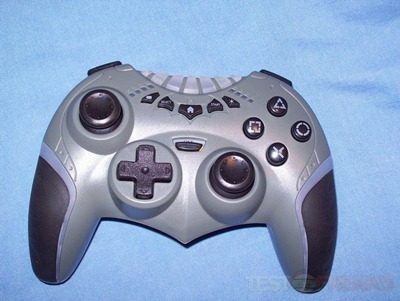 At the top of the controller you'll find the Home, Start and Select buttons and two more off to the sides of the Batman logo. On the left side are four LEDs with 25, 50, 75 and 100 next to them, these are the battery charge levels. When charging these come into use which you'll see later, and you can just press the battery button next to them anytime you're using the controller to see the battery power status. Off to the far right are four more LEDs, these are labeled 1, 2, 3, 4 and correspond to the PS3 and which controller number it is, the appropriate LED will light up of course. Next to those LEDs you'll see a small button with what looks like a sun on it, that is to change the colors of the controller which you'll see more of later as well. The on/off switch is a slider and it's located under the Home button, it's fairly hard to slide so you won't do it accidentally while playing. Above the buttons you'll notice the semi-clear sectional part, that will light up as well and it's controlled by that same 'sun' button.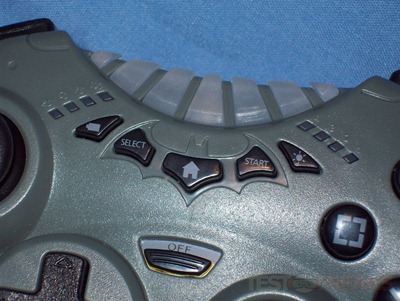 The analog sticks are positioned like you'd find on an Xbox 360 controller and they're not rounded like that of the PS3 controller is. The tops are more flat and indented for your thumbs to rest comfortably on them and they seem just slightly taller than those on the PS3 controller as well. The sticks are rubberized for grip too. The D-pad is nothing like that on the PS3 controller, it's all one piece like that of the Xbox 360 one. I'm not sure which I like better really, but I think I'm a little bit partial to the PS3 one. The play buttons are just like those on the PS3 controller, a bit rounder and maybe slightly higher, so not much to say really.
The grips are rubberized on top and bottom and around the grip is another semi-transparent part that will light up as well.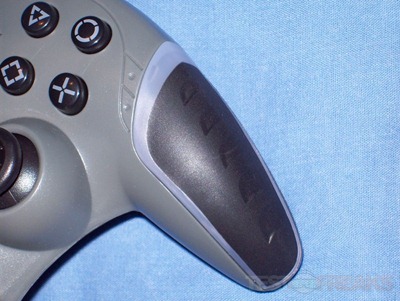 Here's the bottom, not much to say really, but you can see the bottom of the grips here.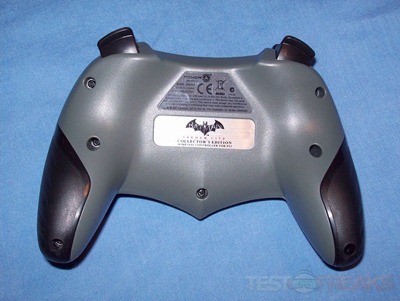 The USB port is in the same location as on the PS3 controller. The shoulder buttons are much higher or taller than the regular PS3 controller, and the R2 and L2 buttons are more triggers and are actually very comfortable to use. All of the buttons are textured for grip.
The controller is nicely made if a bit on the heavy side, it's about a heavy as the Xbox 360 controller honestly.
The Batarang seems well made and it's nice and sturdy really.
Specifications:

Playstation 3 Wireless Batarang Batman Controller
Celebrate the release of the eagerly anticipated Batman: Arkham City video game with the officially licensed Playstation 3 Wireless Batarang Batman Controller.
– Officially licensed 'Batman' product features a unique, collectible batarang design
– Includes built-in dual rumble motors and sixaxis motion sensing technology for enhanced gameplay
– Seven color phase LED illumination of action buttons and features for greater personalization
– Includes Batman-themed USB RF signal receiver for wireless gameplay
– Includes internal rechargeable battery and 1.8m USB charging cable
– Soft-touch rubberized grips for comfortable prolonged gamin
Designed by renowned video game accessories manufacturer Power A, this officially licensed PS3 Batman controller is a piece of tech gadgetary that Bruce Wayne himself would be proud to own. Styled in the form of the iconic batarang, this limited edition collectible controller is the perfect way to to celebrate the release of the forthcoming Batman title 'Arkham City'.
Designed to ergonomically fit your hands in a much more natural and relaxed position, and coupled with the soft-touch rubberized handles the Playstation 3 Wireless Batarang Batman Controller allows you to play comfortably for longer. The controller itself can be personalized with 7 different color phases to choose for the illuminated action buttons and features located on the controller. Furthermore, the Batarang Controller also features all of the internal features expected of a high quality PS3 controller including wireless RF connection, dual internal rumble motors, internal rechargeable battery (with included charge cable) as well as sixaxis motion sensing technology which all adds up to provide immersive and enhanced gameplay.
Price: £44.95 / $70.21
The first thing you'll need to do is charge the controller, very simple just plug it into the USB port on the PS3 or even on your computer. One note is that to charge it you've got to turn it on. On the left hand side are the four LEDs for battery level that are also used for charging, they'll fill up as the controller charges and when full it's done. You can use the controller while charging, the USB cable is long enough at 1.8m or about 6 feet so you can play while you charge.
Of course you'll need to plug in the USB dongle to your PS3 to make it them work together, no picture here, you just plug it in after all. Connecting wasn't a problem at all, in seconds it was done for the initial pairing, after that you just turned it on and it was ready to go.
Speaking of charging I found the Batarang isn't compatible with my Energizer charging station I have for my PS3 controllers, it's just too fat to fit in the dock. Essentially what I'm saying is that you'll need to keep the USB cable handy for charging.
The Batarang controller is slightly larger than the regular PS3 one, here's some pictures of my controller and the Batarang for comparison:
For testing I got to play games of course, any reason to play is a good one to me! I've been playing Skyrim quite a bit recently and I found it worked great for that, expect the button placement as you use the Select and Start buttons very often in the game. I found myself having to look down to find the buttons. Even after several hours of playing I still found myself looking down. The buttons just seem very close together. It's not that big of a deal though as if you miss you're just pressing the light or battery status buttons.
I also played Dead Island and Uncharted and found the controller works well. I did notice that the there is slight lag especially when it comes to more precise movements. The games were playable and it didn't really hinder play but using the controller took a bit to get accustomed to, but once you do things should work fine. The lag only comes into play depending on the game really.
I found the D-Pad very sensitive, a bit overly so really. Trying to push right and left made it more of a diagonal action, but it could be that I'm just not accustomed to that style of D-Pad while playing the PS3.
The Batarang controller can be sort of customized as you can change the lighting effects to your choice of seven or eight if you include just off.
The colors are, in order, yellow, blue, purple, red, green, light blue and light purple. Having the lighting on the controller is great for night time game playing and finding your controller in the dark.
Battery life is very good, I got as long as the regular PS3 controller even with the lights on. In other words you can expect several hours of gameplay on a single charge.
Range seems good, not that you'll be playing 100 feet away from your TV either, but I had no issues with my setup and the range that worked.
Rumble works but it doesn't seem to be as strong as the regular PS3 controllers.
Conclusion:
If you're a Batman fan and PS3 player then I think this is great product really. If you're looking for a new controller or looking for a gift for that special gamer in your life I think you or them will appreciate the Batarang.
The Batarang controller is certainly unique in all it's Batman styling. The controller is more styled after the Xbox 360 controller so if you're a diehard PS3 fan then you might not like it, but if you're a dual console owner it might not matter much to you. I like it  as it's different, but the size and layout will take most users a while to get accustomed to.  The lighting effects are nice, and there's even 'girly' colors for the female gamers out there. The controller itself is well made and sturdy and it features a nice long battery life on par with that of the original PS3 controller.
Personally I'm not sure which I like more, I'm leaning towards the original PS3 controller because I like the D-Pad better, but the Batarang is nice in it's own right.
Pros:
+Batman themed
+Can change colors
+Good range
+Good battery life
+Similar to Xbox 360 controller
Cons:
-Slight lag for some games
-Start, select etc button grouping rather close together
-Takes a bit to get accustomed to
| | |
| --- | --- |
| Grades: | |
| Overall | |
| Design | |
| Performance | |
To learn more about our review policy please visit this page HERE.