Solar power is everywhere around us, it's the sun after all, and last I checked there's  few trillion or so years left of life in it so I figure why not take advantage of it? Today for review I've got the Apollo Solar USB Charger from Poweradd and it's basically  a large solar panel with a USB port on it to charge your devices while on the go, wherever you go. The Apollo can be charged by the sun obviously, but it can be also charged over a standard USB port if need be. So read on to learn more…
Unboxing
Let's start with a video and then move on…
The packaging for the Apollo is similar to other Poweradd boxes, it's the black and silver colors with a nice window to show the product and of course specs and features listed on the back for you.
On you get everything unpacked you'll find the Apollo, carabineer, spring style USB cable with female end and four different tips to go with the USB cable
Here's the Apollo and as you can see most of it is the solar panel as you might expect. The one I got for review is a dark gray and orange color. The sides are textured for grip and overall it does fell sturdy and rugged and I'd fell safe taking it with me camping or wherever outside.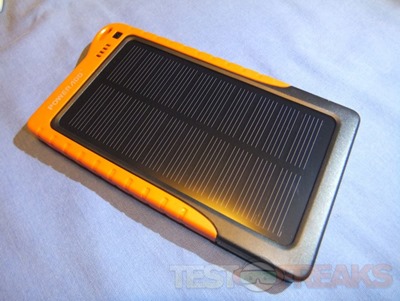 Here's a close up view of the solar panel for you, it looks like every other one I've ever seen of this type, which isn't a bad thing as it works.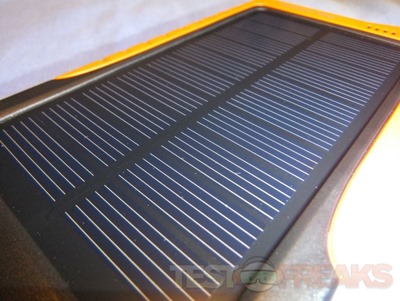 On the top you'll see the Poweradd logo and then four LEDs to indicate battery level and a power button to check that level. When it arrived to me as you can see it was already at about 75% charge.
On the top edge is where you'll find two USB ports. The microUSB port is for charging the Apollo if you need to or you'd charge it before you took it with you on your outing and then you'd have power ready and then the sun could do the rest to keep it charged as needed. The regular USB port is the one that's used for charging your devices, if it can charge over USB you can most likely charge it with the Apollo.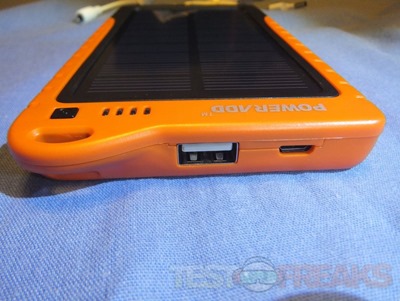 Here's the back, it's kind of plain except for the ID label really.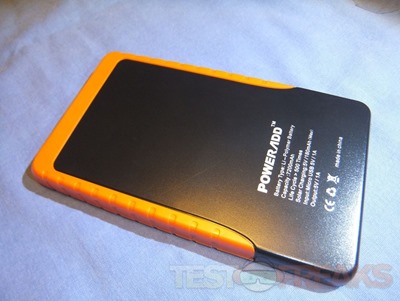 Specifications and Features
Poweradd Apollo 7200 mAh Solar Battery Charger
Where there is light, there is power.
In today's constantly moving world, mobile devices are our windows to social media, but the problem is that they don't have an unending battery supply. How many times you watched your phone's battery die before you could charge it? How many times you have to worry your phone runs out of juice when you're enjoying camping, hiking or other great outdoor activities? The Poweradd Apollo is the perfect on-the-go solution for these annoyed moments.
Portable design
Compact size design for portability, with the free hook, you may just hang it on your bagpack when outdoors, easy to carry and charge.
Compatibility
Since the output port is USB, it can be used to charge smartphones, tablets, or any other 5V USB-charged devices.
Always be prepared to power
With the Poweradd Apollo, you could get almost get 4 empty-to-full charges for an iPhone, 2 charges for a large capacity smart phone like galaxy S4, or one charge for an iPad. Wherever and whenever, it always be prepared to power.
Worry-free Warranty
12 months worry-free product guarantee for every purchase from Poweradd.
Professional technical support, Efficient and always satisfied customer service all the year round.
Price: $29.99 (from Amazon at time of review)
Testing and Usage
The first thing I did was charge it and I left it out in the sun. Yes it takes longer to charge from sun, but that's how it is with every solar charger I've ever seen.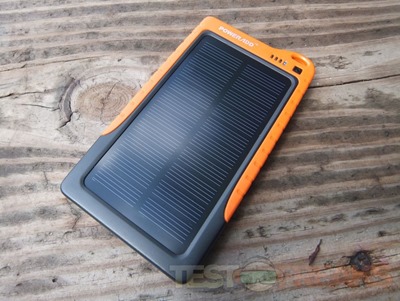 The Apollo is rather large and here it is with my HTC One cellphone to give you an idea of just how large the Apollo is.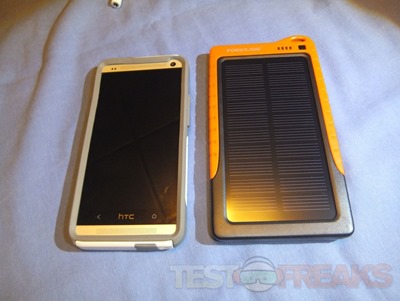 To test it I charged my phone and it worked fine, just as expected, nothing new here, it worked just liked as if my phone was connected to my computer's USB port.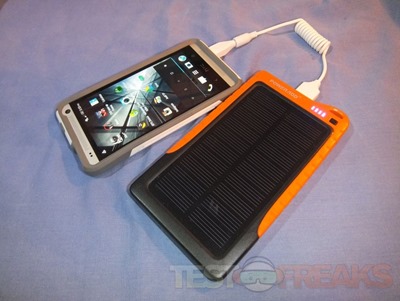 The price is about $30 and I think it's worth it as you'll easily get several charges out of it and you can take it with you when you go camping or hiking or just on a regular day.
One thing I should note is that there was a piece missing from the Apollo, just a small metal ring so you can attach the included carabineer to the Apollo. Not a big deal as you can get those cheaply many places, but I just wanted to make sure you were aware.
Conclusion
If I was more of an outdoors type of person I'd love something like the Apollo, I was when I was younger but then I had kids so I don't do much like I used to do outdoors.
The Apollo works well, I didn't run across any issues with it at all, it does what it's supposed to do, and that's a good thing.
The Apollo seems well made, sturdy and durable, I'd happily take it with me camping or hiking and not worry about it much.
The 7200mAh battery inside of the Apollo should provide multiple charges for one device like a phone or a single charges for a few devices.
The Apollo can be charged by the sun, or by a standard USB port which of course is faster than the sun.
All in all I like the Apollo, I like the looks of it and I like the build quality.
Pros:
+Solar powered
+Large capacity battery for multiple charges
+Can be charged by sun or USB
+Seems durable and well made
+Simple to use
Cons:
-Missing piece
| | |
| --- | --- |
| Grades: | 10 out of 10 |
| Overall | |
| Design / Aesthetic | |
| Value / Price | |
| Performance / Usage | |
To learn more about our review policy please visit this page HERE.