It seems portable batteries are very popular lately as I've got another one for review but this one is from a different company than all the others, the company is called Poweradd and the battery is called the Pilot 2GS and it's a 10000mAh capacity battery with dual USB ports. The one blatantly different thing I've noticed about these batteries is that even though they're getting larger in capacity, they're getting smaller in size and that can only be a good thing of course. The Pilot 2GS has dual UBS ports as I mentioned, one is 1amp and the other 2.1amps so you can charge virtually any USB enabled device, tablets, phones, mp3 players, pretty much anything and that makes it a very valuable thing to have when you need some extra power on the go. Read on to learn more…

Unboxing
Let's start with a video unboxing:
The package isn't particular interesting but it's fine, there's a window showing the battery on the front and then some specs listed on the back.
There's not much included in the box, just the user manual, battery, USB cable and a pamphlet.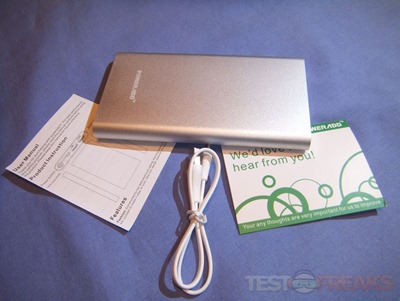 Just one USB cable comes with the charger with a microUSB connection on it. You don't need anymore as the battery has standard USB ports on it and you can use the microUSB cable to charge the battery and most mobile devices these days.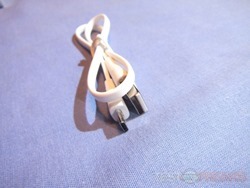 The battery itself is very plain, but there's nothing wrong with that. On the top is the Poweradd logo and the bottom is plain. The housing is made of aluminum and it feels very well made. The dimensions are 137 x 73 x 13 mm and it weighs in at 280 grams, so it's not very big overall, making it very portable, you could just slip it in your pocket really. It fits right in the back pocket of my jeans fine.
On the back edge you'll find the specs of the battery and a QR code. I scanned the code and it took me to the Poweradd website.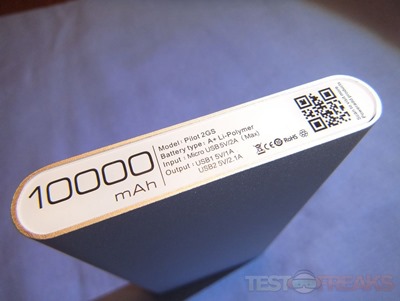 On the front edge is where you'll find the three USB ports, LEDs and a button. The button is for checking the battery level. There are four LEDs to indicate battery levels, 25% each basically. The LEDS are white and they are lit up in the second picture below, but they're hard to see. The microUSB port is for charging the Pilot 2GS battery. The two USB ports are colored black and blue and have lightning bolts above them indicating their voltages, which I find is an odd labeling system. Why use lightning bolts when you could just put the voltages there?
Specifications and Features
Poweradd Pilot 2GS 10000mAh Dual USB Portable Charger Backup Battery Pack
Poweradd – Power your life
In today's constantly moving world, mobile devices are our windows to social media, but the problem is that they don't have an unending battery supply. How many times you watched your phone's battery die before you could charge it? How many times you have to worry your phone runs out of juice when you're enjoying camping, hiking or other great outdoor activities? The Poweradd Pilot 2GS is the perfect on-the-go solution for these annoyed moments.
Detail makes perfect
Compact size design for portability, and the long sides of the unit are rounded to make it easy to hold. Aviation Aluminum body to ensure lightweight and durability. Dual USB (1.0A + 2.1A) for charging 2 devices simultaneously. The unique blue 2.1A output design makes it more easy to recognize and get a fast charge.
Wide compatibility
Since the output port is USB, it can be used to charge smartphones, tablets, and even accessories, or any other 5V USB-charged devices.
Always be prepared to power
With this Poweradd Pilot 2GS, you could get 5 full empty-to-full charges for an iPhone, 3 charges for a large capacity smart phone like Galaxy S4, and 1.5 charges for an iPad. Small but packs a load of energy, it always be prepared to power.
Warranty Policy:
12 months worry-free product guarantee for every purchase from Poweradd.
Professional technical support, Efficient and always satisfied customer service all the year round.
Specification:
Brand Name: Poweradd
Capacity:    10000mAh
Output: 5V/1A/2.1A
Color: Silver
Weight: 280 g
Size: 137 x 73 x 13 mm
Price: $23.99 (from Amazon at time of review)
Testing and Usage
When the Pilot 2GS battery arrived it was already at 75% according to the LEDs so when I charged it, it didn't take long, maybe 45 minutes.
For testing I charged various devices like my HTC One phone, Sony SBH 20 Bluetooth headset and my Joby Blade rechargeable flashlight. All of them charged just fine, and when I was done charging them the Pilot 2GS was at 75% capacity so I could easily charge more devices after those. The Sony headset was completely dead, I tried to use it and found the battery was dead, apparently I forgot to charge it which worked out for this review. The phone was at about 75%, so all in all the Pilot 2GS got a small workout charging my gadgets.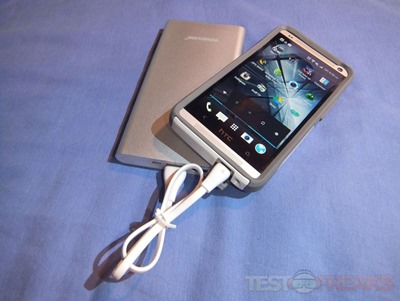 Charging my devices with the Pilot 2GS battery worked fine, just like when I charged via the USB ports on my computer, no faster, no slower.
Yes you can charge two devices at the same time, and yes it can charge a tablet.
For the capacity of the Pilot 2GS battery it's small. Here are six batteries lined up and from left to right they are 2800mAh, 8000mAh, 10000mAh, 10000mAh, 10400mAh, and 14000mAh. The Pilot 2GS is thinner than all of the other batteries, and it's very lightweight when compared to the batteries to the left and right of the Pilot 2GS even though one is smaller and one is the same capacity.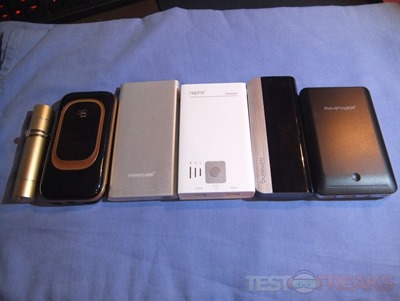 If I had any complaint about the Pilot 2GS battery it would be the labeling, the USB ports aren't actually labeled they have one or two lightning bolts to signify voltages and the USB ports are colored white and blue. Normally, at least every computer I've seen, the USB 3.0 ports are colored blue so it's confusing to have blue USB ports on a battery I think. Like I mentioned above, I don't understand why they didn't just label the ports with the amperages instead of lightning bolts.
Conclusion
The Poweradd Pilot 2GS is a simple product that does as advertised, but yet it's one that can be invaluable to those that travel a lot or just something for everyday use.
If you're like me then charging your devices isn't exactly a priority, sure I know it's important to keep your phone charged, but I don't really think about it. The Pilot 2GS will allow people like me to keep their devices charged all day long even if they forget.
The Pilot 2GS is well made, it's a solid piece of aluminum that looks great and I'm sure it's durable and it should last quite a while.
The capacity of the Pilot 2GS is large at 10000mAh but yet it's small and very portable, you could easily slip it into your pocket and you'll be set for the day or days with extra power.
The dual USB ports can be used one at a time or both at the same time, it can charge both phones and tablets making it a versatile product overall.
The price is just right for a product like this, it's well worth it I think as it's well made and it can provide many extra charges for your devices.
Overall I'd have to say I very much like the Poweradd Pilot 2GS battery, but I'm not sure about the labeling system. Other than the labeling, the Pilot 2GS is good product in my opinion, it works well and it's well made.
Pros:
+Well made
+Simple to use
+Standard USB ports, no special tips required
+Battery status indicators
Cons:
-Voltages not actually labeled
| | |
| --- | --- |
| Grades: | 9 out of 10 |
| Overall | |
| Design / Aesthetic | |
| Value / Price | |
| Performance / Usage | |
To learn more about our review policy please visit this page HERE.