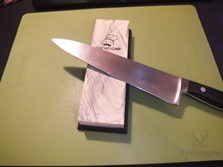 Up for review today I've got another product that I think is just a must have in any kitchen. If you're serious about cooking then you need to have good knives but also need to maintain them and a good whetstone is really the only way to do that. I have knives that are over twenty years old, in part it's because they're quality and rather expensive knives, but the other part is that I take care of them. Up for review today I've got a whetstone from a company called Priority Chef and this stone is dual layered with 1000grit on one side and 240grit on the other making it more useful than just  plain stone would be. All in all I like this product a lot. Read on to learn more…
Specifications and Features
Priority Chef Whetstone Sharpener for Knives, 240/1000 Grit Professional Knife Sharpener
-Razor Sharp Knives – Created with a different grade on either side, you can quickly sharpen the blade on one side, then flip it over and hone it to a perfect razor-sharp edge.
-Food Preparation Made Easy – A sharp knife makes all the difference in the world when both preparing and consuming food. The Priority Chef Whetstone Sharpener will get your blade ready quickly to help you prepare food more easily.
-Non-Slip Safety Base – You won't have to worry about this whetstone sharpener sliding off the counter or out of your hand. Featuring a non-slip surface, you can grind safely and securely.
-Durable & Reliable – An uncompromising build quality means our whetstone sharpener is built to last. Don't settle for anything less than highest quality for your knives, scissors and cutting utensils.
-No Hassle Full Satisfaction Guarantee – If you're unhappy with your Priority Chef two-Sided Whetstone Sharpener, contact us within 30 days and we'll replace it or give you 100 percent of your money back, no questions asked.
Create the sharpest knives with a high-quality, double-sided whetstone specifically designed to sharpen and hone your blades.
Cutting or preparing food is a downright chore when your knife is dull. But when you're knife is razor sharp, you can cut through meat, tendon and even bone as if it were butter. The Priority Chef Two-Sided Whetstone Sharpener was created to help you in the kitchen by making food preparation, as well as eating, easier and more enjoyable.
Featuring a double-sided sharpening surface, our whetstone sharpener is ideal for removing burs, dull edges or grind marks and creating a highly-tuned and polished edge. In fact, our whetstone is far superior other oil stones on the market because of this dual-sided action.
Here are just a few more of its amazing features:
-Grade is 1000 grit on one side, 240 on the other
-Includes a non-slip bottom for safe usage
-Both sharpens and hones your blades edge
-Long lasting whetstone and extremely durable
-And much more!
Price: $27.95 (from Amazon at time of review)
The Review
Let's start with a quick video unboxing:

The packaging is bright and colorful and there's instructions on the back for you if you've never used a whetstone
Once you unpack the box you won't find anything except the stone and a rubber non-slip base for it. The stone is 7 1/16" long by 2 5/16" wide and about 1 3/16" tall. It's a stone so it's rather heavy at about 1.4 pounds but that's to be expected.
The stone is divided in half horizontally in beige/yellow and gray. The top layer is 1000grit or fine for just honing your knives and the bottom layer is a rough 240grit for repairing and/or putting an edge on very dull knives.
For testing I sharpened my knives, chef and pocket knives and it worked great.
Yes the nice white or beige side of the stone will get dirty looking, but that's just how it is and for the most part it's fairly to clean off with just a little water and a soft cloth.
To use a whetstone, the main thing is patience and then practice and yes if you've never used on there is a chance you may mess up the blade on your knives but it can be fixed so no need to panic.
A whetstone is spelled with an 'h' in there but you actually do get it wet, the best thing to do is soak it in water for about five to ten minutes or so before using it. The main reason you do it is lubrication, you can use oil on a whetstone but if you do you never can use water again. Water is more readily available and it's just cleaner to work with I think, less mess, less oily residue on things, so that's always what I use.
It may seem like a daunting process and I know a lot of people don't like them because they're basically afraid of them because they require more work but in the end it's very much worth it.
I have two steels for honing and sharpening my knives and I do have another stone but just single grit. A dual grit stone is nicer to have, especially one like this as it has fine and rough right there for you ready to go.
Conclusion
If you're a chef or if you're serious in the kitchen and have decent knives then you owe it to yourself and your knives to get a good whetstone to keep them at their best.
The Priority Chef whetstone is an excellent choice for keeping your knives maintained and sharp as it offers both rough and fine grit in on stone. Yes it won't last as long as a single grit stone will since it's basically just half, but you'll still get a few years out of it surely.
Some of my knives are over twenty years old and they're still great knives and that's because I take care of them by maintaining them and this whetstone from Priority Chef will help me keep them for hopefully another 20 years
Pros:
+Dual grit
+Non-slip base
+Well made
Cons:
-None that I could find
| | |
| --- | --- |
| Grading | Scores Out of 10 |
| Overall | |
| Design / Aesthetic | |
| Value / Price | |
| Performance / Usage | |

Disclosure: This product was given to us for review by the company for review purposes only, and is not considered by us as payment for the review.
To learn more about our review policy please visit this page HERE.