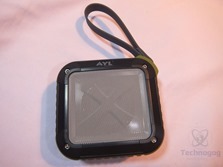 Up for review today I've got another Bluetooth speaker from a company called Accessorize Your Life or AYL and this speaker is very rugged and IPX5 certified for water resistance which means you could take it in the shower with you if you wanted to. The speaker has the common controls for play/pause and volume and skip tracks and it worked fine with my Galaxy S6 phone but what's most important is the sound, and it's decent overall. Read on to learn more..
Specifications and Features
Best Portable Outdoor and Shower Bluetooth 4.0 Speaker by AYL SoundFit, Waterproof, Wireless with 10 Hour Rechargeable Battery Life, Powerful 5W Audio Driver, Pairs with All Bluetooth Devices
MORE POWERFUL THAN THE COMPETITION Most Bluetooth speakers designed for use as shower speakers and outdoor speakers have 3-watt audio drivers. Our shower & outdoor Bluetooth speakers feature 5-watt audio for stronger bass and higher quality sound. Perfect for Outdoor Sports, Travel, Bicycle/Bike, Cycling, Climbing, Camping, Hiking, Running, Fishing Use.
QUICK & EASY TO PAIR Our Bluetooth shower speaker & outdoor speaker uses Bluetooth 4.0 technology, so it pairs with portable devices much more quickly than other portable Bluetooth speakers. The wireless speakers outdoor & shower range is 33 feet, so you can listen to your device even when it's far away
LISTEN ON & ON Our wireless shower speaker has a high capacity battery that can provide up to 12 hours of endless music, even at 80% volume! The Bluetooth speakers outdoor model can be recharged in just 3 hours with the included Micro USB cable! That's much faster than other outdoor wireless speakers
UNIVERSAL COMPATIBILITY Our portable speakers can be paired with all types of devices that use Bluetooth technology! Use the water-resistant Bluetooth speaker to stream music from an iPhone or Android smartphone, an iPad or Android tablet, an iPod Touch or even a computer or laptop with Bluetooth
READY FOR ANY TYPES OF CONDITIONS Our Bluetooth Speakers Waterproof level IPX5- Protected against low pressure water stream from any angle. Not submersible, but should withstand accidental drop in water. Guarantees that it will stay safe in the shower, in the rain, by the pool or on a boat (Just make sure if water gets in the speaker, to let it dry out before use)! We build our water-resistant speaker extra tough to ensure that it can be safely carried anywhere life's adventures take you!
Item Weight: 9.4 ounces
Product Dimensions: 3.6 x 2 x 3.9 inches
Price: $29.95 (from Amazon at time of review)
The Review
Let's start with a video unboxing and then move on:
The packaging has a rugged look to it wit ha window on the front and inside you'll find the speaker in a plastic tray for protection.
Once you get everything unpacked you'll find user guide, cloth drawstring carry bag, microUSB cable and a 3.5mm audio cable.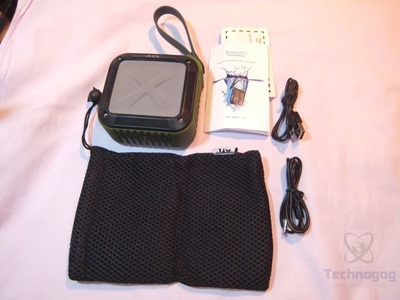 The speaker is green and black in color and it looks virtually the same on both sides except the front has the AYL logo on it. The green goes all the way around the outside and it's actually rubber to help protect it from falls. The front and back have metal grills protecting the five watt speaker inside.
Attached to the speaker is a thick heavy duty rubber wrist strap that actually held on by a screw so you could take it off it you wanted to.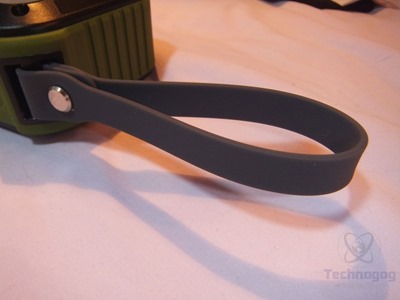 On the top edge of the speaker is the control panel where you'll see buttons for power, volume down, play/pause/answer call and volume up labeled buttons.  The volume up and down buttons actually work to skip forward and back tracks too, you need to hold them in for it to activate.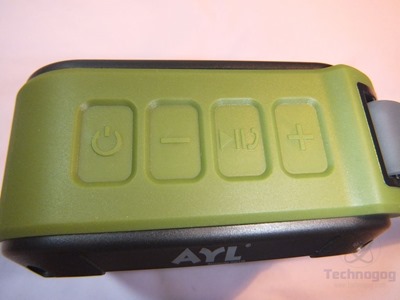 On the left side of the speaker thick rubber door that covers over the microUSB charging port and the 3.5mm audio input jack.
The bottom actually has a threaded hole for mounting on a bike or wherever if you wanted to.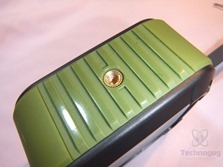 In the top corner of the front of the speaker is a small LED that lights up blue for Bluetooth and red for charging.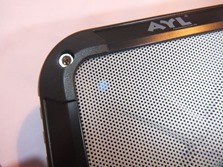 I used the speaker with my Samsung Galaxy S6 Android phone and it worked perfectly fine, I had no problems connecting it over Bluetooth.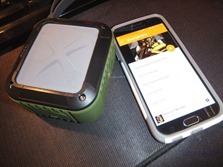 The controls worked for all the functions, I could skip tracks and adjust the volume easily.
The sounds is actually very good for most all music I tried. The speaker can get very loud, I mean very loud and it actually vibrates when the volume is up. For most music the sound was very clear even at max volume, it was only when I played music that was very bass heavy that the sound started to get slightly distorted, but it wasn't very badly distorted. I just lowed the volume ever so slightly and it was fine. Overall the sound is very good.
Conclusion
This AYL speaker is IPX5 certified meaning you could  shower with it if you wanted to, IPX5 means protected from water jets essentially according to the official code. This also means you can take it camping, hiking, bike riding in the rain and still have music while on the go. No it's not submersion proof but if you did drop in water you just need to let it dry fully before using it again.
The speaker is Bluetooth 4.0 enabled and that means more features and more range basically. The range you get varies on what types of material are in the way so hypothetically you can get up to 33 feet of range with nothing blocking the signal.
The battery inside is 1500mAh and according to specs it should provide up to 12 hours of play time at 80% volume.
The AYL speaker is a great product for outdoor use surely, I can see myself taking it with me camping or hiking with no worries about something happening to it. So no matter where you day takes you this speaker should survive most any situation.
Pros:
+Very well made
+Great sounding
+Very loud
Cons:
-Slight distortion at high volume with heavy bass
| | |
| --- | --- |
| Grading | Scores Out of 10 |
| Overall | |
| Design / Aesthetic | |
| Value / Price | |
| Performance / Usage | |
Disclosure: This product was given to us for review by the company for review purposes only, and is not considered by us as payment for the review.
To learn more about our review policy please visit this page HERE.