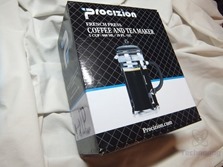 Up for review today I've got another French press, yes I like these, I like seeing the different types there are and learning new methods of brewing coffee as it seems everyone has their own way, but it's still basically the same. Today I have a small press, it has a 20 oz capacity but it's very nicely made of glass and metal. This French press is from a company called Procizion and it uses a three filter system to make sure there are no grounds in your coffee. Read on to learn more…

Specifications and Features
Procizion French Press Coffee, Espresso and Tea Maker 20 Oz Pot, Chrome, Includes 6 Filters
Superior Bundle
The only French Press with Triple Filters
The French press coffee maker is accepted worldwide as simply the best method for brewing coffee. The French Press uses pressure to force coffee to the bottom of an elegant pot after brewing, capturing the concentrated flavors. This is coffee in its purest form. The results are deep; dark and full flavored.
Coffee has natural oils that preserve and protect its natural and unique flavors. When you use an automatic coffee maker, these oils are absorbed into the paper filters and plastics that make up the machine. After time, they stick to the inner workings of the machine and create a nasty residue that stale and ruins your coffee with a 'leftover' flavor. This never happens in a French Press. Here, oils wash away easily, leaving no residue. And unlike a coffee pot, your coffee doesn't burn while it is being kept hot.
Price: $19.97 (from Amazon at time of review)
The Review
Let's start with an unboxing video and move on:
The Procizion French press comes packaged in an attractive box with plenty of information and pictures on it which include basic instructions. The press is packaged very well wrapped in bubble wrap and in a cardboard tray inside of the box.
Once you get everything unpacked you'll find the French press, plastic measuring spoon, extra filters and documentation.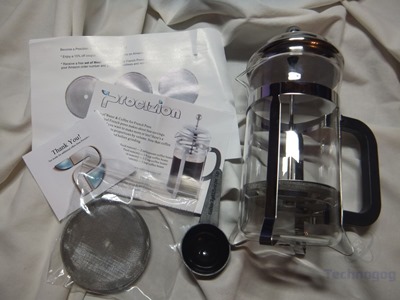 This press is the smallest I've owned or reviewed as it's only 20oz capacity, more of a personal press I think. The carafe is glass and it easily comes out of the frame for cleaning. The frame is a shiny metal, it's very sturdy and it has a plastic handle.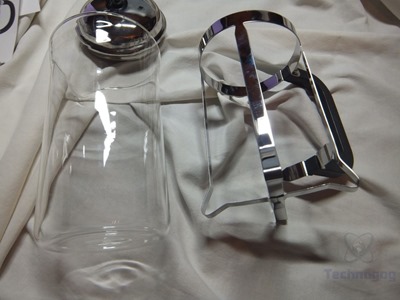 The plunger section is metal and it has a plastic liner.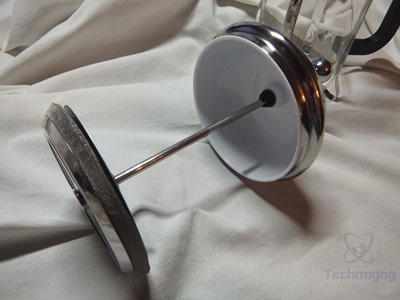 The bottom is where the filters are, there are three of them and it all comes apart just by unscrewing the top from a nut at the bottom. It goes into seven pieces in total not including the plunger top though. I've seen French presses with two filters, I have one that I use everyday, but never three filters so this is intriguing to me.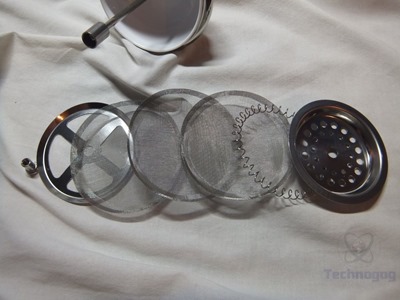 Using this coffee press is just like using any other even though the directions are a bit different, basically the same though. I've learned that all French presses have similar instructions, they just differ slightly as everyone has their own way of using them to brew coffee. I've got my own way to use a French press and it works for me, basically add coffee, add hot water, wait and enjoy.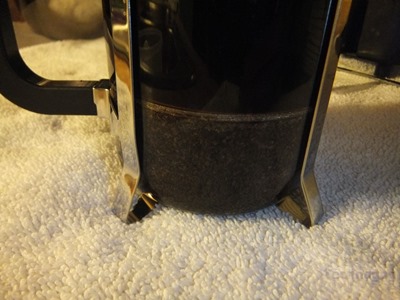 For testing I made coffee and the three filters really do seem to work but they do offer more resistance when pushing the plunger down.
The coffee tasted fine to me, no coffee grounds which is a good thing.

Conclusion
The price for this French press is basically $20 and I think it's well worth it as it's a nice quality press really. The press is well made and comes apart easily for cleaning.
The three filter system seems to work just fine as there were no grounds in my coffee. The three filters do add more resistance when pushing the plunger when compared to other presses but it works.
The Procizion French press is a decent choice is you're looking for a small sized press, it's only 20oz in capacity which really isn't much especially if you're sharing.
Pros:
+Very well made
+Easy to clean
+3 filter system means no grounds in coffee
Cons:
-Small capacity
| | |
| --- | --- |
| Grading | Scores Out of 10 |
| Overall | |
| Design / Aesthetic | |
| Value / Price | |
| Performance / Usage | |
Disclosure: This product was given to me for review by the company for review purposes only for free or at a discounted price.
To learn more about our review policy please visit this page HERE.