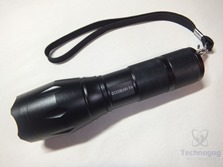 For review today I've got one of my favorite things, another flashlight from a company called EcoGear FX and it's a kit actually that comes with two batteries and dual charger. The flashlight itself is very well made and durable so you can take it outdoors with you for camping, hiking or just on a walk to brighten the way. Read on to learn more…
Specifications and Features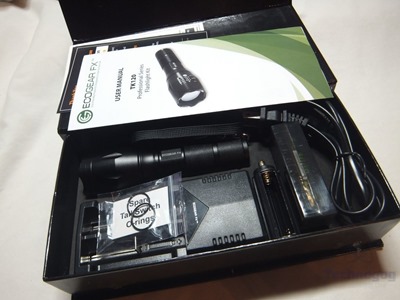 Once you get everything unboxed or unpacked you'll find a lot actually, a lot of nice stuff that I didn't expect. One of them is a battery box, the two 18650 batteries are in a plastic storage box, not a big thing but it's nice to have a storage box. The charger can charge both batteries at the same time and I've seen dual chargers before but this charger has dual charge status indicators as well, one for each battery so if one is done and the other isn't you know. You'll also find an AAA battery adapter, extra rubber O-rings and user guide and other documentation.
The flashlight itself is just slightly over five inches long but it can extend to a little over six when you focus the light beam. The light is made of aluminum alloy and it feels well made, durable and rugged, the light is water resistant with a rubber O-ring in the tail section where the battery goes in. There is no o-ring on the front section so it's not waterproof, just resistant so it should be find in the rain or bad weather but not submersible. The TK120 light does have a wrist strap attached to it and I should note it's attached with a metal ring and not just a nylon string like other lights have.
The power button is on the tail, it's rubberized for grip and the tail section screws off so you can insert the battery. The light does have the standard five modes like most do now, high, medium, low, strobe and SOS, which are just activated by clicking the tail button. Inside of the light you'll find a spacer sleeve for the 18650 batteries. The front section of the light twists off and I should note it's jagged and a bit sharp so it could be used for self-defense if needed. The lens is plastic sadly, but it's sturdy, inside you'll see the Cree XML LED that provides the light.
I use flashlights every day, a few times a day actually when I take my dogs out in the early morning and at night so I do use them often. The TK120 is very bright but I'm not sure it hits 1200 lumens as the specs state as I compared it to my 1000 lumen light and it was about the same if not slightly dimmer. Still though, the TK120 is very bright, it will easily brighten up the darkest areas and it does have a very good throw distance.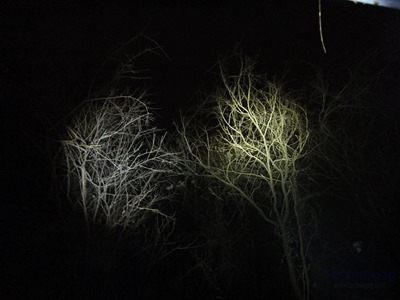 Conclusion
The EcoGear FX TK120 flashlight is a decent product really, and I like the kit, everything it comes with is all you need.
The dual battery charger is very nice, I very much like the independent status indicators so you can easily tell which battery is charged.
The flashlight itself is well made, and I have to say it seems rugged and durable but sadly it's not really waterproof, but that can be easily fixed by just adding a rubber o-ring to the front section. Doing that might not make it 100% waterproof but it will be better than it in now.
All in all this is nice a kit really I think.
Pros:
+Well made, durable and rugged
+Includes two batteries
+Dual battery charger with separate indicators
Cons:
-Rather expensive when compared to similar flashlights
| | |
| --- | --- |
| Grading | Scores Out of 10 |
| Overall | |
| Design / Aesthetic | |
| Value / Price | |
| Performance / Usage | |
Disclosure: This product was given to me for review by the company for review purposes only for free or at a discounted price.
To learn more about our review policy please visit this page HERE.