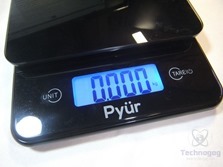 Up for review today I've got another product for the home and kitchen, it's a digital scale from a company called Pyür and it looks very nice with a glass plate on it that's easy to clean but sadly it doesn't give consistent results. Read on to learn more…

Specifications and Features
Pyür Digital Multifunction Kitchen Food Scale, Tempered Glass Platform, Accurate Weight Watchers up to 11lbs (5 kg) & Easy-to-use, 2 AAA Batteries Required (included) – Elegant Black
-SUPERIOR PRACTICALITY: Finally, Digital Kitchen Scale that perfectly combines all the elements of a practical weight measuring device: ease of use, easy to read bright backlit electronic LCD screen, compactness, elegant design and accuracy!
-UNMATCHED PRECISION: The Pyür professional Digital Kitchen Food Scale weights up to 11lbs (5 kg) In precise graduation of 0.05 oz (1 gram). You can rest assured that the measurement you get is as precise as it could possibly be! Weigh any food items!
-BEST VALUE FOR YOUR MONEY: Includes two AAA batteries to save you from the hassle of buying them while the auto turn-off feature minimizes battery expenditure. Sturdy construction guarantees years of excellent use!
-MOST ADVANCED TECHNOLOGY: Precision tare function works perfectly and allows for calculating the net weight of your food items automatically! On the other hand, the touch sensitive unit buttons let you switch between pounds, grams and ounces effortlessly!
-TOP LINE QUALITY AND EASY TO STORE: This multifunction Kitchen Digital Scale is constructed upon the highest quality standards. It's made to exceed your highest expectations and fit all your needs perfectly. Compact Design.
Introducing The New, High Quality Digital Kitchen Food Scale By Pyür: A Professional Device Characterized By Unparalled Reliability
When you want precise weight measurements, then you should look no further than Pyür Multi Purpose Scale. A high accuracy scale that makes the perfect weight measuring tool for every occasion: from weighing foods in the kitchen to jewelry or mail packages ñ this amazing scale is literally a jack of all trades!
Why Pyür Is The Best Multi Purpose Kitchen Digital Scale You Could Ever Use:
-It boasts an incredibly robust tempered glass surface in beautifully looking reflective black that guarantees its durability and superior finesse!
-Its innovative and precise weight sensors allow for an incredibly accurate measurement from 1g to 5kg (11lb) that means this digital kitchen scale 5kg x 1g!
-Precision tare features calculate the net weight of your food without taking into consideration the weight of any bowl or container!
-The bright LCD screen lets you read the measurement without struggling while its convenient touch sensitive buttons allow for converting the weight to all known weight measurement systems (pound, grams, ounces etc)
Price: $19.95 + $5.02 shipping (from Amazon at time of review)
The Review
Let's start out with a video but it's not just an unboxing, it's a review as well and you might want to watch it as I do test it and compare it.
The box is very nice looking with pictures and plenty of information on it. Once you open the box you'll find the scale and user guide, the batteries are already installed inside of the scale but they're wrapped in plastic which of course you'll need to remove before using.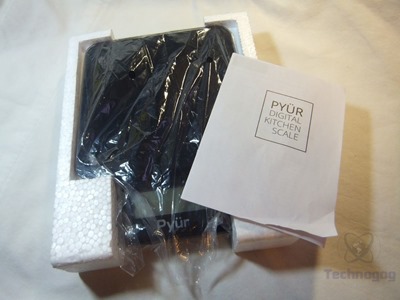 The scale looks very nice, I like the glass as it's much easier to clean and keep sanitized to prevent cross contamination. The scale isn't exactly small, but it's fine for the kitchen. The measurements are about 7.75 inches by 6 inches and it's about 1 inch thick at the thickest part.
The display is very bright with a blue background and black letters and numbers. The scale has buttons one each side of the display labeled Unit and Tare and the Tare button is also the power button. The scale comes on without pressing the power button actually, just put something on it and it comes on and I'm not sure I like that as that can waste the battery. The scale can display grams, kilograms and pounds and ounces and it can instantly convert them as well. The Unit button needs to be held down for  about a second before it will change the units.
On the bottom you'll see four rubber feet to keep the scale in place on your counter when you're using it. The battery compartment is located about the center and it needs two AAA batteries which it does come with.
I've had this scale for 11 days now and I've been testing it off and on and comparing it to other scales I have and trying to figure it out. The scale gives inconsistent results all the time, it really never gives the same weight two times in a row so it's not exactly trustworthy. I have two 20 gram weights that are made to calibrate scales and I tried them with this scale and sometimes it reads 20g and sometimes it reads 19g, when I put both on sometimes it says 40g, and sometimes it says 39g. The weight result is different every time I weigh something and that's not what you want to see in a scale, you want consistent and accurate results and this just doesn't offer that.
I looked online and checked the user guide and I could find no way to actually calibrate the scale, which makes no sense to me at all.
I used it on numerous surfaces because I thought maybe that was the problem, nope, same results no matter where I used the scale.
Conclusion
The Pyür kitchen scale looks really nice and it seems well made but sadly I really can't use it for much as it gives inconsistent results and to me that's not what you want from a scale. The results I got from testing it were not accurate, at least not all the time. If I could calibrate the scale this might fix the problem, but I see no way to do this.
Pros:
+Easy to clean
+Looks nice
+Seems well made overall
Cons:
-Inconsistent measurements
-Powers on without pressing power button
-Not what I would call accurate
-No way to calibrate
| | |
| --- | --- |
| Grading | Scores Out of 10 |
| Overall | |
| Design / Aesthetic | |
| Value / Price | |
| Performance / Usage | |
To learn more about our review policy please visit this page HERE.