Up for review today I've got a multifunction emergency and/or survival flashlight from a company called Eylo. This product is a seat belt cutter, glass breaker, LED flashlight, emergency flashers and a built-in 2600mAh battery for charging your phone. The Eylo flashlight can  be charged over USB or manually with the built-in hand crank. Overall it's not bad I guess but I'm not too sure about it really, it has some issues. Read on to learn more…
Specifications and Features
EYLO Survival Flashlight, 7 in 1 Emergency Hand Crank LED Flashlight with USB Cell Phone Charger, Seat Belt Cutter, Window Breaker Hammer – Perfect for Car Emergency Kit, Home survival Kit or Emergency Survival Gear
– Rechargeable LED Flashlight for car emergencies, home power outages and outdoor adventures like camping and hiking. (4 LEVELS Bright/dim/flashing/SOS)
– Seat Belt Cutter for car emergencies and to cut other things like rope and string.
– Window Glass breaker Hammer for anytime you need to break your car window during an emergency.
– Emergency Flashers to aid if your car is broke down or to signal for help if needed.
– USB Port for charging your cell phone for emergency talk time or usage.
– Hand Cranking Charging System. It gets frustrating always trying to replace or find your batteries!! With EYLO NO BATTERIES NEEDED!
– Magnetic Flashlight, attach EYLO to your car or any metal surface.
Price: $37.95 (from Amazon at time of review)
The Review
Let's start with a video unboxing and then move on:
The box is fairly plain but has some basic info on it. Once you get things unpacked you'll find the flashlight inside of a cloth drawstring carry bag, user manual and a microUSB cable.
The flashlight is about 9.5 inches long at the longest points as it isn't exactly squared and it's about 3 inches thick at the thickest point. On the right side is a rubberized button that's labeled 'flashalarm' that's used to activate the red hazard flashing light on the back and it's used to turn on USB charging and turn it off again. The flashlight light is plastic but it feels sturdy and well made overall.
On the left side is a rubber cover over top of two USB ports, a regular one and a microUSB port. The microUSB port is for charging the 2600mAh internal battery and then the regular USB port is for charging your phone or whatever else you need to.
On the top of the light is a rubber button with the power symbol on it and that's for turning the flashlight itself on and off and switching modes. On the top is also a larger dark gray section that folds out to form the hand crank handle so you can charge the internal battery manually in an emergency. As you crank the handle the red LED in the handle will light up to let you know it's working. The manual says that 1 minute of charging or hand cranking should provide up to 120 minutes of flashlight usage.
On the bottom of the flashlight you'll find the glass breaker hammer with a red rubber cap on it and then the seat belt cutter blade hidden inside of the bottom panel.
On the handle or end of the flashlight is three red panels, two small ones on each side and then a large one on the top to the back. To activate it you press the flashalarm button on the right side and the six LEDs inside start flashing red to indicate trouble or hazard. The lights aren't really that bright but in the dark, on the side of the road they should be adequate to attract attention.
On the front end you'll find four small round magnets around an LED flashlight, not sure what the specs are for the light as they aren't listed as far as brightness is concerned. The magnets are so you can attach the whole unit to your car trunk or side and then turn on the flashing red tail section to alert drivers to a hazard, it's sort or like a hazard flare basically. The flashlight has three modes for high, low and flash or strobe and it is fairly bright, more than enough to change a tire with or find your way in the dark surely. The specs list the light with modes for high, low, flashing and SOS but I could only activate high, low and flashing so I don't know what's going on there.
To charger your devices you need to turn it on by holding in the flashalarm button and then the red LED in the tail will light up to indicate it's ready to charge. To test the charging ability I charged my Samsung Galaxy S6 phone and I have to say charging was really slow but I guess it's not meant to be a fast charger either.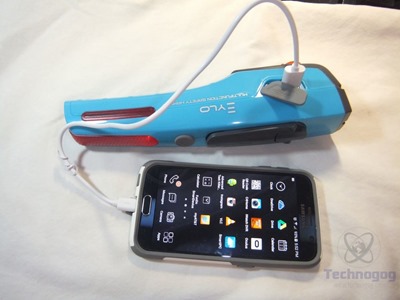 Conclusion
The Eylo flashlight isn't a bad product but it's not a great one either, it's about average I guess, or slightly below. It does work but and it does a lot of things but I'm not sure it does anything very well.
The specs list the flashlight having four modes but I could only find three and it's adequate for most situations.
The red blinking hazard flashers aren't very bright at all but in the dark they should be noticeable.
I didn't test the glass breaker hammer as I don't have any car windows to break and the seat belt cutter seems good enough for the job, it's not razor sharp but it's sharp enough to get the job done.
The magnets aren't very strong. If you placed it on a flat surface like the trunk it should be fine, but on a side panel it'll slide down with just the slightest bump.
The battery inside is 2600mAh and that's fairly small really, the reason I say this is that I have 11000mAh batteries that are less than 1/4 the size of this product so I don't see why a larger battery wouldn't fit inside of it. It's also very slow to charge anything, but I guess in an emergency speed might not matter, but then again it depends on the emergency too.
Pros:
+Multiple uses
+Seems well made overall
+USB or hand crank charging
Cons:
-Magnets not very strong
-Slow charging
-A bit expensive for what it is
-Hazard lights not very bright
-Specs list 4 flashlight modes but only 3 I could use
-Small capacity battery
| | |
| --- | --- |
| Grading | Scores Out of 10 |
| Overall | |
| Design / Aesthetic | |
| Value / Price | |
| Performance / Usage | |
To learn more about our review policy please visit this page HERE.