The new thing lately seems to be adding touch controls to most everything and that can be a good thing or a bad thing, it just depends on how it's implemented. Today for review I've got the the Rapoo A3060 Bluetooth Mini Speaker which acts as an external speaker for music or it can be a speakerphone for hands-free calling. The unique thing about the A3060 is that it has touch controls on the top to control things like volume, answer or end calls and play and pause of your music. The A3060 is very well made, attractive looking and best of all it sounds good, so read on to learn more..
Unboxing
Let's start the unboxing out with a video unboxing, then we'll get into the regular style below that.
Surprisingly the package is just a plain brown box with a small label on it. Not a big deal, it works.
Inside the box you'll find a user guide and a plastic container holding the Rapoo A3060 speaker. The plastic container could be used for a carrying case which is handy.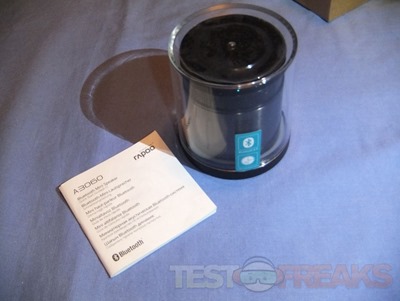 The base of the plastic container houses a microUSB style cable that's used for charging the A3060.
The top of the speaker comes with a protective film on it, the top is actually a touch panel so it needs protecting during shipment. When powered on the controls will light up blue, it's hard to see, but the Rapoo logo is there in the center. Very hard to see is the tiny hole on the top which is the microphone so you can use the A3060 as a speakerphone.
On the side at the bottom you'll find the on/off switch, microUSB port and the indicator or status LED. From the side view you can see the brushed metal look of the speaker along with a mesh top section with an opening and then the top section with the touch controls. It's very hard to see but there is a metallic blue part under the top section. The A3060 is also available in several colors, obviously I got black. The A3060 is a small in size yet but it's much heavier than it looks to be, it feels sturdy and very well made.
On the bottom you'll find an identification label and a ring of rubber to help keep the A3060 in place on your desk and not slide around.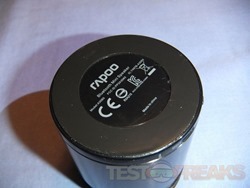 Specifications and Features
Rapoo A3060 Bluetooth Mini Speaker
A3060
Bluetooth Mini Speaker
• Bluetooth 4.0
• Metallic look and feel
• Full touch control
• Voice prompts
• Small, portable, fashionable and colorful
Metallic look and feel
By using abundant metallic elements, this is the perfect combination of technology and fashion.
Bluetooth 4.0
You can enjoy high-quality stereo audio by connecting to Bluetooth-enabled devices, like your smartphone, tablet or PC.
Full touch control
On the touch-control panel, the up and down keys are for the song selection, left and right keys for volume up and down. Enjoy the one touch light control.
Voice prompts
A cordial voice prompts as soon as the speaker enters into the power on/off, paired, connected, disconnected, or low battery mode.
Small, portable, fashionable and colorful
Six trendy colors for you to choose from. No worries about traveling with your speaker: its compact size makes it your perfect travel companion.
Price: $42.90 (from Amazon at time of review)
Testing and Usage
The first thing to do is charge the battery with the supplied microUSB cable. When charging the LED lights green and goes off when complete. Charge time took about 2 hours for me, not sure how much charge there was when I got it as it did power on when I took it out of the box. I couldn't find anything on the Rapoo site in regards to the battery size or capacity or charging times, so I can't tell you much about it sadly, but the package does mention it has a 15 hour usage time.
The LED can also be other colors like red for low battery or blue for Bluetooth pairing.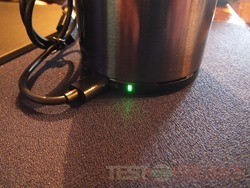 As I mentioned the touch panel lights up when powered on and here it is, it's blue and you can see controls for play/pause, volume up/down and answer/end calls and Bluetooth pairing.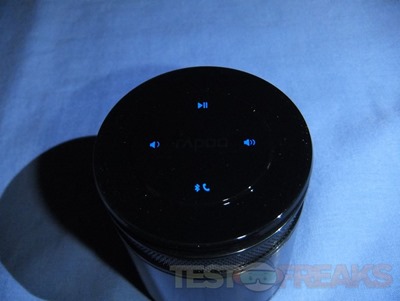 Once charged you'll need to pair the A3060 to your devices and I used it with both my HTC One and my PS Vita.
Pairing was easy, I put the A3060 in pairing mode by holding the Bluetooth button and then searched for it and it paired to my devices. No issues to report there, simple.
The A3060 uses Bluetooth 4.0 which only really matters if the device you're pairing it with is equipped with Bluetooth 4.0, if it isn't the A3060 is backwards compatible.
The touch panel works great, just touch and it does what you want it to. No complaints here except for the fact that it's missing controls like forward and back so you can navigate music tracks. The A3060 does offer calling features like redial and reject calls and it can transfer the call to the phone and back again.
I very much like the fact that the A3060 has volume controls on it as it's just easier that way I think.
The A3060 only has one speaker inside of it so it's not stereo, but the sound is full and actually very good. The bass is excellent, when turned up it will vibrate your desk and not get distorted which is a good sign.
The volume can get very high, volume levels do depend on the device you're connected to though. The PS Vita has sort of a lower volume but the HTC One is much louder.
Calls and music sound good through the A3060, it's clear and not distorted at high volume levels.
The Rapoo A3060 works fine as a speakerphone thanks to the built-in microphone, it's very comparable to my HTC One with the same ability. No complaints here.
The Rapoo A3060 works very well, but most other speakers of this type I've seen include an auxiliary audio port, a 3.5mm jack so you can plug in non-Bluetooth devices, and the A3060 does not so you're limited to using it only with Bluetooth enabled products. This isn't a bad thing I guess, but it does limit the options for using it slightly.
Conclusion
The Rapoo A3060 offers decent sound overall with deep bass in a small and inexpensive but very well made package.
If you're listening to music or taking a phone call, both will sound good through the A3060.
The A3060 offers clear sound with deep bass that doesn't get distorted at high volume levels.
The build quality is exceptional, it's very well made, it's heavy and it's sturdy. You can just toss this in your bag and it will be safe but you could use the package as a hard case for it.
The touch controls on the A3060 are more than a novelty, they work, and they work well, but they're basic with just play and pause and volume controls.
The voice prompts are a nice touch I guess, but I'm not sure I like my devices talking back to me, personally I could do without the chatter.
The A3060 only works with Bluetooth devices as there is no line-in. This can be good or bad depending on your needs, it's just something to keep in mind.
Battery life is excellent, you should get about 15 hours of play time or usage on a single charge.
When you combine the touch controls, good sound quality and the exceptionally long battery life, you've got a great little product in the Rapoo A3060.
Pros:
+Controls built-in
+Touch panel
+Good sound overall
+Simple to use
+15 hours of usage on single charge
+It talks
+Very well made
+Package can double as carrying case
+Relatively inexpensive
Cons:
-No music controls
-No auxiliary connection
-Only single speaker
| | |
| --- | --- |
| Grades: | 9 out of 10 |
| Overall | |
| Design / Aesthetic | |
| Value / Price | |
| Performance / Usage | |
To learn more about our review policy please visit this page HERE.