Up for review today I have another Bluetooth speaker, and it's another speaker that features touch sensitive controls. Today I have the Satechi BT Touch which has two 2.5 watt speakers in it for stereo sound and touch controls for calls and music playback. The BT Touch offers up to six hours of play back on a single charge and it has a 3.5mm auxiliary port so you can use it with devices that aren't Bluetooth enabled, so it's good for most anything. It's inexpensive but yet it sounds great, so read on to learn more..
Unboxing
Let's start off with a video unboxing and then continue on with the regular style unboxing.
)
The box is very nice looking with lots of pictures and information on it.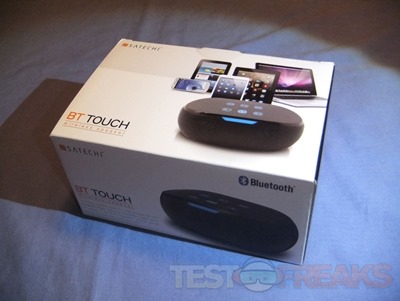 Inside the box you'll find the speaker, two small bags and the user guide.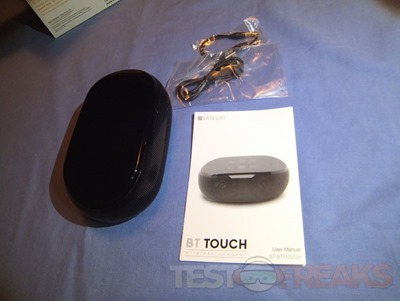 In the small bags you'll find the miniUSB cable for charging and the double ended 3.5mm cable for audio devices that don't have Bluetooth.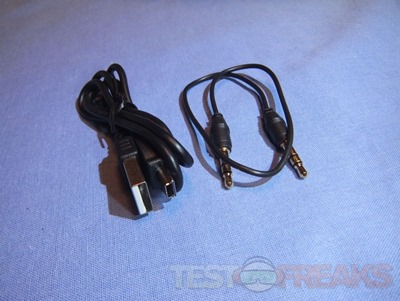 The BT Touch is black ion color and rather plain looking, but it is glossy and the front is has a metal grill covering the two speakers inside. The two speakers are 2.5 watts each. The top looks blank, but there is a tiny hole for the microphone and when powered on the controls will light up blue so you can touch them.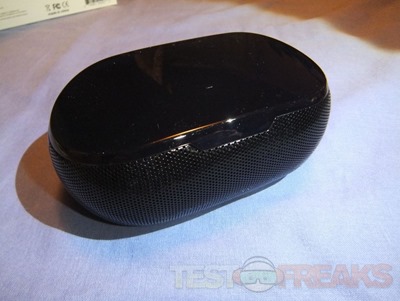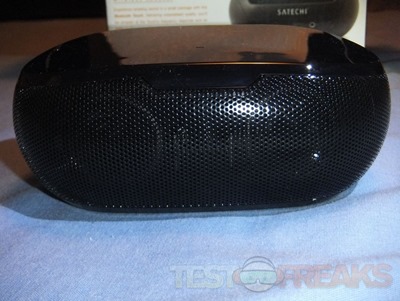 On the back you'll see the Satechi logo along with the power switch, reset button, USB port and the auxiliary port.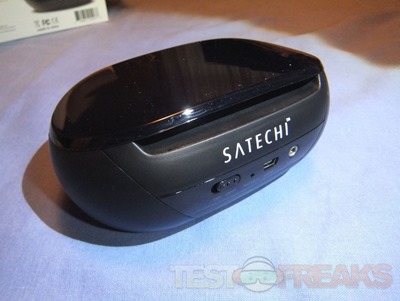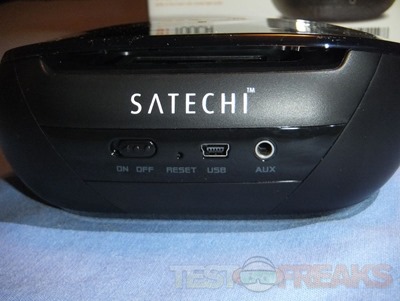 On the bottom you'll find the identification sticker with some specs and rubber feet.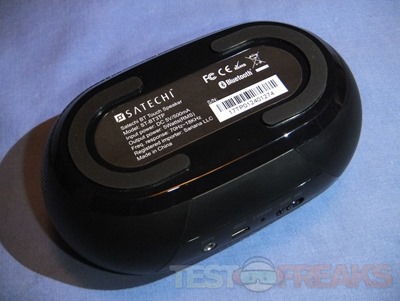 Specifications and Features
Satechi BT Touch Bluetooth Speaker System
The BT Touch packs powerful, dynamic sound into a small package. Play your music wirelessly with any Bluetooth-enabled device, and enjoy speakerphone integration when the speaker is connected to a smart phone.
Bluetooth 3.0
Integrated Bluetooth allows you to connect your computer, smart phone, or tablet and play music wirelessly from a range of up to 32′.
Dynamic Sound with 2.5W x2 Speaker
Stereo sound is output through the BT Touch's dual-channel speaker system. Each channel outputs 2.5 watts to provide optimum sound quality. Its compact enclosure contains large speakers that significantly increase low-end bass frequencies.
USB Charging
The built-in rechargeable lithium-ion battery is powered through the USB charging port which can be connected to a computer or a wall adapter and can last up to 6 hours of playback on a full charge.
Bright Blue LED Touch Panel
Audio playback can be controlled with the BT Touch's multi-function buttons: play/pause, next/previous track, volume up/down, and answer/end call. The buttons are displayed as attractive blue LEDs atop the Touch's glossy touch panel.
Speakerphone Integration
The BT Touch contains a built-in mic, which allows you to use the speakerphone feature of your smart phone. Use the BT Touch's touch panel to answer and end calls.
Compact, Lightweight, Portable
Being wireless, the BT Touch is as portable as your phone. Its unique compact design enables easy transport around your home, office, or outside.
Price: $49.99  (from Satechi at time of review)
Price: $34.99    (from Amazon at time of review)

Testing and Usage
The first thing you'll need to do is charge the BT Touch with the included USB cable and the LED will light up red to let you know it's charging the battery which, when fully charged, should last about six hours.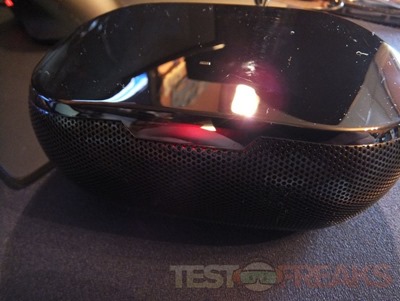 When powered on the touch control panel lights up a very bright blue. It's nice looking I think. The top panel though is very glossy and it attracts dust and fingerprints quickly.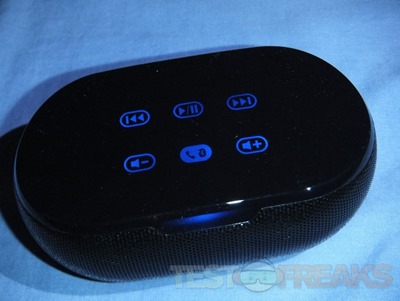 I used the BT Touch with my PS Vita and HTC One over Bluetooth and then I tried it with my ZuneHD over the auxiliary cable.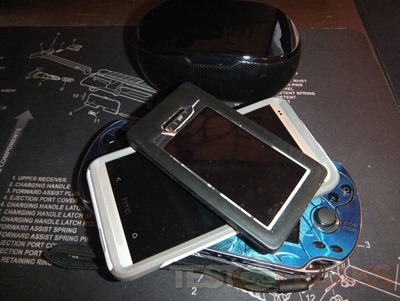 Pairing worked perfectly fine with the first device which was my PS Vita. When I tried to pair it to my HTC One I had a small issue, it took several tries. The user guide says you just hold the Bluetooth button until the LED blinks red and blue, but it never did but I got it paired anyway after about five tries. I'm guessing it might be a mistake in the manual, not sure what was going on there, but I got it paired so that's what matters.
All of the controls worked just fine with my HTC One. I could play and pause along with skipping forward and back and of course answer and end calls.
The sound from the BT Touch is truly amazing especially if you consider the cost. The sound is very full and offers a lot of bass and very loud volume levels. There is little to no distortion at max volume.
I listened to several types of music and played games and everything sounded great. I love using it with the PS Vita, it really adds to the gaming experience overall.
To note, the BT Touch does have a lot of bass and at max volume there's very little distortion, but the speaker was vibrating and just walking across my desk. I could easily see it vibrating it's way right off and onto the floor and possibly getting damaged.
Battery life is decent, you should get about six hours on a single charge which I would think should last most people a few days or even a week or more, depending on usage.
Satechi did not include a carrying case with the BT Touch but it is well made so I can't see it getting damage much during any transit. The only thing I would worry about is the glossy touch panel, it might get scratched and damaged if you're not careful when you take it with you. So yes, it would have been nice if they included a carrying case for sure.
Conclusion
The Satechi BT Touch is one of those products that surprised me, it's low priced, but works well, is well made, and sounds great.
The BT Touch features touch sensitive controls that work very well and it offers both multimedia and calling controls.
I think the BT Touch would make an excellent PlayStation Vita accessory, the sound is great and much louder than the Vita's speakers are and it sounds better than the Vita.
Overall the BT Touch is a great deal, the price over on Amazon is only $35, and $50 via the Satechi site, I thought it would be priced higher honestly. The BT Touch is very well made and offers great, full sound from a small package.
The Satechi BT Touch is just an excellent product overall that can and will add a new dimension of sound to your mobile devices. I for one will be keeping the BT Touch close by to use often with my devices.
Pros:
+Excellent sound
+Very loud without distortion
+Well made
+Decent battery life
+Looks good
+Touch controls work well
+All controls work on Android
Pros2
Cons:
-Connecting via Bluetooth might take a few tries
-Can vibrate or walk across desk at high volumes
-Glossy finish attracts dust and fingerprints
-No carrying case
| | |
| --- | --- |
| Grades: | 9 out of 10 |
| Overall | |
| Design / Aesthetic | |
| Value / Price | |
| Performance / Usage | |
To learn more about our review policy please visit this page HERE.