Up for review today I've got a set of Bluetooth headphones from a company called Riwbox, they are the XBT-80 headphones and they're not only Bluetooth capable but they can be wired or you can put in a microSD card to use them as an mp3 player. These are actually a very nice set of headphones really, I was very much surprised by these in how good they sound and what all they can do. Read on to learn more…

Specifications and Features
Bluetooth Headphones, Riwbox XBT-80 Wireless Foldable Headset Over Ear Bluetooth Headphones with Microphone and Volume Control for Cellphones iPad iPhone TV Laptop Computer (Black&Gold)
Fashion Design:The XBT-80 headphones fuselage is close to the matte material, give you a felling of touching the human skin, to ensure that the touching has a good feeling, not easy to damage and scratches.Other parts are die-cast from a zinc alloy – a world's first for on-ear headset – and hand-polished to provide a look and feel worthy of a flagship. These materials cause in a less bulky feel on the ear.
Noise Cancelling :High soft elasticity earpads significant noise reduction for travel, work and anywhere in between.
Driver diameter: 50mm
Impedance: 32O
Sensitivity: 107dB ±3dB
Frequency range:2.4-2.4835G(Hz)
Power rating:30MW
Mic sensitivity: -58dB ± 3dB
Mic frequency range: 30MHMHz-16KHz
Play time:About 13 hours
Standby:=180 hours
Charging time:About 2-3 hours
Charging Current:350mA
Compatibility:Cellular phone, Bluetooth device; support remote control of play/pause, previous/next track, volume up and volume down
Price: $25.99 (from Amazon at time of review)
The Review
Let's start with a video unboxing and then move on:
The packaging for the Riwbox XBT-80 Bluetooth headphones is very nice looking with plenty of information on the outside of the box and pictures.
The headphones are packaged very well in a plastic shell or nest with a clear cover over them. Once you get everything unpacked you'll find instructions, 3.5mm doubled audio cable with in-line microphone and a microUSB cable for charging the headphones.
The headphones I got for review are black and gold in color but you can also get purple and white or silver and white colors. The headphones fold up for portability and storage and overall they seem very well made, no extra plastic pieces or anything like that, they are finished very well and seem like a quality product at first glance or inspection.
The headband is padded well on the top and bottom actually, with more padding on the bottom of course. The Riwbox logo is on the top side.
Both sides of the headphones can extend out and lock into place to make sure you get the right fit for your head.
The headphones are very well padded with thick padding that is supposed to also work for noise reduction. The earpieces have an R or L in them for Right and Left.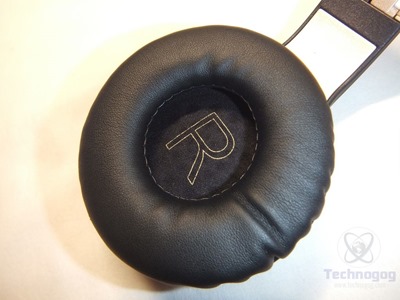 On the outside edge of the left headphone at the back you'll see a microSD slot, microUSB port and a 3.5mm audio jack. The charging and pairing LED is located behind the microSD slot on the front edge of the headphones, it lights red to indicate charging and then turns off when done.  The LED blinks blue and red for pairing and solid blue for paired.
On the outside edge of the left headphone at the front you'll find the multimedia controls, mode, power and answer/end call buttons.
The XBT-10 headset does have voice prompts and the ones I heard are:
'Bluetooth Mode'
'Bluetooth Connected Successfully'
'Bluetooth Disconnected'
'Power Off'
'Music Play Mode' (when microSD card is inserted with music on it)
I used these with my Samsung Galaxy S6 over Bluetooth for listening to music and the sound is very good, nice and full but just a little light on the treble for my tastes, bass seems just enough or just slightly too much. All in all not bad sounding, very clear and full sounding.  Play/Pause, back and forward buttons worked fine on the headphones to control the phone media functions.
I used them wired connected to my computer to watch a movie and they worked great, I noticed the same thing here, just a little light on the treble but decent sound.
I also tried these with a microSD card with music on it and they sounded much better really, it seems there was more treble than the other modes. The sound is just much better and it seems clearer and crisper than Bluetooth or wired honestly.
The noise cancellation does really work, when you put them on you can hear a noticeable drop in outside noises and you don't have to turn the volume up very loud to drown them out.
Conclusion
For about $26 right now on Amazon you can get a decent pair of headphones with multiple features built into them
The Bluetooth function works fine, I used it with my Android phone and PS3. The wired functionality works good as well. One of the nice features is the ability to use a microSD card with your own music on it so it's a set of headphone with a built-in MP3 player which I think is a great feature. These headphones really offer everything you could want I would think.
Wired, wireless over Bluetooth or an MP3 player, the Riwbox XBT-80 headphones can do it for you.
The headphones look very nice overall and they do seem well made, they're lightweight and comfortable to wear for long periods of time.
The noise cancellation feature really does work as well, I was surprised really that it works as well as it does.
All in all these aren't a bad set of Bluetooth headphones, really nice actually. I'm honestly surprised they are as good as they are as I wasn't expecting much for such a low price.
If you are interested in more options checkout  this in-depth reviews of best wireless headphones by 10hightech.com
Pros:
+Look good and seem well made
+Wired or wireless
+Built-in MP3 player
+Decent sound overall
+Work as expected
Cons:
-A bit light on treble for my tastes
| | |
| --- | --- |
| Grading | Scores Out of 10 |
| Overall | |
| Design / Aesthetic | |
| Value / Price | |
| Performance / Usage | |
Disclosure: This product was given to me for review by the company for review purposes only for free or at a discounted price.
To learn more about our review policy please visit this page HERE.