Back to the kitchen for today's review and it's something that I've come to love and have been using everyday and will happily continue to keep using in my kitchen from now on. Today for review I've got a seven piece kitchen utensil set from a company called RSG. It's actually six pieces as it includes a stand which they count as the seventh piece. I've been using these everyday for over two weeks and they've held up well and I like them very much. The handles are a non-slip rubber and overall these are well made and can withstand heat up to 485 degrees. Read on to learn more…
Specifications and Features
Kitchen Utensil Set with Holder * 7 Pc Cute Kitchen Utensils Come with Colorful Handles, Stainless Steel Core and Large Food Grade Nylon Heads* By RSG
INCLUDES YOUR FAVORITE ESSENTIALS: Our Kitchen Utensil Set with Holder has every kitchen tool the home needs ? Spatula, Solid Turner, Slotted Spoon, Solid Serving Spoon, Spaghetti Server, Soup Ladle and Kitchen Utensils Holder (measurements in description below)
COLORFUL AND STURDY: The sturdy stainless steel core supports our colorful handles: Pink, Green, Aqua Blue, Orange and Yellow ? Completed with a convenient black kitchen utensil holder
SPACE SAVING: The sleek black and stainless steel kitchen utensils hanger takes up virtually no counter space and looks awesome in your kitchen! ? Most other Kitchen Supplies & Utensils don't include a space saving holder
PROTECTS YOUR COOKWARE: Our cute kitchen utensils with nylon heads won't scratch your expensive pots and pans. ? Unlike competitor's kitchen utensils and gadgets, which may scratch your cook and bakeware
ERGONOMIC AND SAFE: Our kitchen cooking utensils provide a comfortable rest for your thumb, which makes serving easier ? 100% FDA grade, BPA free, dishwasher safe, and heat resistant up to 415 °F / 210 °C
Brighten Up Your Kitchen in Style!
The RSG Essentials 6 piece kitchen utensil set with holder starts with the ergonomic, brightly colored handle, which is sure to color up your kitchen. Sturdy and well made, the high-grade stainless steel core is durable and made to last. The nylon heads are heat resistant up to 485 °F / 250 °C and are 100% FDA grade, BPA free and dishwasher safe.
– Beautiful design
– Ergonomic handles with long core making it easy to reach into deep pots
– Easy to Clean – Either a quick hand-wash or dishwasher
– Heat resistant up to 485 °F
– Larger Utensil Heads!
Everything You Would Expect in a Gourmet Kitchen Included in Purchase:
– Kitchen Utensil Holder: 14.5″ x 5.1″ Inches
– Slotted Turner: 13.5″ x 3.1″
– Slotted Spoon: 13.5″ x 4.3″
– Serving Spoon: 13.5″ x 2.4″
– Soup Ladle: 13″ x 3.1″
– Spaghetti Server: 13″ x 2.8″
– Spatula: 13.1″ x 4″
Add a Touch of Style
Embellish your kitchen with the colorful aesthetic of RSG Kitchen. The trend-forward colors and stainless steel design will add a stylized touch to every countertop. Our cool kitchen utensils make the perfect gift.
Want a more colorful kitchen?
Our unique and cute kitchen utensils are a crowd pleaser and you'll love how they look in your kitchen!
Unlike the typical kitchen supplies and utensils of our competitors, the RSG set provides the perfect starter kitchen set, with the most 6 commonly used utensils and a kitchen utensils holder to keep everything tidy. Stand out with our pink, green, blue, aqua, purple, orange and red kitchen utensils.
Product Dimensions: 14.5 x 5 x 5 inches ; 2.3 pounds
Price: $18.99 (from Amazon at time of review)
The Review
Let's start with a video unboxing and then move on from there:
The packaging or box is nice looking, not much information on it, just a picture of what's inside.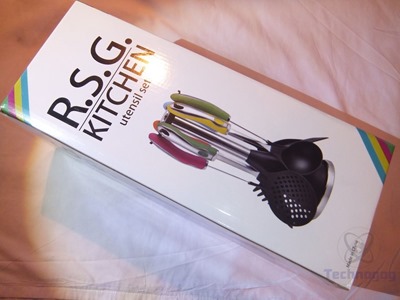 Once you unpack the box you'll find six utensils and the stand or holder as they call it. Everything comes individually wrapped in plastic to keep it clean and to protect it during shipping.
The set comes with six of the most commonly used kitchen utensils slotted turner or spatula, slotted spoon but not really slotted as it has holes in it, more of a strainer, serving spoon, soup ladle, spaghetti server and a regular spatula. They're black in color and made of heat resistant nylon up to 485 degrees so you could actually use then on the barbeque if you needed to. All of the them are about 13 inches long, they range between 13 and 13.5 inches in length actually depending on which one. They are dishwasher safe so clean up is easy.
The stand or holder is plastic, it's black and chrome in color and look nice but it's really lightweight. The top has pegs on it and you set the utensils on them and the whole top can spin all around.
The handles are very colorful, there's light green, orange, pink, blue, dark green and yellow. Color is nice, it's a bit of brightness in the kitchen. The handles are mostly rubber with a metal top on them, they are a bit fat or oversized.
The utensils have holes in them so they just hang on the stand and then the whole top can rotate. The only issue is that the stand is very lightweight and it can fall over when it gets off balance, for example it you take two from one side. This is could have been solved if the base was bit heavier.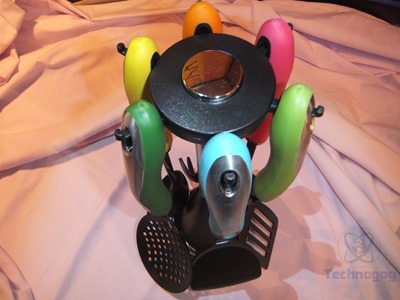 I cook everyday, more than once, and I've been using these for more than two weeks now. I've only used these while cooking during that time and none of my other similar utensils. I've used everyone of these utensils except for the spaghetti server as I don't like spaghetti, I prefer other types of pastas. I've used the spatulas numerous times each along with the serving spoon and ladle more than once. They've been subjected to the heat of frying pans and the oven several times each and they've been washed and they look just like new still.
The handles are very comfortable, they're slightly oversized and I wasn't sure about that but I've come to like them a lot honestly.
They're heavy, but not overly so, they seem quality made to me, they're sturdy and they don't bend when you're using them.
Conclusion
I think the RSG kitchen utensil set if well worth the cost, I've been using them and come to like them very much. They're well made, high heat resistant and they include popular and commonly used utensils for the kitchen.
I'm a guy, and I was a chef for many years, and I wasn't sure about the whole different colors, but I like them, they add a bit of color to my kitchen. Honestly I wasn't sure either about how well they would hold up or their quality as they're very inexpensive but I'm impressed and I do like them a lot.
Get them if you need a set of utensils for your kitchen or as a gift.
The only complaint I have is about the stand, it's nice and useful but it's too lightweight as it can come unbalanced and fall over if you take more than one from one side of the stand. Other than that, the set is nice, I might figure out a way to add some weight to the base in the future, but as is, it's well worth the price you'll pay.
Pros:
+Colorful
+Includes stand/holder
+Well made and durable
+Inexpensive
Cons:
-Stand is lightweight and can fall over when off balance
| | |
| --- | --- |
| Grading | Scores Out of 10 |
| Overall | |
| Design / Aesthetic | |
| Value / Price | |
| Performance / Usage | |
Disclosure: This product was given to us for review by the company for review purposes only, and is not considered by us as payment for the review.
To learn more about our review policy please visit this page HERE.