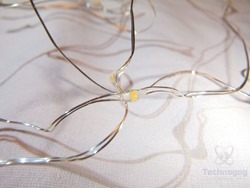 Up for review today I have something a bit different, two sets of micro LED lights. Yes they are LEDs meaning they use less power and put out virtually no heat at all, but since they're micro they're just smaller. These have no real official name, just Micro Leds and they're from a company called RTGS that seems to specialize in lighting as they have numerous products on their website. In the pack I have today are two sets of micro LEDs with fifteen per string and they're about six feet long. The LEDs are battery operated with two CR2032 batteries that should last about 24 hours with continuous use. Read on to learn more..
Unboxing
The packaging for the RTGS micro LED lights is actually a clear plastic box with just an insert inside of it listing the specs and features.
Once you open the box and unpack it you'll find four batteries in their packages and the two sets of micro LED lights and that's all. There are no instruction included but you really don't need any, you put the batteries in and turn it on and off, that's it, very simple.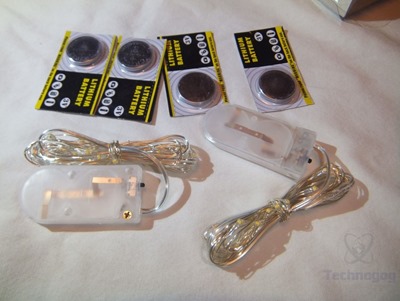 Each set of lights uses two CR2032 batteries which are fairly common, and thankfully there included for you. The batteries should last for about 24 hours with continuous use which isn't bad I guess as you most likely won't be using them for that long at a stretch.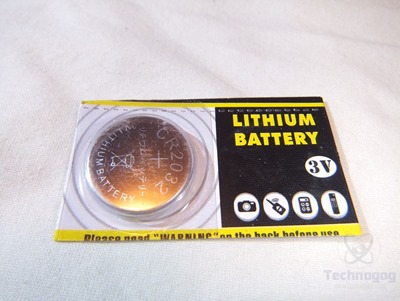 The LEDs are micro LEDs, meaning they're really small. Each strand has 15 LEDs on it that are spaced about four inches apart. I should note that the LED section of the wire is waterproof and can be fully submerged in water or other liquid, the battery box cannot be submerged though as it's not sealed.
The LED section of the wire is about fifty eight inches or very close to five feet. There is a wire section coming out of the battery box with no LEDs on it that is about twelve inches long, so the total is close to six feet in length. The LED section wires are sturdy and bendable and they'll stay how you bend them which makes them great for numerous uses.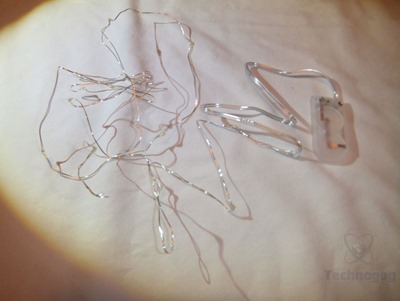 The battery cases are almost fully clear and should have two screws holding them closed. One of them I received only had one screw, the other had two, not a big concern though as it does stay closed with just one screw.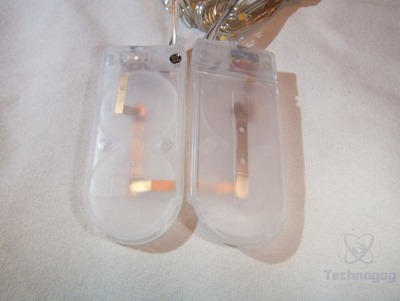 On the end or top where the wires come out you'll also find the on/off switch. It's a sturdy switch actually and should last a long time I would think.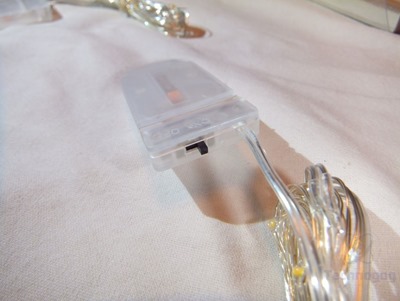 Specifications and Features
These 15 LEDs Micro LED Battery Operated String Lights are perfect for use as a lighting addition to any decorative project. Very thin wire hosts 15 very small LED bulbs that are about size of the rise grain and are intensely bright. With steady 360 degree viewing angle they illuminate in every direction. When used with new batteries they last for over 24 hours. They are easy to hide, give beautiful true color and use fraction of energy needed by regular light strings. These lights are also defined Starry String Lights or Fairy Lights.
15 Super Bright Warm White Color LEDs Lights on 5 Ft Long Silver Ultra Thin Wire with 4 Inches Distance Between LED Bulbs and 12 Inches Clear Cable Between Wire and Battery Box. TOTAL STRING LENGHT OVER 6 FEET.
Newest Clear and Small Battery Box That is Easy to Hide Requires 2 CR2032 Batteries (Included !!!). When used with new batteries it offers over 24 Hours Non Stop Operating Time and Much Longer When Used with Breaks.
Lights Have Over 20 Years of Life Span and Use Fraction of Energy Needed by Regular Light Strings. They are also much brighter than Starry Lights or Fairy Lights.
Ultra Thin, Bendable but Sturdy Wire with LED Lights is Totally Submersible but NOT BATTERY BOX!!!
Part Name: 2 Sets of 15 Warm White Lights Silver Wire
Item Weight: 0.3 ounces
Product Dimensions: 2 x 0.5 x 3 inches
Item model number: 2 Sets 15 Warm White Lights Silver Wire
Batteries:    4 Lithium Metal batteries required.
Material: Plastic
Power Source: Battery-Powered
Price:  $7.95 ( from Amazon at time of review)
The Review

The first thing you need to do is of course insert the batteries, simple to do.

There are two small screws that hold the cover on but you don't actually have to remove them to put the batteries in or change them. I did because I wanted to see the inner workings, but there are clips on the edge of the plastic case that hold the top on and you can just use a fingernail to pop open the battery cover. You could mount the case permanently with some double sided tape and just pop open the case to change the batteries as need be.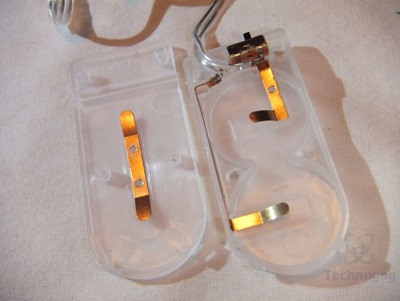 The batteries just set on the contacts in the case and when you close the case the contact is complete to make the circuit.
The case is almost fully transparent so you can see the batteries inside.
The micro LEDs are really bright, the pictures really don't show it well because the camera auto adjusts the brightness.
I recently upgraded my computer and moved some stuff around inside and realized it's rather dark in there and had to use a small flashlight for a lot of the little work like getting the connector the right way or reading the tiny print on the connectors inside of the case. If you've installed a motherboard etc in a case then you know what I mean and it doesn't help that the inside of my case is painted black either. I wanted to add some light to the inside of the case, not only for when I need to do something but just because to make it a little brighter in there to maybe show stuff off. I installed one of the kits in my case and I attached the battery box on the outside rear of the case with double sided tape. It was simple to do and since the wires are stiff I could just really put them where I wanted them and really didn't have to fasten a lot of it to the case, I just weaved it in and out in certain sections and holes to secure it.
( Edit: After I posted this review I spliced these micro LEDs onto a USB cable, the 5v line and ground, and it worked just fine. I then spliced the switch it too and it worked so I can plug it in via USB and turn it on and off with the switch)
Putting them in your computer case is just one idea, I'm sure you can come up with a lot more.
To finish this off here's a video for you of the unboxing but also showing the micro LEDs powered on:
Conclusion
I'm never had the chance to own any micro LED lights and I'm impressed, they're tiny but yet put out a decent amount of light for their size.
The price is well worth it especially if you consider you're getting two sets and the batteries for both sets included.
These lights have all kinds of uses, parties, modding, decorations, or just wherever you might need light temporarily.
I do like the fact that they are waterproof, not sure what I would use them for that way, but it's nice they are, I'm sure someone can come up with a use for them in water.
I like these little lights but I'm not sure about the battery life as 24 hours doesn't seem like that much at all, but you most likely won't be using them for the full 24 hours at a time.
Pros:
+Numerous uses
+Inexpensive
+Bright LEDs
+Seem well made
+Simple to use
+Waterproof LED section
+Bendable stiff wires
Cons:
-Battery life could be better
-Battery powered only
| | |
| --- | --- |
| Grading | Scores Out of 10 |
| Overall | |
| Design / Aesthetic | |
| Value / Price | |
| Performance / Usage | |
To learn more about our review policy please visit this page HERE.