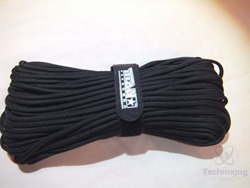 Here on Technogog, it's not just tech we cover like computers and mobile things, but I look at it as that you could say that everything is really technology related in one way or another. Technology takes many forms, and it takes technology to do things and to improve things. So with this review I have for you today, we're back to the camping and hiking or the outdoors theme. Paracord is something that has become very popular especially what they call survival bracelets which are made from paracord, but it has many more uses, too many uses to list really. Today for review I have 100ft of Type III 550 paracord from a company called Titan Paracord that I thought would share with you so read on to learn more…
Specifications and Features
Titan Paracord 100Ft Type III 550 Paracord
Trusted and used by U.S. and Canadian Defense Forces, the U.S. Coast Guard, and outdoor enthusiasts around the world. Titan's Superior Quality means Superior Performance.
– Titan Paracord has a Minimum Guaranteed Tensile Strength of 550lbs.
– 100% Bump-free, Bulge-free, Kink-free.
– Made to Military Specifications w/Colored Government Contractor Marker Inside
Titan Paracord is made from 100% Nylon, measures 5/32″ in diameter, and contains 21 individual strands, braided into seven seriously-strong 3-strand yarns. Its official military designation is MIL-C-5040H, Type III, 550 Paracord. Titan Paracord is the ultimate utility cord, and is also known as 550 Cord, Parachute Cord, or Survival Cord.
Typical utility uses for Titan Paracord include:
– Securely tying down items to the top of your vehicle or tying small items to your backpack or waist when hiking.
– Hanging a rucksack from a tree to keep your food away from critters or Stringing up a clothes-line to dry out wet clothing.
– Stringing up a trip wire to rig an area by tying cans, chimes, etc. to the cord to alert you of intruding animals.
– In addition to its general utility functions, Titan Paracord is also excellent for Survival Kits, Bug-Out Bags, and Vehicle Emergency Kits.
Typical survival situation uses for Titan Paracord include:
– When threaded with beads, use as a pace counter to estimate distance covered by foot.
– "The guts", or individual yarns of the core, can be removed when finer string is needed for fishing line or sewing gear.
– Slowly lowering your equipment or an object down from a higher plane.
– Securing a makeshift splint or creating a makeshift sling.
– Creating or Rigging a pulley system to lift a heavy object.
Price: $15.97  (from Amazon at time of review)
The Review
The packaging is just a zip style bag with a label on it, nothing more is needed as it's not exactly fragile, it's just paracord after all.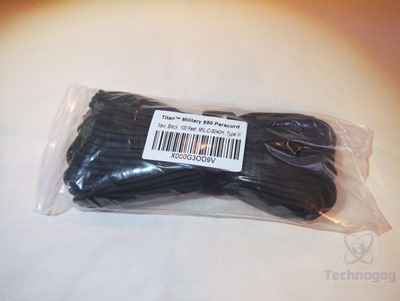 The paracord comes wrapped in a velcro strap to hold it together, it's reusable of course.
The paracord is black in color but there are many other colors available to choose from. The cord is Type III 550 which is military spec and can hold up to 620lbs with a minimum strength of 550lbs. The cord meets military specification of MIL-C-5040H and is the same that is used by the Canadian and United States military.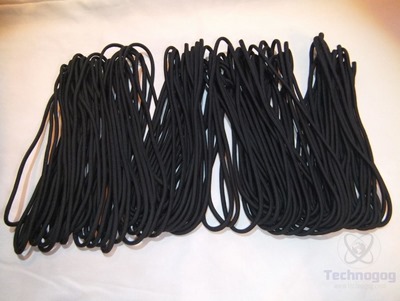 The ends of the paracord are 'burnt' and sealed closed so it won't come apart or fray.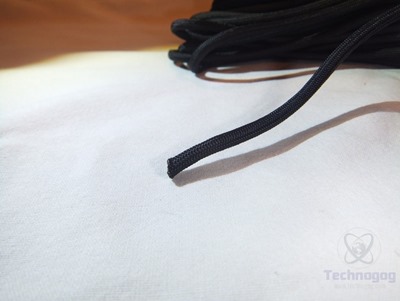 I did cut a piece of paracord off and but it open to see just what's inside and I found seven rather thick twisted strands. Six of them are white and one is red and white, not sure why, but all of them together should provide a strong cord.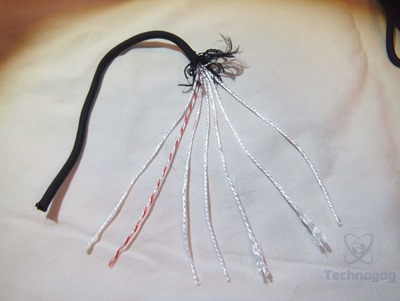 A little bit ago I bought a few Attmu Survial bracelets from Amazon which were claimed to be Type III 550 paracord. I took one of them apart because I wanted to see how long it was but I also cut it apart because I wanted to compare it to the Titan Paracord Type III 550 paracord.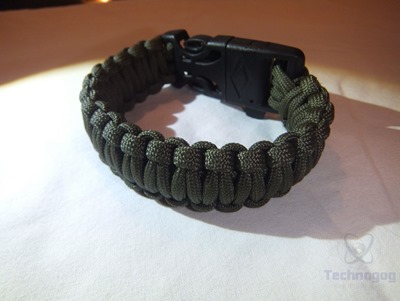 When I put the individual strands of paracord from Titan and Attmu next to each other for comparison I found that he Titan stuff is about twice as thick as the Attmu paracord is. It seems that even though Attmu claims they use Type III 550 paracord, they really don't, at least that's how it looks to me.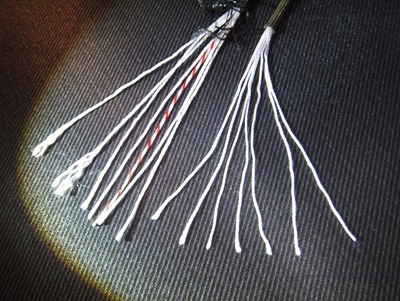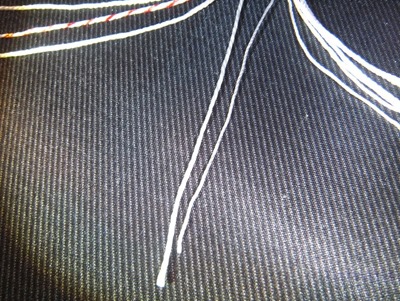 I own and reviewed the SportsTek Xplorer 10 in 1 tactical shovel and overall I love it, but I wasn't sure about the strap on the handle. The strap is really just a thin nylon ribbon like thing and it's a bit big for me personally so I thought that creating a new strap with the Titan Paracord would be the perfect use for it.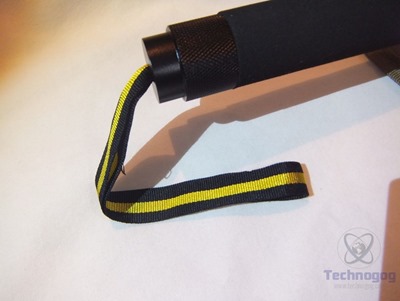 Titan Paracord includes two eBooks for free with your purchase and I looked through them and they can be useful. One of the eBooks is several projects you can do with paracord and I went though looking for one that might be useful to create the strap for the Xplorer shovel.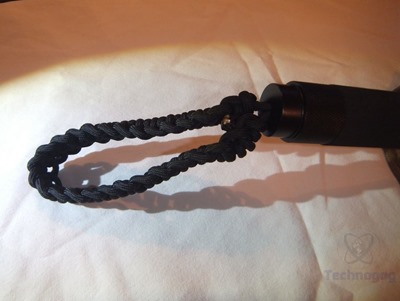 I found a project for creating a watch band with the paracord and I thought that would work for creating the strap. It took a bit of creativity to get it to work but I got it done and I think it came out very good. The plus here is that I made the strap to fit me personally so it's not only a much stronger strap but it fits better. Considering this is a tactical or camping shovel, by adding the paracord to it I've actually made it even more useful as I've now got cord there for an emergency.
There's plenty of things you can do with paracord like making dog leashes, replacing shoes laces, and making bracelets, there's just so many things you can do with it besides for outdoor uses.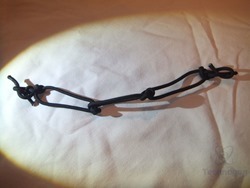 The two eBooks included are very useful. The first book is called The Titan Book of Paracord and it provides a brief history and introduction to paracord along with facts and uses but there's also a section on knot making and a section with links going to numerous other sites about paracord. The second eBook is called Easy Paracord Projects and it's just what it sounds like, an eBook full of projects you can make with paracord. I found both books to be informative and useful and worth a read.
I did do a short video of the Titan paracord, not sure what you'd call it, I guess it's a review of sorts, so here's that:
Conclusion
Paracord is one of those things that has evolved to be much more than the basic thing it started out as. Paracord was originally for parachutes, hence the name, but soldiers would cut the cords from their chutes and use it for other things like survival for example. Soldiers have been doing this for years and it's been available for purchase to the public for a while now but it's only recently really become popular and more well known. Paracord is very thin but yet very strong, that's one of the main attractions of it for most people.
If you go camping or hiking I'm sure you'll find paracord an invaluable addition to your carry. 100 feet of paracord does not take up a lot of space nor does it add any negligible amount of weight either so you can take it with you easily.
Paracord specifically from Titan Paracord is well worth the cost I think. When I opened up the paracord I was very much surprised to find seven rather thick twisted cords inside that should be more than enough to hold the rated 620lbs weight.
Paracord isn't just for parachutes anymore or survivalists, it can be used by anyone for anything from crafts to outdoor survival and various uses around the home. It's just one of those things that is very versatile and just has too many uses to even try and list.
Pros:
+Inexpensive
+Includes two useful eBooks
+Well worth the price
+Too many uses to list
+Strong and sturdy cord
+Multiple color choices
+High quality product
Cons:
-None that I could find
| | |
| --- | --- |
| Grading | Scores Out of 10 |
| Overall | |
| Design / Aesthetic | |
| Value / Price | |
| Performance / Usage | |
To learn more about our review policy please visit this page HERE.