Hey look it's another phone review! Today for review I've got the Samsung Galaxy S Continuum from Verizon Wireless. This phone is sleek and nicely made, it features dual screens, one is the main screen and the other is a smaller rectangular ticker style so you can always have instant updates. The Continuum runs Android 2.1 very smoothly and quickly, the phone is nice and responsive due to it's 1Ghz CPU. It comes with 2gb of memory and an 8gb microSD card.

As usual we'll start with the video unboxing: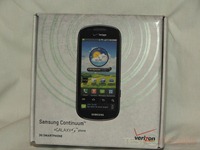 Inside you'll see the phone, documentation, USB cable, Charger and battery.
The Continuum is sleek and thin, it's a good looking phone really.
On the back you'll see the the 5mp camera with flash.
On the top is the the power button and audio port.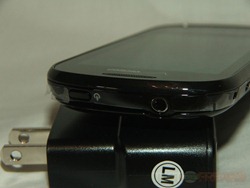 On the left side is volume control and a microUSB port.
On the right side is the camera button and microSD slot.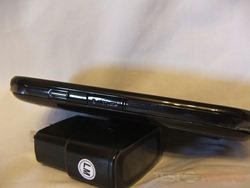 Specifications:
Samsung Continuum a Galaxy S phone
The Samsung Continuum, a Galaxy S phone, with a dual–display screen, updates your world in real time on its exclusive 1.8" Ticker display. With the Continuum, your life continues uninterrupted on the main ultra brilliant 3.4" Super AMOLED screen, while unobtrusive updates are delivered on the Ticker display as they happen. Get even more info, access and apps with the Continuums web browser and Android Marketplace. Include corporate and personal email support, social networking and calendar integration, and the world is at your fingertips.
Specifications:
Dimensions:
* 4.94" (H) x 2.30" (W) x 0.48" (D)
* Weight: 4.41 oz.
Operating System:
* Android 2.1 (Éclair)
* User Interface –Android 2.1 + Samsung TouchWiz
Display:
* 3.4" main display screen
* 480×800 Super AMOLED display
* 1.8" Super AMOLED Ticker Display
Keyboard: Virtual QWERTY Keyboard with Swype
Battery:
* Usage time: up to 420 minutes
* Standby time: up to 312 hours
* SAR: Head: 0.70 W/kg ; Body 0.47 W/kg
Memory / Processor:
* 1GHz application processor
* 2GB internal memory
* 8 GB microSD card pre–installed on–device –up to 32GB microSD supported
* Dual Band CDMA/PCS/1xEVDO Rev. A (800/1900 MHz)
Camera:
* 5.0 megapixel
* Auto-focus
* Led flash
* Dedicated camera/video key
Video:
* 720p HD video recording
* Easy upload to Youtube
* DivX video playback
* Blockbuster Mobile Application for downloading full–length movies the same day they are available on DVD.
Full Retail Price: $579.99
2-Year Contract: $299.99
Mail-in Rebate: -$100.00
PRICE: $199.99

The Continuum has seven panels but only four of them are filled, so you've got a lot of room for your own customization here.
If you look above you'll see the screen capture program captures the ticker as well, so apparently it's all one screen and not two really. The ticker can display several things like the weather, news, and social networks. It can be useful I'm sure, but I think I'd rather just have the entire screen be used for the phone. This is the big features of this phone, none others that I know of have anything like this, and again I have to wonder if it's actually worth it.
The screen is gorgeous, it's bright and beautiful, colors are vibrant, just excellent.
The Settings are similar to other phones, but there's the addition of Ticker Settings there.
Here's the Applications screens, there's not much of interest, all of it has become fairly common at this point. There is the 3G Mobile HotSpot, Car Cradle and Desk Cradle options there, and Twitroyd is included along with a Blockbuster app for movies. The rest is familiar.
The Task Manager is nice and it even includes tips for conserving your battery.
Browsing the web is fine, the Verizon network is decent for my here in Pittsburgh, no complaints there.
Battery life is very good as well, but I found if you turn GPS on it cuts the life in almost half.
The keyboard is like others, but in portrait mode the keyboard just seems really small.
Calls are fine, sound quality is very good, the dialer is a dialer, nothing special about it really.
Ok, let's go on to the camera. The last few phones I've taken a look at had basic cameras, the Continuum is a bit more advanced with plenty of settings to make your pictures look good and interesting.  Here's the viewfinder and the settings:
Taking pictures you can press the button for a quick picture or hold and to focus. I found that the picture quality varies greatly, and I can't figure out why. I took many pictures of the same things, with the same settings but no two were exactly the same looking. The flash is very bright and can sometimes overwhelm the subject a bit. There is a Macro mode that works very well. The pictures overall are decent yes, but it takes a bit to get accustomed to using it and always getting a good picture.
Here's a sample of Vintage and Cartoon modes:
Conclusion:
The Samsung Continuum is a great phone overall, but I'm not to sure about the second smaller screen. Yes it's nice to have the updates right there for you at all times, but I have to wonder if just a larger screen would have been better really.
The screen on the Continuum is beautiful and bright with perfect colors. The phone is easy to use, and configure to your own preferences.
The camera is hit or miss it seems, sometimes it takes great pictures and other times it doesn't. Not sure why that happens. I tried to stay still, I changed the settings etc, but I couldn't get two of the same picture to look the same.
Pros:
+Bright and beautiful screen
+Second screen for constant updates
+Fast and responsive
+Phone is sleek and well made
+Easy to use
Cons:
-No sure about the second screen
-Verizon junk installed
-It uses Bing
| | |
| --- | --- |
| Grades: | |
| Overall | |
| Design | |
| Performance | |
To learn more about our review policy please visit this page HERE.