Carbon Fiber is all the rage lately it seems, but it's worth it I think as the stuff is tough and it look good. These new skins are compatible with both 11" and 13" Apple Macbook Air computers.
The original Ultra-Clear has become an industry standard for clarity and smoothness for touch screen devices. The MATTE Finish version combines Full Body Protection with a finger print proof texture, hiding most pre-existing scuffs and scratches after application. The newest line called Chromatics by PhantomSkinz, offers individuality through 10 amazing metallic colors and 3 Carbon Fiber skins. The Carbon Fiber products act as a super-tough barrier against everyday scratches and dings while adding personalization.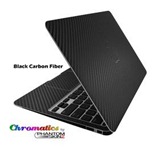 Now available for the Macbook Air line of notebook computers by Apple, Chromatics Carbon Fiber by PhantomSkinz not only offer amazing protection, they offer a realistic 3D look and feel to the device.
"Much more that just a sticker or decal, PhantomSkinz customers have given rave reviews regarding the Carbon Fiber product line." says Patrick Dixon, General Manager of PhantomSkinz, based in metro Phoenix, Arizona,USA, "We often receive emails praising the durability and protection offered in real-world instances where our products have saved a device from certain damage."
All PhantomSkinz Chromatics Full Body Protection Kits for the new Macbook Air notebooks have been specifically designed to cover the Top, Bottom and Wrist areas. PhantomSkinz protection skins leave no sticky residue, cause no damage to the device itself, and do not interfere with normal operations.
Chromatics by PhantomSkinz for the new Apple Macbook Airs' have a MSRP range from $39.95 to $79.95, depending on the coverage package selected
For more information, please visit PhantomSkinz.com.