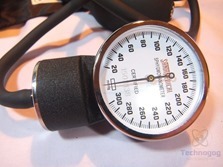 Health is important and if you're really into it you can get products inexpensively that will give you the same measurements that you would get at your doctor's office. Once of those things is what I call a blood pressure cuff but technically it's called a Aneroid Sphygmomanometer and this one is from a company called SantaMedical. This product is inexpensive, well made and from our testing it's accurate which is the most important factor here I think when it comes to something like this. Read on to learn more…
Specifications and Features
Santamedical Adult Deluxe Aneroid Sphygmomanometer with black cuff and Carrying case
Pocket style Adult aneroid Sphygmomanometer with black cuff and matching storage case. Manometer exceeds industry standards for accuracy. Nylon cuff helps prevent miscuffing.
Specifications : Special Aluminum alloy manometer, Classic nylon cuff, 2-tube adult size PVC bladder, Standard PVC bulb, Large Air-release valve with spring,Taper end valve, Vinyl zipper bag,
Price: $18.95 (from Amazon at time of review)
The Review
Let's start with a video unboxing an then move on from there:
The packaging for the Santamedical Aneroid Sphygmomanometer is nice looking, the box has pictures and basic specs on it. When you open the box you're greeted with just a black zippered carrying case and everything is inside of that during shipping. When you get it unpacked you'll only find basic instructions and the product itself.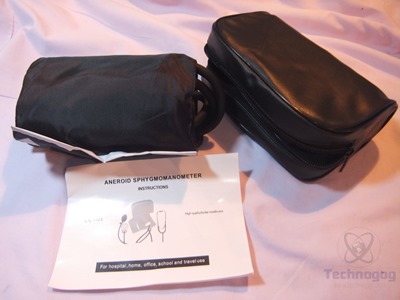 The cuff itself is made of nylon of course and overall it's about 21 inches long by about 5 inches wide. The tubing is a thick black rubber that seems sturdy and both tubes are about 19 inches long which is ample length I think.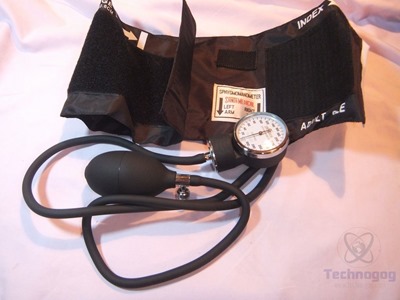 The pressure bulb which is used to add air to the bladder to cerate the pressure is made of rubber and it's a nice size that fits comfortably in your hand. The thumbscrew that it used to release the pressure is nice and large and easy to operate with just you thumb.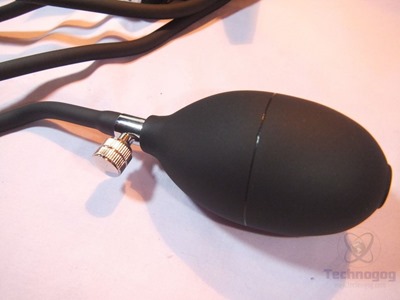 The gauge itself is very heavy as it is solid metal all the way through. The gauge has marking from from 20 up to 300 with small division lines in measurements of two and then dark unmarked lines to mark the tens. The numbering is nice and large and easy to read at a glance.
The cuff is adult sized and you can use it on the right or left arm and it does have a nice large area of velcro to make sure it stays attached correctly. The cuff does have marking to let you know what goes where as it were.
Conclusion
For the price I'm very much impressed with the quality of this product. I'll be honest I wasn't expecting much at all, but this product is well made and the carrying case is a nice touch.
You do of course need to buy a stethoscope as a sphygmomanometer is pretty much useless without one, so keep that in mind when it comes to pricing,  the cost will be higher overall as you do need to buy something else to make this product work correctly.
My wife is a nurse with all kinds of letters after her name, or certifications and she has the last word on these things like this I get for review and she helps me with them. We compared this one to the one that she has, which is much more expensive, and you really can't tell the difference between them in terms of quality.
She did some comparison tests and the results were the same, or very close, blood pressure varies, it's never exactly the same, so we both agree that it is accurate when compared to her more expensive one.
Pros:
+Inexpensive
+Includes carrying case
+Very well made
+Accurate
Cons:
-None really
| | |
| --- | --- |
| Grading | Scores Out of 10 |
| Overall | |
| Design / Aesthetic | |
| Value / Price | |
| Performance / Usage | |

Disclosure: This product was given to us for review by the company for review purposes only, and is not considered by us as payment for the review.
To learn more about our review policy please visit this page HERE.