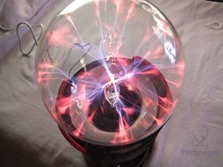 Ever since I was a kid I've wanted a plasma ball, I think everyone has but I just never bought one as it's not something I needed but when given the chance to review one I jumped right on it. Today for review I've got a product from our friends over ay 1ByOne and it's a plasma ball powered by USB but it's more than that as it's a Bluetooth speaker as well and it also has a 3.5mm audio jack and a microSD slot so it can act like an MP3 player too. The plasma ball itself is just awesome, just for that this product is worth it I think. Read on to learn more…

Specifications and Features
1byone Magic Music Plasma Ball Fantastic Flashing/lighting Ball Mysterious Flash Lamp with Mini Wireless Portable Bluetooth Speaker, Usb Powered Plug and Sound Responsive Light Show(red)
-New Fashion Loud sound Wholesale Bluetooth portable speaker bluetooth mini bluetooth speaker with plasma light dance. You can see the show about magic plasma light changes following the music rhythm.
-With a 3.5mm stereo audio jack and a universal micro usb connector, it allows you to connect to all iPods, MP3, MP4, MD, CD player, notebook, PC, PDA, PSP, mobile phone and any digital products.
-This is a very magic lamp ball, plug in the power, turn on the lamp, then the ball will burn out many long pink light around it. You can control the light by your fingers or hands, gather, scatter.Bottom is also transparent so kids can see the battery-free mechanics of the ball. This is a great toy for a holiday gift, and also makes a unique birthday present
-For more long-term use of this product, to prevent overheating of the ball, it is recommended each successive power-on time is not more than 5 hours.
-Compliant with FC, ETL, CE & RoHS standard
Function:
1)Magic plasma lighting
2)AUX-IN with a 3.5mm cable
3)TF card reader Mp3 player
4)with sound responsive light show
5)Wireless Bluetooth speaker
light:
1)magic plasma light changes following the music rhythm
2)always flicker
3)magic plasma light changes by your hands
3 mode switchable:
OFF– turn off the light
ON– turn on the light and changes with the music rhythm
M– turn on the light and keeps on
Item Weight: 1 pounds
Product Dimensions: 8.5 x 4.3 x 4.2 inches
Price: $23.99 (from Amazon at time of review)
The Review
Let's start with the video unboxing and demo for you:
The packaging or box is very nice looking with a picture of it on the front and lots of information on the back. Inside you'll find the speaker wrapped in plastic and the globe itself being protected by two clear pieces of soft plastic surrounding it.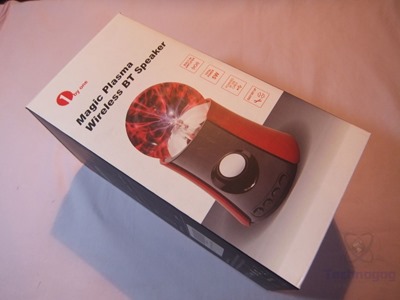 Once you get everything unpacked you'll find the user guide, plasma ball speaker, microUSB cable and the 3.5mm audio cable.
On the front of the speaker you can see the silver colored speaker in the center along with controls. The control are M for mode switch, play/pause, previous/volume down, and next/volume up. To change the volume you need to hold in the button or long press and then to skip tracks you just short press of tap the buttons. It's 8.5 inches high and it weighs in at about one pound so it's small and lightweight.
On the back of the speaker at the bottom you'll find the microUSB port for power, 3.5mm audio jack, microSD card slot and the three position switch. The switch is for off, sound activated and always on.
The top is the plasma globe and it's clear and about 3.5 inches in diameter so it's not very large but it's not meant to be, it's meant as something to sit on your desk so you don't want something huge surely. Most plasma balls has a circular electrode in the center of the ball but this one has an almost flat glass oddly shaped protrusion from the center and the metal electrode sticking out one side that that creates or transmits the energy.
The ball has two modes, one for sound activated and one for always on just like a regular plasma ball. The color is a reddish purple plasma or filaments and it moves just like a real plasma ball as it is is a real plasma ball. I'll be honest I wasn't sure about this as it's only powered by USB, I didn't think it would be enough power for something like this but there's lots of plasma flowing around the globe and it just looks great.
Like other plasma balls this one will react to touch and move towards your fingers for a very cool effect for sure. It's low power so you really can't fell anything and this one won't make your hair stand up like some larger ones will. This is fine by me, low power is great, I get the same effects really but just using less power and it still looks great.
I paired it with my Samsung Galaxy S6 for testing and it worked fine. I could use the controls on the speaker to control the phone with no issues.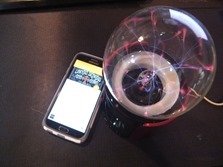 I used the plasma ball in both modes with my phone, sound activated and just on. The sound activated mode works but the volume has to be up very loud for the plasma to actually do anything. I connected the phone via the 3.5mm audio cable as well and it worked fine, as expected.
Next I tried the plasma ball with my ZuneHD MP3 player and that was hooked up via the 3.5mm audio cable of course and for the most part it did work. Audio worked fine but for some reason the plasma speaker affected the touch screen of the ZuneHD and the screen was just moving randomly back and forth and up and down. The speaker did not affect my Galaxy S6 touch screen though so I'm not sure what was going on there.
The sound quality is actually decent overall but I wasn't expecting superior audio either from what is basically a novelty gadget. It's better than what I expected yes, but it's far from perfect. There is decent bass and it's clear but will get distorted at higher volumes
Conclusion
The 1byone Magic Music Plasma Ball is certainly a unique product that would be great to have sitting on your desk providing tunes while you work and even a nice light show.
The product itself seems well made, yes it's plastic, but most things are these days. It's small and lightweight so you could take it with you if you wanted to, but I would just leave it on my desk personally.
The facts that you can use it over Bluetooth, 3.5mm cable or even a microSD card just adds to the value and functionality of it overall.
I'm not sure I like the fact that it has to be plugged in all the time, it would have been much better had they made it rechargeable with a battery inside of it so it would really be portable and then you could have the option of having it plugged in via USB or not.
The plasma ball itself is just awesome, I think it's really cool and unique and certainly a conversation starter. Honestly I don't care about the speaker functionally really, the plasma ball is where it's at really. As a plasma ball it's great, as a speaker it could be better.
Pros:
+Well made overall
+It's a plasma ball, how cool it that?
+Bluetooth works fine
Cons:
-No internal battery
-Odd reaction to some touchscreens
-Sound could be better
| | |
| --- | --- |
| Grading | Scores Out of 10 |
| Overall | |
| Design / Aesthetic | |
| Value / Price | |
| Performance / Usage | |

Disclosure: This product was given to us for review by the company for review purposes only, and is not considered by us as payment for the review.
To learn more about our review policy please visit this page HERE.