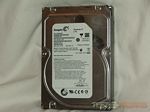 The majority of PC users out there have regular mechanical hard drives in their computers, it's going to be a long time before SSDs replace them. Hard drive companies like Seagate know this and they're not going to stop improving the technology, with the introduction of the new SATA 3 interface we're starting to see hard drives to go with it. The first company out the door with one was Seagate, and it's a big one coming in at 2 Terabytes in size called the Barracuda XT, and that's what I've got for review today. The Barracuda XT is not only the first SATA 3 capable drive but it's one of the fastest on the market today even with the SATA 2 interface. I've put the Barracuda XT up against three other hard drive including the Western Digital Caviar Black, a Hitachi and one from Samsung. So read on to learn about a drive that you'll want to if you're thinking of upgrading your system…

The drive doesn't look special, it' looks just like any other hard drive really.
Specifications:
Barracuda XT Desktop Hard Drive
Key Features and Benefits:
* A massive 2-TB drive capacity provides plenty of room for downloading today's space-hungry PC games or up to 45 hours of 1080i, HD-DVCPRO-encoded, high-
definition video.
* The 7200-RPM performance platform complements high capacity, delivering a power combination of extreme storage and top-end desktop performance.
* A 64-MB cache optimizes burst performance and reduces data throughput bottlenecks.
* The SATA 6Gb/s interface enables the use of the industry's newest and fastest hard drive controllers while providing backward compatibility to legacy SATA
1.5Gb/s or 3Gb/s systems.
* Configurable with Seagate SeaTools software—Users can optimize the drive configuration and tune for capacity or performance for the ultimate in customer
choice and control.
Best-Fit Applications:
* High-performance PC gaming systems
* High-definition video editing and production systems
* Home servers and workstations
* Desktop RAID
* FireWire 800- or eSATA-enabled external storage devices
Specifications:
Model Number: ST32000641AS
Interface: SATA 6Gb/s
Cache: 64MB
Capacity: 2TB
Areal density (avg): 347Gb/in2
Guaranteed Sectors: 3,907,029,168
PHYSICAL:
Height: 26.1mm (1.028 in)
Width: 101.6mm (4.0 in)
Length: 146.99mm (5.787 in)
Weight (typical): 700g (1.543 lb)
PERFORMANCE:
Spindle Speed: 7200 RPM
Sustained data transfer rate: 138Mb/s
Average latency: 4.16ms
Random read seek time: 8.5ms
Random write seek time: 9.5ms
I/O data transfer rate: 600MB/s
Unrecoverable read errors: 1 in 1014
POWER:
12V start max current: 2.8A
Average idle power: 6.39W
Average operating power: 9.23W

The drive I'm comparing to the Seagate Barracuda XT are:
Hitachi Deskstar 7K1000.B 1TB Drive –7200RPM – 16MB
Samsung HD103UJ 1TB  -7200RPM – 32MB
Western Digital Caviar Black 750GB – 7200RPM – 32MB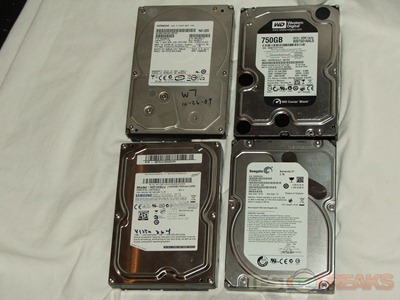 The last review I did was of the ASUS USB 3.0 SATA 3 combo card so that's what I used with the Barracuda XT drive, and I decided to toss the others on the SATA 3 interface just to see.
I also ran all of the tests on the regular SATA 2 interface as well just to see the differences.
We'll start off with the SATA 2 interface tests and ATTO Disk BenchMark.
As you can see the new Barracuda XT is a very fast drive, the Caviar Black is no match for it.
Here's the testing with the SATA 3 interface and ATTO:
We actually got a slight increase, but not much really when using the SATA 2 drives on the SATA 3 interface.
Here's the Barracuda XT on both the SATA 2 and SATA 3 interfaces again for a better comparison:
Going from the SATA 2 to the SATA 3 there is an increase overall as you can see from the testing, but the speed overall isn't really that different, just a slight bit faster with the SATA 3 interface.
Let's jump to SiSoft Sandra 2010.
First up is the Physical Disks test:
Benchmark hard disks (i.e. the disk itself, not the file system).
Drive Index: is a composite figure representing an overall performance rating based on the highest read or write speed across the whole disk. Thus the higher the better.
Access Time: is the average time to read a random sector on the disk, analogous to latency response time. Thus the lower the better.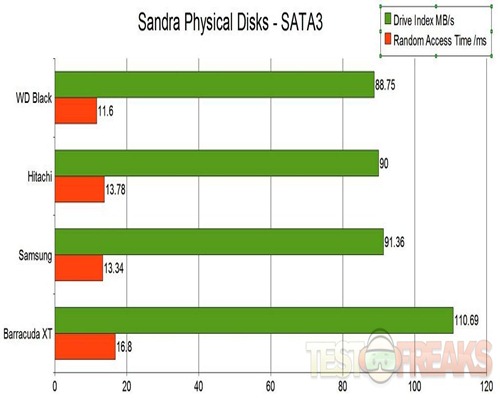 Again the Barracuda XT is the fastest of the bunch of drives I've got on the SATA 2 or SATA 3Gbps interface.
Here's the same test on the SATA 6GBps interface: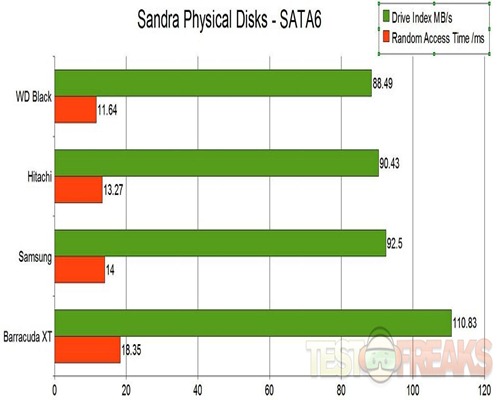 Again here there's really not much difference at all when going to the new interface…
I also ran the SiSoft Sandra File Systems Test as well.
Benchmark mounted file systems (i.e. volumes)
This is not the raw disk performance that other benchmarks test – but the speed of the volume itself that depends on many more factors like file system, operating system cache, position on disk, etc. Thus this is the performance you get at the file system level.
Drive Index:
Results Interpretation : Higher index values are better.
Random Access Time :
Results Interpretation : Lower index values are better.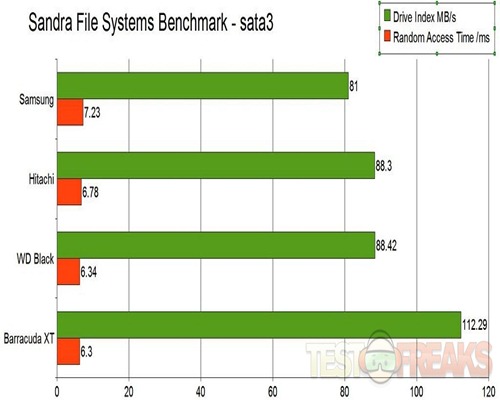 The Barracuda XT is a fast drive, there's no doubt about that.
Does the new SATA 3 interface actually make a difference?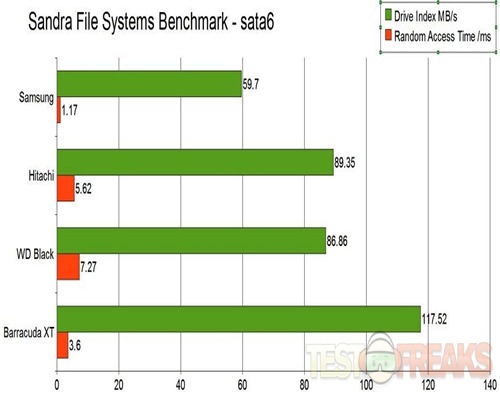 There's a very slight difference when going from SATA 2 to SATA 3, but the Random Access time is cut by about half.
There's no doubt the XT is a fast drive, one of the fastest, if not the fastest out there today.
Right now is it really worth it to jump on with the new SATA interface? Probably not as there just doesn't seem to be much value in it in terms of speed increase really.
The Seagate Barracuda XT Drive though is worth it as it's fast.
Conclusion:
SATA 6 or SATA 3 or whatever you want to call it is a new technology and at this point it's not that much faster than the SATA 2 interface. The new Seagate Barracuda XT though is a different story, this drive is fast, probably the fastest 7200RPM drive on the market today and I'm sure it will give the 10K RPM drives a run for their money as well.
Moving to the new SATA interface though is rather pointless I would think, as with any technology as time passes it will improve, at least that's what we hope for.
The new Seagate Barracuda XT drive is well worth it I think, if you're looking for a large capacity, fast hard drive then this is the one you'll want to get.
Pros:
+Very fast drive
+Large capacity
+New SATA 3 interface
Cons:
-SATA 6G Deowsn't make much difference really
| | |
| --- | --- |
| Grades: | |
| Overall | |
| Design | |
| Performance | |
This product was given to technogog for review by the company for review purposes only, and is not considered by us as payment for the review, we do not, and never will, accept payment from companies to review their products. To learn more about our review policy please visit this page HERE.