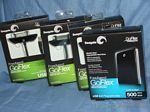 Seagate recently released the FreeAgent GoFlex series of products that put a unique spin on portable hard drives and how we can use them. The GoFlex series  is meant to be, as the name suggests, flexible and they are in that the drive itself can be used with many types of interfaces by just swapping the connector on it so you're not limited to just using USB, you can choose from FireWire, eSATA or even USB 3.0. That's only part of it though, the GoFlex series also includes other pieces of hardware that can be used with the drives like a media player and a network hard drive dock, both of which I have for review in addition to the GoFlex 500Gb Ultra-Portable Hard Drive that we'll be looking at today. We're starting at the beginning basically, and then in the next few days I'll have the other reviews for you..

So we'll start with the unboixng video:
So the GoFlex system actually consists of many things which I will be covering, but not all in this review of course. Seagate sent me over the FreeAgent GoFlex 500gb drive itself, USB 3.0, eSATA and FireWire adapters to look at.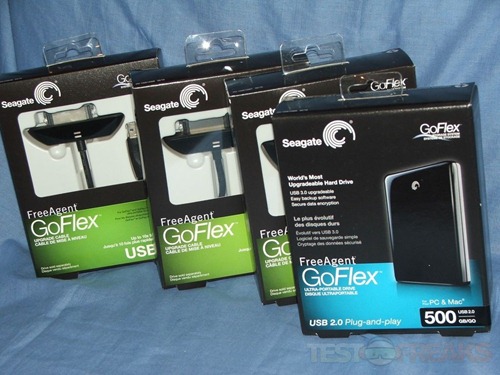 Included in the box is the USB 2.0 adapter, documentation and the external hard drive itself.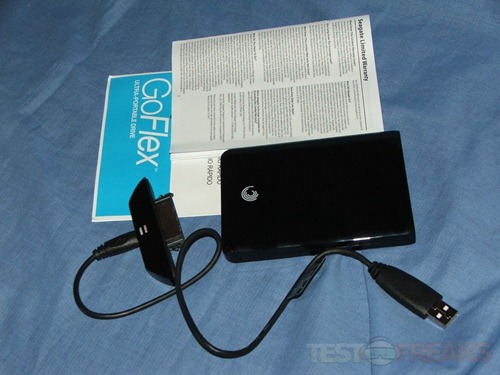 The USB 2.0 connector is actually two parts, the cable and the adapter. This is nice as if you lose the short cable you can replace it with a regular USB cable basically.
The drive itself seems well made, it looks just like a solid black piece of plastic really. One end has SATA connections on it actually, and the dock pieces have the mating ends for those connections.
Specifications:
FreeAgent GoFlex 500Gb Ultra-portable Drive
Model: STAA500100
This ultra-upgradable, ultra-portable hard drive makes it ultra-easy for you to store, backup, encrypt and access your files anytime, anywhere.
* Features USB 2.0 plug-and-play connectivity
* Includes pre-loaded easy-to-use backup software
* Lets you upgrade to USB 3.0, FireWire 800 or eSATA
* Allows you to access your content on your TV, network and on-the-go when combined with other GoFlex devices
As the world's most upgradable portable hard drive–and the core of the GoFlex Storage System–the GoFlex ultra-portable drive gives you USB 2.0 transfer speeds and the flexibility you need to extend your digital life wherever you go.
Automatic backups that are always secure
With the GoFlex ultra-portable hard drive it's easy to manage your backup schedules, encrypt your files, and view your drive's statistics. <
* Ensures automatic continuous backup of your data
* Secures your backed up files and protects your privacy with powerful encryption software
* Includes the Seagate® Dashboard management tool for easy management of backup schedules, file encryption, and at-a-glance drive statistics, including available capacity
Specifications:
Interface: GoFlex
Capacity: 500GB
PHYSICAL
Height: 111mm (4.39 in)
Width: 83mm (3.19 in)
Length: 14mm (.57 in)
Weight (typical): 150g (.33 lb)
Shipping Weight: .28kg (0.617 lb)
Features:
Encryption: 192-bit Triple DES
Automatic Backup Software: PC & Mac
Warranty: 2 years
Price: $129.99  (from Seagate)
FreeAgent GoFlex Upgrade Cable — USB 3.0
Price: $29.99
FreeAgent GoFlex Upgrade Cable — Powered eSATA
Price: $19.99
FreeAgent GoFlex Upgrade Cable — FireWire 800
Price: $39.99

You can start off with installing the included software by clicking setup: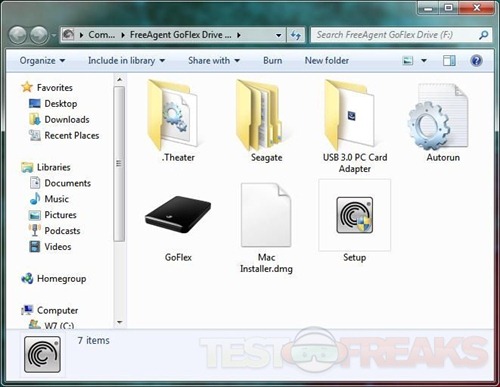 (The .Theater folder in there is from the Seagate FreeAgent GoFlex Theater and not on the drive normally)
Once you start the program just follow the prompts and it takes just a few minutes.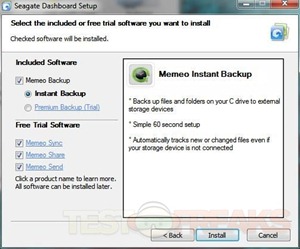 The software itself seems easy to use it shows you the status of the drive at the top, then in the middle is My Applications which include Instant Backup, Memeo Sync, Memeo Share and Memeo Send.
The backup is the most important part and it does allow you to encrypt your files and folders, but you'll need to use the Memeo program to decrypt them.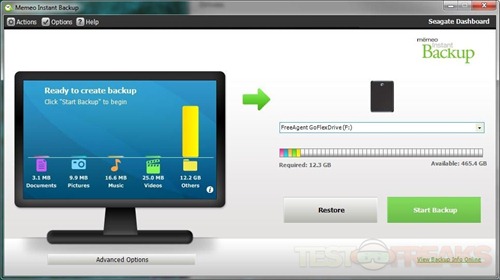 When you plug the drive in there is an white LED on the connector that lights up, all of them have it.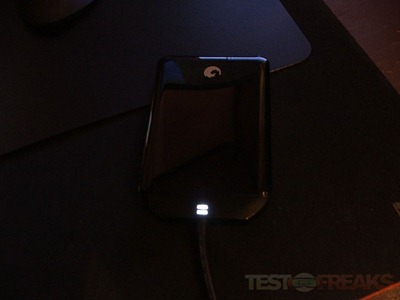 As far as testing is concerned, performance is decent but that's only a small part of the GoFlex charm, it's a hard drive so I ran a couple tests, let's take a quick look at the USB 3.0 / USB 2.0 performance.
I ran two different tests using ATTO and HD Tune Pro. I also ran the GoFlex using the USB 2.0 cable that's included with it, then I ran it again except on the USB 3.0 interface, and then I ran it using the USB 3.0 cable on the USB 3.0 interface.
We actually see a slight increase in performance with the USB 2.0 cable on the USB 3.0 interface. The USB 3.0 speeds are similar to other USB 3.0 devices I've looked at, so performance is pretty much the same there.
I also ran HD Tune as well, the same test, with pretty much the same results.
There is no testing for the eSATA cable as I just found out that none of my computers have powered eSATA ports that are required to use the cable. Not many motherboards have powered eSATA ports, so if you're thinking about getting the eSATA cable for the GoFlex drives then you'll need to make sure yours does.
Then I also found out that I don't have FireWire 800 on any of my boards either. I have FireWire ports, just not 800 and they're fairly new boards. It is more of a Mac thing though, and I don't have a Mac, only PCs.
The focus shouldn't all be on the performance of the drive anyway, it's on the flexibility and usability of them. The GoFlex series give you choices of what types of connections you need so you're not limited to just one type of interface, you can go from USB on the PC over to FireWire on your Mac if you wanted to with just the swap of a cable.
As far as price is concerned, the drive itself is right around the price of other so that's fine there. The addition of the cables though might add a lot more to the overall price, if you would get the three additional connectors then you would add about $80 do the total price, but I think it would be worth the cost as you would have the convenience of being able to use just one drive for all types of connections.
Conclusion:
The Seagate FreeAgent GoFlex series of hard drives is a great idea truly. It gives you one drive, then you can select the interfaces that you need so you're not just limited to one type of transfer method. It's all about flexibility and choices here with the GoFlex.
The drive itself is nicely made and it seems to stay cool in use, even though the case seems to be sealed.
I really like the GoFlex system that Seagate has come up with, it allows for true flexibility in how you use the drive. The different connection types allow you to use just one drive, but many different connections, something that would normally require different drives for each connection type, with the GoFlex drives you have one drive that works with everything really.
Pros:
+Cabling / Connector system allows for lots of choices
+Decent performance overall
+Includes decent software suite
+Can encrypt drive with high level of encryption
+GoFlex system itself works in conjunction with other GoFlex products
Cons:
-Must have powered eSATA port to use the eSATA cable
-Could get expensive with the addition of several connection types
-Only three year warranty
| | |
| --- | --- |
| Grades: | |
| Overall | |
| Design | |
| Performance | |
To learn more about our review policy please visit this page HERE.