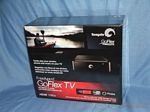 Today for review I've got the last of the Seagate Go Flex line of products that they sent me over for review. It's the GoFlex TV HD Media Player, it's the newest from Seagate and it work in conjunction with the GoFlex storage line. You can take the GoFlex 2.5" hard drive and toss your music and movies onto it, then just slide it into the GoFlex TV and you're ready to go. You can also use the GoFlex TV for Netflix, YouTube and several other internet related things, or you can stream to it on your network.
Here's the still pictures next:
Included with the GoFlex TV is a brief instruction manual, remote control, power supply, CD, batteries, component cables and composite cables. The remote is small, but it works very well.
The GoFlex TV looks just like a little black box, that's probably because that's what it is though. There's a USB port and reset button on the right side along with cooling vents. The left side has cooling vents as well while on the bottom you'll find vents and rubber feet.
On the back is where you'll find the connections. The component and composite video outputs are in the form of headphones jacks basically. There's another USB port there, HDMI, Ethernet, power and optical.
Yes there's an HDMI connection on the back, but if you look above at the contents you won't see any HDMI cables in there.
Specifications:
FreeAgent GoFlex TV HD Media Player
Enjoy all of your movies, music and photos on your TV, in full 1080p HD with vibrant surround sound.
* Easily watch, share and play your movies, music, and photos on your TV
* Enjoy stunning 1080p HD image quality with rich Dolby Digital and DTS audio
* Play content from any external USB storage device; Access your GoFlex ultra-portable drive's content through the integrated GoFlex drive slot
* Watch content streamed from your home network and popular websites like Netflix and YouTube
Get the most from your digital media
The GoFlex TV HD media player makes it easy to access, view and play your digital media files on your home entertainment system. And because it works with just about every format available, you can enjoy all of your entertainment on your TV or in your home theater—from Flip videos to photos to DVDs—regardless of resolution.
* Plays your content on your TV directly from your GoFlex ultra-portable drive, or accesses your content from your digital camera, flash drive or other external drives (either Windows or Mac) through the additional USB ports
* Hooks up to your TV in seconds via a digital HDMI cable
* Connects to your PC or Mac computer, home network and the Internet via Ethernet or wirelessly with the optional Wi-Fi Adapter
* Lets you watch streaming media directly from the Internet, your computer and your USB devices
* Displays all the content that's included with your DVDs, including menus, commentator tracks and subtitles
* Makes navigating and accessing your digital media files easy with the included remote control and intuitive on-screen menus
* Creates exciting slideshows with your own music track for enjoying memories with friends and family
* Fits seamlessly within your entertainment center
Flexible options for accessing your content
* Access content directly from your GoFlex or GoFlex Pro ultra-portable drive through the integrated GoFlex ultra-portable drive slot, or any USB external drive through the USB ports
* Access content from your network through a GoFlex Net media sharing device, in-home media server, or network-connected PC or Mac
Customizing is easy with the GoFlex Storage System
The GoFlex TV HD media player is part of the GoFlex Storage System, which lets you access your content beyond your computer, with GoFlex devices and cables that deliver a seamless, flexible experience.
* Includes an integrated front slot designed just for GoFlex ultra portable drives—simply slide in your drive to access and play your digital content on your TV
* Features Ethernet connectivity, enabling you to access shared folders on your GoFlex Net media sharing device
* Ensures seamless integration with all GoFlex Storage System products—just look for the GoFlex Storage Systems logo
Get connected in seconds
Connecting your drive, network or other devices to your digital media player is fast and easy, with output options that are optimized for your movies, music and photos.
* Input Connections
–GoFlex ultra-portable drive slot: Insert your GoFlex or GoFlex Pro ultra-portable drive directly into your GoFlex TV HD media player
–USB 2.0 Ports: Simply plug in your digital camera, digital camcorder, USB flash drive or external USB hard drive
–Network: Ethernet connectivity enables access of shared folders on computers and other devices connected to your network such as a GoFlex Net media sharing device, media server or a NAS
–Wireless: Optional Wi-Fi Adapter (sold separately)
* Output Formats
–Video: HDMI, Composite, Component
–Audio: HDMI, Stereo, Optical S/PDIF
Specifications:
Model Number: STAJ100
Interface: USB 2.0
Features:
Video Connections: HDMI 1.3; Composite; Component
Audio Connections: HDMI 1.3; Stereo; Optical S/PDIF
Video Formats:MPEG-4 (Xvid); MPEG-2 (VOB/ISO); Xvid HD; DivX HD+; MPEG-1; AVC HD; TS/TP/M2T; RMVB Real Media; DivX®; VC-1; M2TS; WMV9; H.264; MKV; MOV; AVI
Subtitles: SAMI (smi); SRT; SUB
Video Resolutions: PAL 576i/576p; NTSC 480i/480p; 720p; 1080p; 1080i
Audio Formats: WMA Pro; WMA; Dolby® Digital; ADPCM; FLAC; AAC; ASF; DTS; LPCM; OGG; WAV; MP3
Playlist     PLS; M3U
Photo Formats: JPEG files (up to 20 megapixels); MJPEG; BMP; TIFF; PNG; GIF
Supported File Systems: HFS+; NTFS; FAT32; FAT
Internet Sites Supported: Video Feeds (RSS); Text Feeds (RSS); Weather Widget; Finance Widget; Flickr; Mediafly; YouTube; Picasa; Netflix; vTuner
Network Connection: Wi-Fi Adapter (Optional); Ethernet
Ports: 2 USB
TV Systems: NTSC; PAL
Price: $129.99
Amazon Price: $109.76 (At time of review)

The GoFlex TV can be used with or without the  GoFlex 2.5" Hard drive. There's door on the front that opens and allow you to just slide the drive right into place. There is a single LED on the top right corner of the front bezel that lights up when powered on.
The first thing I did was grab an HDMI cable and hook it up and that's where my problems started. My TV is a Vizio 47" HDTV, about a year old, it's modern, it's HDCP ready, but the GoFlex TV says my TV is not HDCP ready. I found a work around that was to unplug the HDMI cable, turn it off and back on, then plug in the HDMI cable and it would work. The only problem with that is that I had to do it every time I wanted to use the GoFlex TV.
So I hooked it up via component cable, hey it's 1080 HD anyway right?
To show you how it works I had to take screen shots. The interface is plain, but I like that, I don't like busy, I prefer functionality over looks really.
On the main interface you'll find three bars or sets of navigation.  On the top is the basic functions for Movies, Pictures, Music, Internet and Browse. In the center you'll find what are shortcuts really, these are the same as you'll find under the Internet option at the top. On the very bottom you'll find three more choices for Browse the hard drive, Network and Media Servers.
The interface is rather slow and what I mean is that you'll press a button and there's a 1-2 second delay between the action actually happening. I've found myself pressing the button and then pressing it again when nothing happened only to see it move two places instead of just the one. The interface could be much better honestly in terms of responsiveness.
When you press the menu button on the remote a drop down menu appears with some of the same shortcuts, but also the Settings option.
In the settings you find that much really. You can activate your Netflix account through it and your Paramount account along with DivX and change some basic settings.
Let's jump back to the Movies option. The Go Flex TV finds everything and sorts it for you, and I mean it finds everything that could be a video file and lists them for you. The only thing I don't like is the lack of thumbnails, they're not needed but i just like them.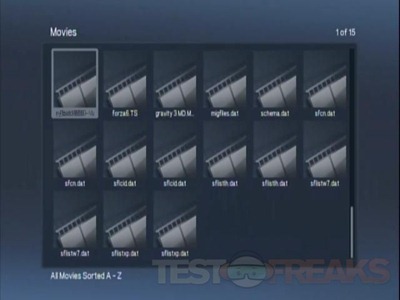 When you go to the Pictures though you'll see all of the thumbnails.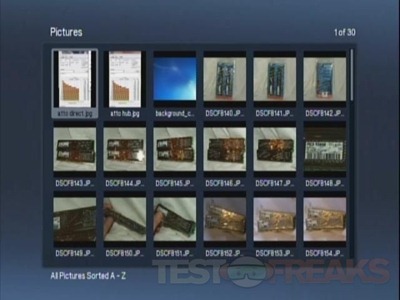 Clicking on Music will list your music A-Z sorted.
The next option is Internet, the same stuff here that you saw above in the second menu really.  You'll find Netflix, YouTube, Mediafly, vTuner, Picasa, flickr, RSS Video Feeds, RSS Text Feeds, Weather and Finance.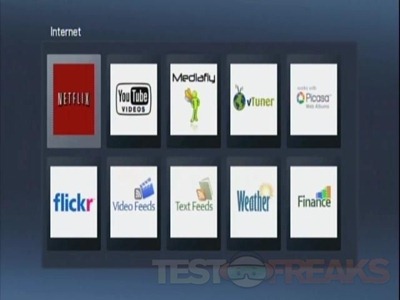 YouTube allows you to log in to your account or just view videos through several methods of sorting.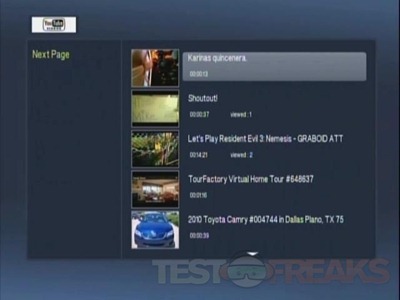 For flickr it's just the pictures really, slide back and forth and search.
I'll be honest I love the GoFlex TV for Netflix, I've spent many hours watching. There's one small issue here and it's that it only shows your Instant Queue and you can't search of browse. That's not too big of a deal though for me, just add them to my queue at my computer and that's that.
vTuner is internet radio and it offers a ton of stations to listen to and sorted various ways.
You can also use the GoFlex TV to stream from your network devices like your computer or maybe a NAS box you're got hooked up.
Netflix and regular movies play perfectly fine, I do miss the ability to zoom, or change the aspect ratio to make standard definition movies widescreen.
I've got the GoFlex TV hooked up to my Sony Soundbar system so the audio is great, no complaints there at all.
I like the remote, it's small, but it's functional, you don't need anything else on it.
Conclusion:
As with any new product there's bound to be bugs. I ran across a few small issues that I hoped might get worked out through firmware, but nothing has come from that end. I even spoke with Seagate tech support about it, and no one could figure out the HDMI issue.  The issue of the interface being slow is one that's just what it is, there's not much to do about it except maybe hope thing speed up with the firmware update.
Don't get me wrong, I really do like the GoFlex TV HD Media Player, I've used it for many hours with Netflix primarily but I also tossed some movies and music on there and it works great for all of that. It's just needs  a bit more polish, but if you decide to get one I think you'd be happy with it even with the few minor flaws.
Pros:
+Very small
+Very simple to use
+Nice, basic remote
Cons:
-Slow interface
-HDCP issues
-No HDMI cable included
| | |
| --- | --- |
| Grades: | |
| Overall | |
| Design | |
| Performance | |
To learn more about our review policy please visit this page HERE.