Today I have a quick review for you of an accessory for the Compro TN900RW camera that I recently reviewed. The product is called the PS-100 Power IR Switch, and it's basically a power outlet with an IR sensor attached to it. It can be used with the Compro cameras or not as it can be also be programmed with any IR remote code, essentially give you the ability to use any remote in your home with it. It's simple to use, and easy to program, and it can also save you some money on your electric bill. Read on to learn more..
Specifications and Features
The PS-100 is basically a power outlet, on the front you'll find a receptacle and then a power button above it and and LED light above that.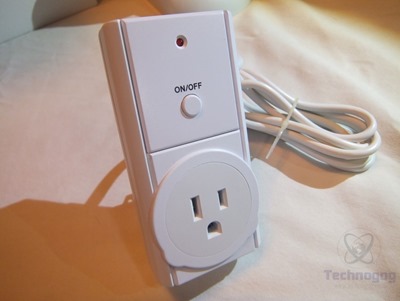 On the back is an ID label and then the power plug itself that you plug into your wall outlet for power.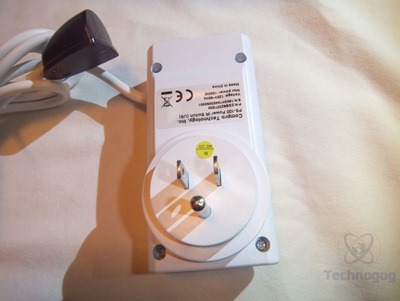 Attached to the PS-100 is a 1.2 meter or about 4 foot long cord that has a red colored IR sensor attached to it. You can plug in the PS-100 behind something out of the way and then position the sensor elsewhere so it can be activated.
To test the Compro PS-100 I used it with my Vizio HDTV remote.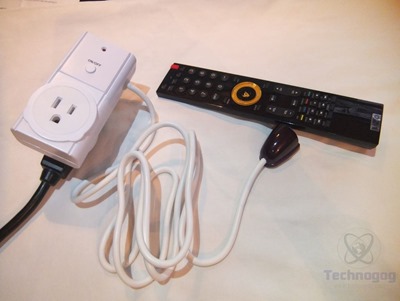 To use the PS-100 you'll need to program it with a code and any IR remote will work for that. To program it you just hold in the on/off button for a few seconds and it will flash, this means to ready to accept input, then you just push the button on your remote and you're done. Very simple to do, it worked the first time for me.
Once programmed you can use that remote to turn the PS-100 on and off, or you can use it in conjunction of select Compro cameras that have IR remote ability. So basically any remote you have in your home can be used with the PS-100 to turn things on and off. Just not sure if that's a good or bad thing though…
As I mentioned you can use the PS-100 with a Compro camera and I took this screenshot from my review of the Compro TN900RW camera as that's how the PS-100 works, or it can work with it, but it doesn't have to.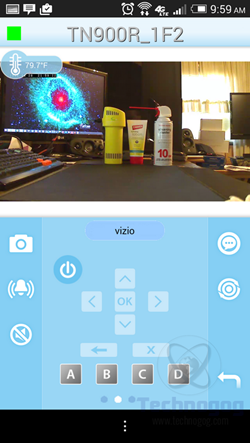 I already had the controls for my Vizio HDTV programmed into the C4Home app for the TN900RW camera so I was ready to go with the PS-100. Now, using the app, I can control the PS-100, turn it on and off with the camera itself.
So you might be wondering what the PS-100 can be used for. I already have energy saving devices in my home that turn things off when not needed and saving energy is a good thing. An example I'd use for the PS-100 is to have to set to the same code as your TV remote power on and off. You would use a power strip and connect your other things to that into the PS-100 like your home theater, game consoles, set top box etc and then when you power on your TV the PS-100 will give power to those devices as well. Then when you power your TV off those devices will all be powered off as well, no standby mode that uses power, they'll just be turned off.
You can use the PS-100 with anything in your home, air conditioner, light, TV, games, whatever that is powered by electricity obviously. You can use any IR remote you have, even an old one that's no longer used, with the PS-100. As I said this is a good thing and a bad thing. For example if I programmed the PS-100 with my TV remote with the power on/off function and then wanted to use the PS-100 to control a light there might be a problem there. If your TV and light are near each other you'll then be turning the TV and light on and off and the same time. This won't matter much if they're not in the same room, but if you have a decent remote or TV where the remote works at great distances and bounces you may have an issue there. The obvious choice here would be to program the PS-100 with another code for another function on the remote.
Conclusion
The Compro PS-100 is a nice accessory for the Compro cameras that come equipped with IR functionality, it can give you the ability to control more devices while you're away.
The connected home is the new 'in' thing now and the PS-100 can help you be even more connected.
The PS-100 is very simple to use on it's own, and it can be used with virtually any remote, as long as it's infrared then it should work to control the PS-100.
You can also use the PS-100 in conjunction with certain Compro cameras so you can turn things on and off while you're away.
The PS-100 is well made, and it does have a nice long cord so you can put the IR sensor where it can be used effectively and away from the actual power outlet.
Overall the PS-100 is a useful and decent device that can even save you some money on your electric bill but just be aware that you might run into remote control conflicts possibly.

Pros:
+Simple to use
+Can help save money on electric bill
+Well made overall
+Works with any remote
+Works with select Compro cameras
Cons:
-Must use another remote code with it
-Could run into conflicts with devices
| | |
| --- | --- |
| Grading | Scores Out of 10 |
| Overall | |
| Design / Aesthetic | |
| Value / Price | |
| Performance / Usage | |
To learn more about our review policy please visit this page HERE.