La-la-la-la, la-la-la-la, Elmo's World!  Yep it's Elmo for review today or his latest game for the Wii called Elmo's A-to-Zoo Adventure. This is obviously a young children's game so I enlisted the help of my 5yr old son Vincent to play it for me and tell me how he likes it. I observed him playing of course to see how he handled it. So if you're got kids you might want to check this review out, my son likes it quite a bit and I think most any other young child will as well.

This game is special in that it comes with a nice controller cover for your Wii remote. It comes in an oversized box to house the cover.
Here it is again opened up:
Then here's the game opened: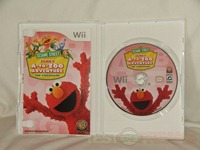 And finally here's the Wii remote in the Elmo cover. The cover is furry on the front and it has rubber beads on the back for grip. Overall it seems nicely made.
Here's a bonus for you, I also got the Cookie Monster game for review which you'll see soon, so here's the Elmo Cookie remote covers.
…and here's my 5yr old son with them, he likes them quite a bit: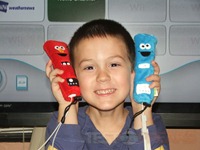 Specifications:
Sesame Street Elmo's A-to-Zoo Adventure
Join Elmo and Zoe on an alphabet adventure at the Sesame Street Zoo!
Play fun mini-games and learn all about the alphabet with Elmo, Zoe and your animal friends.
Features:
* Elmo's A-to-Zoo Adventure encourages literacy skills, including letter identification, letter sounds, and word families, through engaging and fun mini-games.
* Explore exciting Zoo habitats including the Aquarium, Savanna, Jungle, Forest and the Arctic.
* Easy to follow audio-visual directions that preschoolers can master on their own.
* Use the second Wii Remote to drop-in and assist your child when needed.
* Game difficulty adapts to your child's level.
* Customize up to four profiles, set functions including difficulty level and game limits, and review the games and educational content your child has played on the Parent's Page.
* Wii and Nintendo DS versions include Gameplay Helpers to simplify gameplay for your preschooler.
–The Wii gameplay helper is a soft and fuzzy character cover with special grips that slips over the Wii Remote, minimizing unnecessary buttons and making it easier and more fun to hold.

It's Sesame Street so the logo is there when you turn the game on.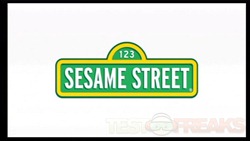 Then you'll have the main title screen: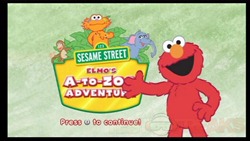 After you press 2 to continue you'll be taken to the main menu which has two choices for Visit the Zoo which is the main game, and then Games which is just the individual games from the Zoo part that you can go back and play if you want.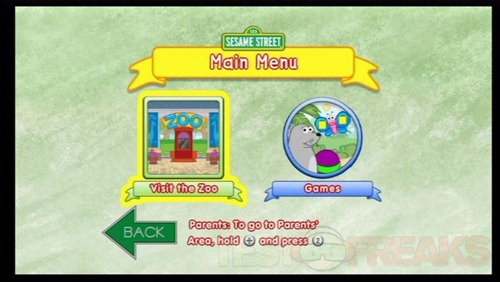 The main characters are Zoe and Elmo, with others popping up to introduce things.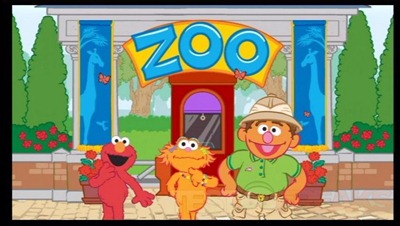 The game is all about letters, spelling and sounds. There's plenty of games to play, but when you play the Zoo portion you tour the zoo and follow though the storyline. Here's a bunch of screen shots:
The Wii mote is used with buttons or motion, and can be used as a sensor to sense when your child jumps for some of the games. You tilt the controller left and right to select things and either lift the controller to select or just press a button. My son truly enjoys playing the game, but some of them can be long and I found he wasn't too happy about that. Most of the games have three levels and they're short, but some of them are much longer levels and he's not exactly the patient type.
The game is very basic really and for an adult it's easy. My 5yr old needed very little help with the game, he's not exactly that good at reading yet, but for the most part he did everything by himself.
I do have a quick video of my son giving his opinion of Elmo's A-to-Zoo Adventure so just let him tell you what he thinks of it.
Conclusion:
Sesame Street Elmo's A-to-Zoo Adventure is an excellent children's game I think, at least my son loves it. He's young, five years old so he really enjoys Sesame Street and Elmo and the characters are there and my son enjoyed playing them on screen and playing with them in the game.
I think it's a great kids game myself.
Thee are some parts of the game that are a bit long for young children who usually have a shorter attention span than older ones do. My son complained but he still played on as he wanted to see what was next.
Pros:
+Nice cover included
+My son likes it quite a bit
+Decent graphics
+Easy to play
Cons:
-Some games are quite long
| | |
| --- | --- |
| Grades: | |
| Overall | |
| Design | |
| Performance | |
To learn more about our review policy please visit this page HERE.