TheSnugg continues to offer a great range of cases and accessories for our latest mobile devices. I recently acquired a new Galaxy Tab 3 10.1 and knowing it was going to be popular with my small but sometimes clumsy family I decided it needed some protection. This particular case comes in a variety of colors from black to pink, baby blue to white, with my particular choice being "distressed brown". Some members of the family would have probably chosen pink, but I can't see me walking around the streets of Stockholm with one of those in hand. The point is there's a color to suit all styles and tastes, I just happen to fall into the (di)stressed brown category.
Specifications and Features
Snugg Galaxy Tab 3 10.1 Case Cover and Flip Stand in Distressed Brown Leather
The Snugg Samsung Galaxy Tab 3 10.1 Case in premium Distressed Brown PU leather, the ideal way to keep your tablet free from scratches.  Your Samsung Galaxy Tab 3 10.1 can be so easily damaged by little knocks and bangs if you don't have a proper protective case.  Our case, in a distinguished Distressed Brown PU Leather with a complimentary nubuck interior, makes sure that your Galaxy tablet is properly protected.
The front cover on our Galaxy Tab 3 10.1 Case folds back, to create a handy 2 position stand.  Simply stand the Galaxy Tab up in the higher position and it's perfect for movie watching.  Flip it over and it's in an ideal position for typing or playing on apps.  You can also use your Galaxy Tab 3 10.1 on the go with our helpful elasticated hand strap on the cover.  It's great for if you're using your Galaxy tablet with eReader apps, or if you're on the train.
You'll still be able to use your Galaxy Tab while it's in its case, as we've included cut-outs for the ports, buttons and both the front and rear camera.  We've also built-in a stylus loop, to make it easy to store your stylus pen when you don't need it, or when you're on the go!  When the stylus loop isn't needed, simply fold it back inside the case.
Quality is one of our primary concerns, and this case comes with The Snugg Promise, so you know it's of the highest standard.  In the unlikely event that there's a problem with your Galaxy Tablet 3 10.1 case, you're covered by your Lifetime Guarantee.  Just make sure to register the case when you receive it.
Product Features
Distressed Brown PU leather and nubuck case.
Fits 10.1-inch Galaxy Tab 3 from Samsung.
Integrated flip stand and strap for your palm.
Stylus loop built in (pen sold separately).
Materials Used
PU leather exterior
Nubuck Fibre Interior
Velcro Tab to secure
Cotton stitch finish
Tech Spec
Height: 9.76 inches
Width: 7.12 inches
Depth: 0.74 inches
Weight: 0.867 lb
Price: $35.99 (from Snugg at time of review)
Price: $35.99 (from Amazon at time of review)
The Review
There's minimal packaging here, a plastic cover and some padding inside which helped to keep the case in good shape, plus some marketing notes and the warranty details. It's quickly unwrapped and ready to use.
Like all Snugg cases, they are designed specifically for individual brands and models, and so the fit quite snugly – hence the name of the company. It adds a little extra dimension to the tablet, just under 10 inches by just over 7 inches and less than an inch thick. The overhang on each side should offer some protection from falls off the sofa one would think. I'm not the sort of reviewer who tries these things on purpose I'm just guessing.
The case features a Snugg logo on the front, as well as inside the case, but it's quite subtle.
It seems well made with quality stitching throughout the "PU leather" body. This is a term used for bonded leather which is layered with a thick polyurethane to give it the look and feel of real leather. The layer is likely to deteriorate after several years usage, however taking into account the low cost I think this is acceptable. The nubuck fiber interior is silky to the touch and helps to prevent any damage to the tablet when you slide it in or out – not that you are likely to need to do this often.
So confident are they with the quality of the workmanship, they even offer a lifetime warranty. As most cases will probably outlive the products inside them, I doubt they need to honor that warranty often. I do have a Snugg Samsung S3 case, and whilst it's a little worn in places from constant sliding in and out of my pocket, it's still in usable condition after almost 2 years, so I'm hoping the Tab 3 10.1 case will equally please me in this respect.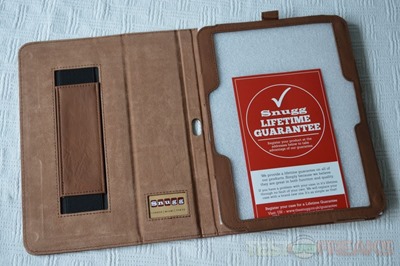 The tablet slips in easily to the case, and some Velcro helps to keep it in place. Once inside, you've still got access to everything – except the memory card slot, which I haven't yet used so it's not a problem. Whichever way you hold the tablet, vertical or horizontal it's not able to fall out.
There are cutouts for the speakers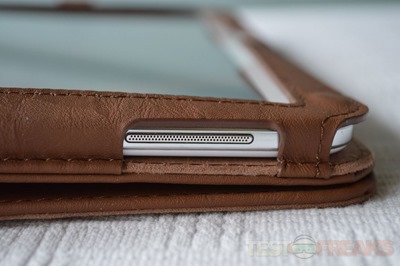 Charging port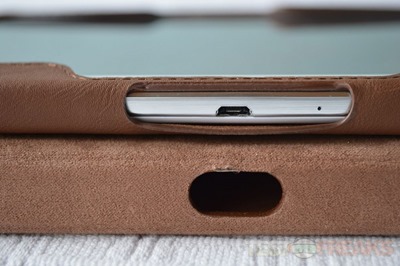 Camera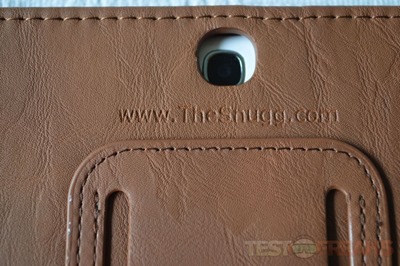 IR Sensor, Power Switch & Volume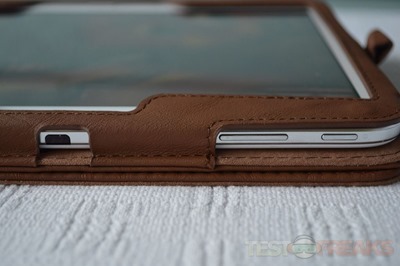 The buttons on the bottom of the pad – menu, home and back are also accessible as you'd expect. So generally speaking, unless you'll be plugging in memory cards often, you'll very rarely need to take it out of the case.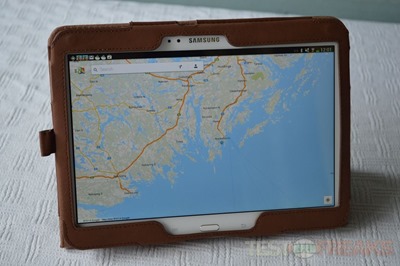 As well as providing the tablet from scratches and bumps, it also serves as a stand, which is handy for when you want to put it on a flat surface and watch films, have a skype call and so on.
There's a tab on the back underneath the camera cutout which allows part of the case to tuck into it. It's quick to do once you've done it a few times, and seems reasonably stable, even if the surface isn't completely flat or hard.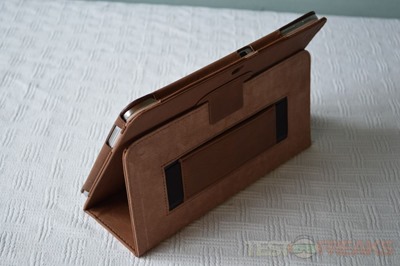 Turning things around you can also use the stand so it's at a convenient angle for typing or general surfing.
There's a loop on one side of the tablet which is designed to hold a stylus. I don't use a stylus myself, but it's a useful feature to have for those who do use one.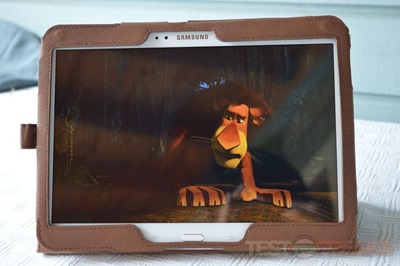 Flipping the case closed, sends the tablet to sleep and opening it up again wakes it, which is handy. The magnets built into the case keep it closed, but aren't so strong that's it's difficult to open.
The elastic hand strap is useful for additional grip and stability, good for reading books on the train perhaps.
Conclusion
I've no hesitation in recommending this particular case to anyone who needs basic protection for their Tab 3 (see also their range for other tablets). The added benefit of being able to use it as a stand is a good thought. The cutouts for the various ports, speakers and camera (front and back) mean you'll rarely need to take the tablet out of the case. For our family this is a real boon. The sleep function is good too, meaning the tablet doesn't get left on consuming battery power – as long as the case is closed. Equally it wakes on opening. The only tough decision you'll need to make is which color you'll be ordering.
Pros:
+Stylish
+Lifetime warranty
+Case and stand in one
+Sleep/Wake feature
+Stylus loop
+Access to all features
+Range of colors
+Value for money
Cons:
-No access to card slot
| | |
| --- | --- |
| Grades: | 9 out of 10 |
| Overall | |
| Design / Aesthetic | |
| Value / Price | |
| Performance / Usage | |
To learn more about our review policy please visit this page HERE.