If you're a gamer then you know the video card is probably the most important part of your system, without a decent one you won't be able to play those games that you love so much. The problem with good video cards is that they cost a lot of money, and a lot of us can't afford them so most of us aim a little lower towards the more mid-range priced cards. I think one should be able to get a fairly decent card that will play most games at relatively high settings and not have to take out a loan or get a second mortgage to do it. Today for review I've got the Sparkle GeForce GTX465 video card, it's a fairly big card, but most cards are these days that can provide good performance for your system. The best part about this card I think is the price, for about $200 you can get a fairly decent performing card.

The GTX465 comes in a fancy and shiny looking box and is well packaged.
Inside you'll find documentation, CD, VGA to DVI adapter, two molex to PCIE power connection and an HDMI cable.
The card itself is big and colorful, purple and black wouldn't be my color choices but hey whatever. The card has a nice big fan on it with copper heatpipes sticking out of the side. It's a dual slot card as well.
On the back end you'll find to DVI ports and a mini-HDMI connection. I'm not too happy about the mini-HMDI connection though, what's wrong with normal HDMI?
Here's the GTX465 with an ATI 4870 and a GT240.
Specifications:
Geforce GTX465 Series – SXX4651024D5-NM
Model number : SXX4651024D5-NM
Graphics Processing : Geforce GTX465
Processor Cores : 352
Core Clock : 607 MHz
Memory Clock : 3206 MHz
Memory Type : 1024MB GDDR5
Memory Interface :     256Bit
Processor Clock : 1215 MHz
Bus Type : PCI-Express 2.0
Key Features:
-Microsoft DirectX 11 support
-NVIDIA CUDA technology with CUDA C/C++,DirectCompute  5.0 and OpenCL support
-NVIDIA PhysX technology
-NVIDIA SLI and 3-way SLI technology
-NVIDIA 3D Vision Surround Ready
-NVIDIA PureVideo HD technology
-PCI Express 2.0 support
-Two Dual-link DVI-I connectors
-One Mini-HDMI 1.3a connector
-Dual-link HDCP-Capable
-OpenGL 4.0 Optimization and support
Price: $204.99 (price from NewEgg at time of review)

I'm using the GTX465 in my gaming computer which consists of DFI Lanparty X48-T3RS Motherboard, Intel C2Q9650 CPU, and 8 Gigs DDR3 Ram installed in a Lian-Li PC-8FI case.
Here it is installed:
Before I installed the GTX465 I was using a GTX260, so that's what I'm comparing it to.
We'll start with a couple old favorites.
3DMark06:
Somewhat of a better showing.
Now here's 3Dmark Vantage set at Performance with the resolution changed to 1920×1080.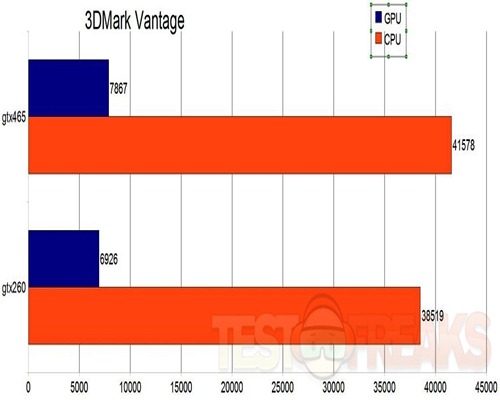 Quite a bit better with the GTX465 in the system.
How about some Crysis with settings of 1920×1080, and 4X AA on High Quality.
As expected not the best results, but the GTX465 does better than the GTX260.
Next up is Far Cry 2 with Settings: Demo(Ranch Small), 1920×1080 (60Hz), D3D10, Fixed Time Step(No), Disable Artificial Intelligence(No), Full Screen, Anti-Aliasing(4x), VSync(No), Overall Quality(Very High), Vegetation(Very High), Shading(Very High), Terrain(Very High), Geometry(Very High), Post FX(High), Texture(Very High), Shadow(Very High), Ambient(High), Hdr(Yes), Bloom(Yes), Fire(Very High), Physics(Very High), RealTrees(Very High).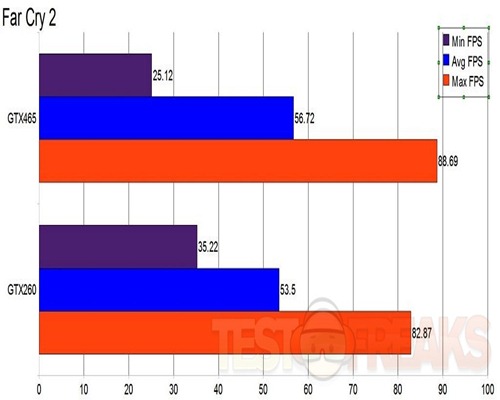 Oddly the GTX465 has lower minimum FPS than the GTX260, but the performance is still very good.
I've never used the HAWX2 benchmark so I figured why not give it a try. Settings for testing were 1920-x1080, Everything on high and AA set to 16xQ CSAA.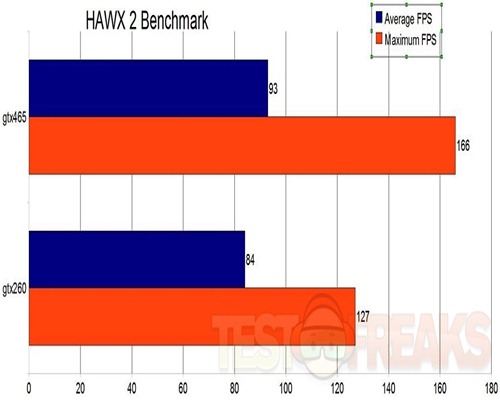 Very playable at those frame rates I would say with either card.
Mafia II is a game that involves Physics, so I figured why not use that one for testing as well. Setting were basically everything on HIGH at 1920×1080 with AA on and Anisotropic Filtering set to 16x. I ran three different tests at the available physics settings of off, medium and high.
Obviously having a physics card paired with the HTX465 would be a good thing here as neither card did too well with the Physics on.
The last test I ran, another that I never ran before, is the Unigine Tropics Benchmark with settings of 1920×1080, shaders on high, Anistropy at 8x and AA on 8x.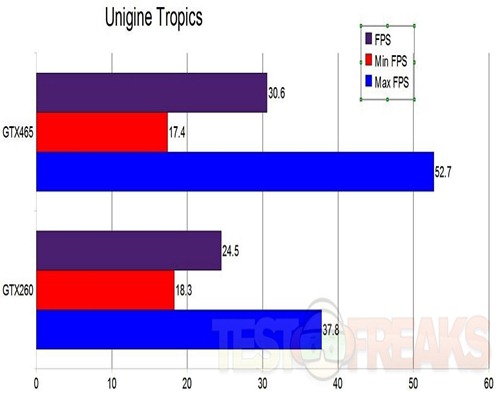 There's a rather big difference in the Max FPS as you can see here.
The card seems quiet, even under load I couldn't hear the fan.
Conclusion:
I think the performance of the GTX465 is decent overall and I'm very happy with it. The cost is relatively low for it, and I think anyone who does purchase this card will be happy with it.
For most game today though I think it should be paired with another card, especially one for physics.
The one gripe I do have is the mini-HDMI port, why use mini and not standard?! Yes they do include a cable but it's barely long enough for my needs, and I'm sure it will be too short for others.
Pros:
+Low price
+Decent performance
+Includes HDMI cable
Cons:
-Mini DVI Connection
-Included HDMI cable might be too short for some
-Large sized card
| | |
| --- | --- |
| Grades: | |
| Overall | |
| Design | |
| Performance | |
To learn more about our review policy please visit this page HERE.