Even the most durable eyewear has always had an Achilles Heel – the hinge. This area is the most vulnerable to breakage leading to the inevitable added expense of fixing or replacing a set of glasses. I know my friend's young boys go through a pair every six months or so.
Today we will look at a new technology to help prevent such eyewear catastrophes. A company called REM Eyewear has created a replacement for the old school hinge called the SPINE.
This new style hinge eschews screws for a new flexible system based on the function of spinal vertebrae. It features an auto shut mechanism when the frames are removed from the user's face.
REM Eyewear created micro injected metal (MiM) hinges which are screw less; which allows this new style hinge to flex to fit any size face. At the heart of this technology is spun wire cable measuring 0.60mm with a full tensile strength that can support over 300kg. This cable provides the auto shut capability while acting as a lattice for the hinge. Plus it allows the eyeglasses to hug the wearer's face.
Specifications and Features
According to REM Eyewear they use cellulose acetate for the plastic portion of the frames, stainless steel for the body along with the SPINE hinge. Aluminum is the other material used in various frames.
At first glance they look like any other type of frame; it's when you extend the arms that you'll notice the difference. While most temples on eyeglasses usually extend and stay open, the SPINE ones always return to the closed position unless worn.
Looking closer at the hinge we see the SPINE system that is composed of three flexible joints. Besides folding inward this hinge can extend past 90 degrees for larger size heads as well as accidental breakage.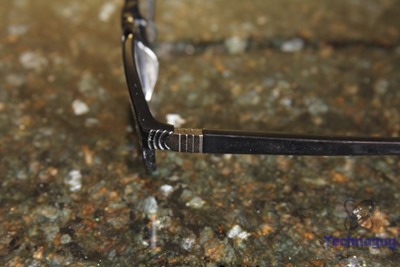 In fact, shooting pictures for this review requires the SPINE provided space to keep the temples extended for photos.
Both frames are solidly constructed with the SP2002 composed of a metal frame, rectangular lenses and brown plastic arms. The other color options are Black and Gun Metal.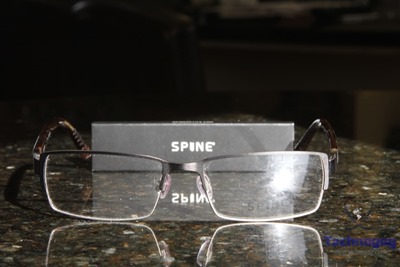 While the SP1003 is composed of plastic and comes in Black, Havana and Tortoise colors. We received the black colored versions.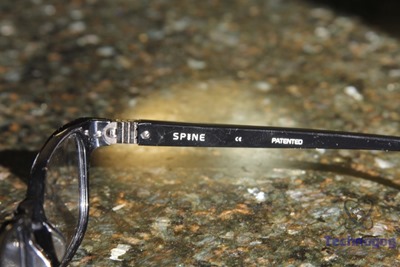 The two pairs of Spine Optics glasses provided by REM Eyewear are comfortable to wear as they feel the same on as other eye wear. However, the SPINE hinge does make the frame rest snuggly on one's face. There will be no accidental knocks off one's head with the SPINE frames in place.
It does take a little time to get used to the temples automatically closing when removed. This novel feature is one that I haven't come across with any other eyewear. There really is no drawback to this design over the old-fashioned screw style hinge frames.
Conclusion
While eye wear may not be truly tech it is something we all use on an almost daily basis with either sunglasses or eye glasses used for distance or reading. A good pair of glasses is priceless like a favorite pair of shoes; you feel better when they are worn.
The SPINE system improves and innovates on an item that has not really evolved in quite some time. Price wise the Spine Optics do not seem out of line with other eyewear frame brands. Next time you are looking for a new pair of sun glasses or eye wear for vision then I highly recommend checking out the Spine products.
Pros:
+Durable
+Fits any size head
+Reasonably priced
Cons:
-None
| | |
| --- | --- |
| Grading | Scores Out of 10 |
| Overall | |
| Design / Aesthetic | |
| Value / Price | |
| Performance / Usage | |
To learn more about our review policy please visit this page HERE.