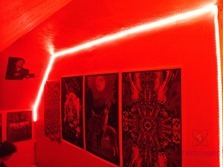 Lights,lights and more lights, I've got a lot of them, all sorts of them actually, I like them, I find them fun and interesting. Up for review today Superknight has sent me over their 16 foot LED light strip that comes with a remote control so you can change the colors and modes of the lights. These lights aren't bad at all, they're very bright and they can even be used as black light if you wanted to. Read on to learn more…

Specifications and Features
The remote is about the size of 1 1/2 credit cards in length and it has 44 buttons on it with varying functions for power, dimming, changing colors and various other modes like flash, fade and strobe or jump.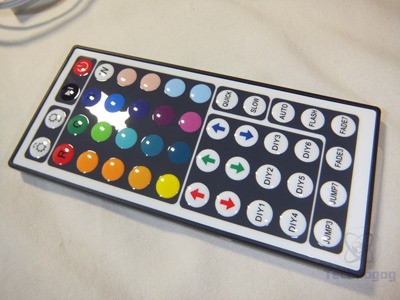 The LED light strip comes on film reel basically which makes it much easier to handle and work with. There are two power connector ends on it, one is male and the other is female. If you bought another set of these you could chain them together to have an even longer strip. The strip itself is 5 meters in length or about 15 feet long when unrolled.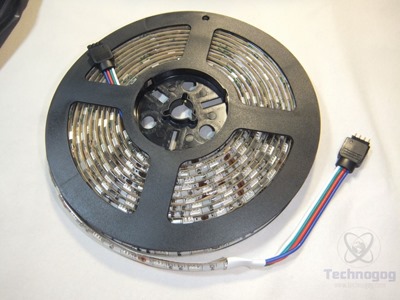 The LEDs are covered in a clear rubber material making them waterproof so you could use for outdoors but the power supply and inverter aren't waterproof. Every three LEDs is a contact point where you can cut the strip if need be and it will still work, if you cut it anywhere else it will damage the strip and it won't work correctly. On the back of the strip is an adhesive backing so you can mount the strip where you want to.
The small white box is the inverter which has a short coming off of it that ends in the infrared receiver so you can control the LEDs. The main power supply connects into it and then another white comes off that connects to the LED light strip.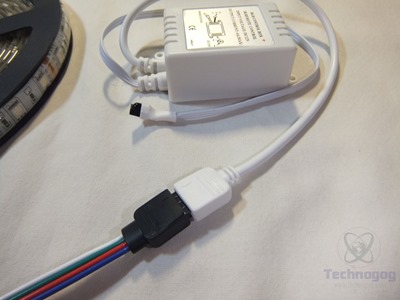 I do have another set of these from another company and they're in my youngest sons room so when these came in my other son said he wanted them since we just moved him into a new room so he could have his own room. The interesting thing about these LEDs is that they can act like a black light along with all the other colors they have.
The lights can be very bright, when they are on white they light up the whole room, they can be used just as a regular light really.
We got the lights up but sadly the next day they were on the floor, the adhesive on the back is not good at all. I ended up buying better quality double sided tape and we remounted the lights and now they're still attached.
Conclusion
The Superknight 505 LED strip isn't a bad product at all, it's fairly simple to install and the remote let's you do all sorts of things and I like the fact that it can be used as a black light.
The only real complaint I could have about these is the adhesive, it's just not good at all, I mounted them and a day later they fell down. So just keep in mind that you will need to buy a better tape or adhesive to mount these lights.
Pros:
+Very bright
+Can be a black light
+Simple to use
+Can be expanded or cut
+Multi-function remote control
Cons:
-Adhesive doesn't really stick at all
| | |
| --- | --- |
| Grading | Scores Out of 10 |
| Overall | |
| Design / Aesthetic | |
| Value / Price | |
| Performance / Usage | |
To learn more about our review policy please visit this page HERE.