Sadly we live in a world where it's not always safe to just go outside and have fun, there are people out there who are trying to steal your identity and financial information and they could be doing it without you even being aware of it. RFID technology is great but it can be a bad thing as some nefarious people have figured out how to use RFID readers to steal information form people. Today for review I've got the Kicty RFID blocking money belt which is basically a travel waist pack but it has RFID blocking technology built into it. This pack is very well made with plenty of pockets for your stuff. Read on to learn more…

Specifications and Features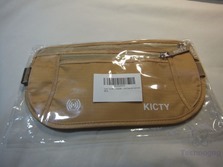 The first thing you'll notice about this bag is that it's heavy, much heavier than any other pack like this I've reviewed or own, it's made of very thick and heavy weight material. Part of the reason for the thickness is the RFID blocking technology built into it and the other part is that it's just well made. The pack is 11.25 inches wide and about 6 inches tall with zippered pockets on the front.
On the front is a small zippered pocket with dimensions of about 7 inches across and 4 inches tall so you could fit your cellphone in there or wallet for quick and easy access to them.
The main pocket is behind the small front pocket and it's actually three pockets, the main compartment and then two smaller pockets. Inside you'll also find a small carabineer to attach your keys if you want. The main pocket is almost the entire width of the pack at about 10 inches across and almost 5 inches deep. The two smaller pockets are different in size and they're about 4.25 x 4 inches and 4.25 x 6 inches in dimensions. Both of the pockets have cloth zipper pulls on them making it easier to open the zippers.
The strap is thick and elastic but it's a soft material that's comfortable to wear. The strap is 1 inch wide and according to specs it can be expanded from 22 inches up to 4 inches in length. The strap wraps around to the front where you'll find a plastic clip buckle hidden under a piece of material.
The whole back of the pack is a pocket actually, it's a stretchy mesh material that opens on one side so you might be able to carry some other things with you in there. The material is soft so it will be comfortable if you wear it against your flesh.
Conclusion
My wife is a big fan of these types of packs especially for our kids when we go out to places like the amusement park, they can keep their money and ID in there and have less of a chance of having anything stolen. We have several of these types of packs floating around and I have to say this is the nicest one I've purchased or gotten for review, it's just very well made overall.
The Kicty pack has plenty of pockets for your stuff to take with you on a day trip or take with your hiking or camping and it has built-in RFID blocking so your cards and anything else should be safe.
As far as the RFID blocking ability, well, I'll just have to take it on faith that it works as I don't have a way to test it and see if it actually works.
I have no real complaints about this product objectively, personally though I don't care for the color, I would much prefer black myself.

Pros:
+Very well made
+Plenty of pockets
+RFID blocking
+Inexpensive
Cons:
-Not sure about the color personally
| | |
| --- | --- |
| Grading | Scores Out of 10 |
| Overall | |
| Design / Aesthetic | |
| Value / Price | |
| Performance / Usage | |
To learn more about our review policy please visit this page HERE.