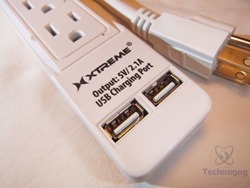 Today for review I've got a product that I wouldn't exactly call exciting but it's one of those types of things that everyone has and needs at on time or another, it's a power strip. This strip has six standard outlets but it also has two UBS ports located at the bottom of the strip to charge your devices. The addition of the UBS ports is certainly handy, as long as you have your USB cable you shouldn't need the power adapter. Read on to learn more..
Specifications and Features
Surge Protector Power Strip – Tech Essentials Power Strip features 6 Standard Charging Power Surge Protection Outlets with 2.1 amp Surge Protector USB Ports, Power On/Off switch, and 1.5 Feet Power Cord
6 Standard Grounded Outlet Wall Outlet w/ 2.1amp Dual USB Ports
Hotel rooms and airport terminals never seem to have enough power outlets to charge all the devices today's traveler brings along. Now you can add outlets and peace of mind on business trips and vacations with the 2 Outlet Wall Mount with dual USB port. This new design features three AC outlets and two powered USB outlets – perfect for MP3 players and mobile phones. (This product's USB outlets cannot be used as a USB hub and does not transmit data. The powered USB outlets on this unit are intended solely for charging devices that can be charged via a USB interface)
This wall power outlet features 6 grounded 3-pronged outlet and protects TVs, DVD players, cordless phones, portable stereos and much more. Our compact wall surge protector also features Dual USB port that allows you to charge your portable devices with ease
Compatible with iPhone 4, 4S; 5, 5S, 5C, 6, 6 Plus, iPad 1, 2, 3, Air, Retina, Mini 1, 2, 3; Samsung-Galaxy S3, S4, S5; PCs-Windows, Macbook Air, Pro, iMac, Microsoft Surface Pro, Nexus,Dell Venue 7 & 8, Samsung Tab S, Lenovo Yoga, ASUS T200, Nvidia Shield, Lenovo ThinkPad 10, Sony Xperia Z2, HTC Flyer and Evo view, Motorola Xoom, LG G Pad, Nokia Lumia, NEC, DVD player,TVs, cordless phones, portable stereos, battery bank bluetooth headphones, any device that plugs into a standard wall outlet
Product Dimensions: 1.2 x 13.5 x 6 inches
Price: $14.75
The Review
Let's start with a quick video unboxing:
The power strip comes in everyone's favorite sealed plastic clamshell style package. It's clear so you can see everything and there's plenty of information listed for you on the back about the power strip.
The power strip itself is made of plastic just like most are. The power cord is heavy duty and it's about 1.5 feet long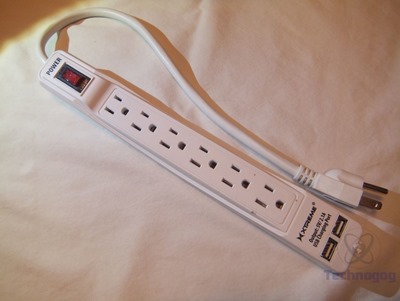 The main power switch is the rocker style and it does have an LED in it to indicate when power is turned on.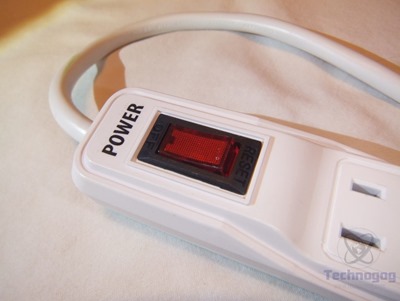 There are six standard three prong outlets on the strip. For the most part the strip is unremarkable.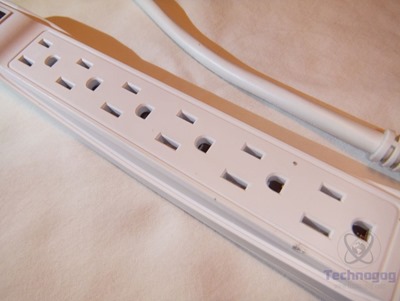 What makes the strip interesting is the addition of two USB ports located at the bottom, these are 2.1amp so they should provide a fast charge for most devices.
The back is plain just some technical data. What's missing though is holes to be able to hang the strip if you wanted to. This isn't a big issue, it's just nice to have the option to hang the strip.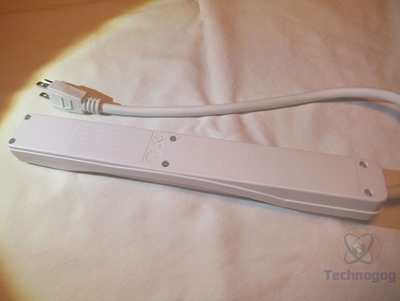 For testing I plugged stuff into the power outlets and the USB ports and everything worked perfectly fine.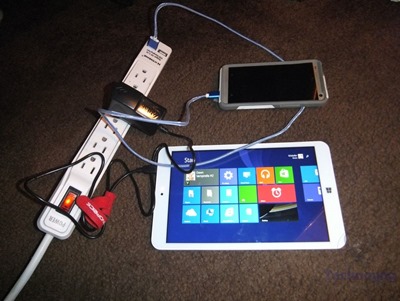 Conclusion
This power strip has the welcome addition of two USB ports which I'm sure will come in handy for most people as it seems most things are charged via USB these days.
The power strip is inexpensive at about $15.
So it's a power strip with USB ports, there's not much more to say really. It does what it's supposed to do, provide power to your stuff and it also provides power to USB devices.
Pros:
+Inexpensive
+USB ports built-in
+Seems well made
Cons:
-None
| | |
| --- | --- |
| Grading | Scores Out of 10 |
| Overall | |
| Design / Aesthetic | |
| Value / Price | |
| Performance / Usage | |
Disclosure: This product was given to us for review by the company for review purposes only, and is not considered by us as payment for the review.
To learn more about our review policy please visit this page HERE.