Up for review today I've got a mummy style sleeping bag from a company called Survival Hax. The bag is a three season bag that you can use for spring, summer and fall and it's good for 35F to 59F weather. The bag has a waterproof shell to keep you dry and it's very nicely made, it's soft and comfortable. The bag has a small inner pocket for your phone, along with dual zippers for easy in and out. Read on to learn more….
Specifications and Features
Survival Hax 3-Season Mummy Sleeping Bag with Waterproof Shell
The Mummy Bag by Survival Hax is a comfortable 3 season Sleeping Bag with the versatility to handle mother nature.
What does 3 season mean? "Three season sleeping bag" means that this is optimal for spring, summer, and fall weather conditions where the temperatures stay above freezing.  
While the rest of your friends are tossing and turning all night in their lumpy sleeping bags, you'll be sleeping like a baby as if two angels were cradling you inside of a soft cloud.
When designing this sleeping bag we aimed for comfort, airflow, weight, and durability against the elements.
Compact and Lightweight Durable Carry Sack
When it comes to camping and backpacking, lighter and smaller are always better. Our mummy bag fits nicely into the small 14 * 7 inch travel sack which has a 190T Water resistant shell.
The whole thing weighs 2 1/2 pounds and can be stuffed into a backpack or tied to one.
Easily tie off the carry sack to your pack, or stuff it in with the rest of your gear. You'll find that this is small, light, and portable – while still keeping your toes warm.
Stay Dry
The exterior shell has been made out of Water Resistant 190T Polyester Pongee. Should you find yourself in a situation where the weather shifts, feel confident knowing you won't wake up like a soggy hotdog.
Hidden Pocket Inside
It can be difficult keeping your phone or flashlight on you inside of a sleeping bag. Most people forget once they fall asleep, and once they need it they start scrambling around in the dark.
Our hidden pocket will stay put, ensuring you have fast access to your phone or light instantly.
A Snug Fit
One of the main reasons people buy mummy bags is because they have the ability to wrap around your face to keep the cold air out.
It's easy – Pull the draw string snuggly around your face to keep your body heat in, while keeping the cold air out. Then tighten the adjustable button so you stay that way all night.
Air Flow
Now should you find yourself in a situation where the night is a little too warm for comfort, you can unzip your feet to allow for air flow.
Now you can avoid those uncomfortable nights where you have to unzip your bag when it gets too hot, and zip it back up a few minutes later when you get chilly.
Specs: 220x80x50 CM
Length: 86.6 inches (Just over 7 feet)
Head Width: 31.4 inches (Over 2 ½ feet wide)
Feet Width: 19.6 inches
Maximum Cold Temperature: -2C (24 Fahrenheit)
Optimal Temperature: 0 to +15C (35 – 59 Fahrenheit)
Shell Material: 190T Polyester
Lining Material: 190T Polyester Pongee (Water Resistant)
Sleeping Bag Weight: 2.53 pounds
Price: $24.99 (from Amazon at time of review)
The Review
Let's start with a video unboxing or actually a product tour since it doesn't come in a box….
The Survival Hax sleeping bag just comes packed in a plastic bag, it's not exactly fragile so it's fine. The sleeping bag gets stuffed into the carry bag which has a drawstring and adjustable straps so you can compress the bag down for easy travel.
The bag has the Survival Hax logo on the front and it's gray and blue in color. The bag is made of 190T water resistant polyester and it's very soft. It's just over 7 feet long which is a nice size for taller people like me at 6 foot. It's mummy bag so it's wide at the top at just over 2.5 feet and then it tapers to 19.5 inches at the bottom.
The top where your head is has a locking style draw string so you can make it nice and tight to keep the elements out.
The zipper goes from the top side and all the way down to the feet. At the top is a strap with velcro to keep the zipper closed and the zipper has pulls on the inside and outside of the bag for easy access to get in and out.
There is a small pocket inside for your phone and it does has a velcro closure on it to keep things from falling out.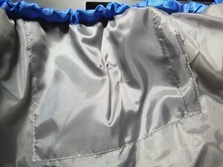 Sleeping bags are great but a good hammock is a bit more comfortable when you're sleeping on rocky ground.
Conclusion
The Survival Hax sleeping bag is very soft and comfortable but it's a three season bag meaning it doesn't have a lot of stuffing in it so you might need a pad under it, especially on rocky ground.
The bag is nicely made, and it compresses down for travel in the included bag.
I do like this sleeping bag a lot, it looks nice, I love the blue and gray colors, and it's soft and comfortable.
The dual zippers make it easy to get in and out of and the pocket can come in handy.
Sleeping bags are great, but there a times when a good camping hammock with stand is nice to have.
Pros:
+Well made
+Includes carry bag
+Soft and comfortable
+Waterproof
Cons:
-Might need a pad on rocky ground
| | |
| --- | --- |
| Grading | Scores Out of 10 |
| Overall | |
| Design / Aesthetic | |
| Value / Price | |
| Performance / Usage | |
Disclosure: This product was given to me for review by the company for review purposes only for free or at a discounted price.
To learn more about our review policy please visit this page HERE.