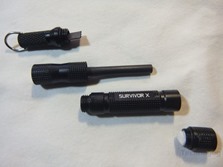 Camping, hiking, outdoors, survival, they all kind of blend together don't they? I believe in being prepared, but I'm not a prepper or survivalist, but you never know what might happen and just what you'll need in an emergency. Fire is one of the most basic and primal forces on Earth, without it we wouldn't be alive right now surely. Today for review I've got a great little product called the Survivor X which is a small fire starter that breaks into section with a magnesium bar, scraper and even cotton fire starter, everything you need to start a fire for camping or in an emergency. I really do like this product, it's very well made, and very handy I think. Read on to learn more…
Specifications and Features
The whole fire starter is made of aircraft aluminum and it feels very solid, there's a knurled pattern on it to make sure you can grip it. On the end is a strong metal ring so you can attach it to a key ring or backpack or wherever to keep I handy. The fire starter itself is just slightly over 4 inches long and it only weighs a little over 1 ounce so it's very portable and easy to take with you in your pocket or bag.
The whole bar can be separated into four parts by unscrewing them. Each section has a rubber seal to keep water out so the Survivor X will be ready when you need it.
In the end cap you'll find just a little bit of cotton, a very little bit, but it should be more than enough to use as a fire starter. The end cap also has a rubber seal on it to keep water out and keep the cotton dry. You can easily refill the cotton with regular cotton balls if need be.
The top end is where you'll find the scraper which is a strong piece of metal but it also has a serrated edge on it that is sharp enough to use to cut string or even rope if need be. This end cap also has a rubber seal on it to keep water out.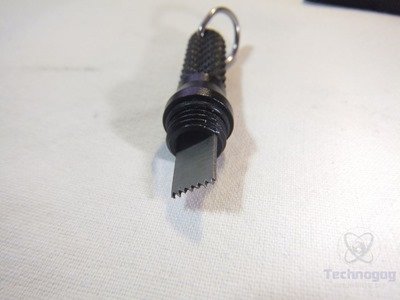 The magnesium bar is about 1.5 inches long and you'll need to scrape off the black coating to use it. One feature I very much like is the fact that the section covering the magnesium bar can be screwed onto the back of it so you'll have a better grip to use it.
Once you remove the black coating the scraper works easily to produce large, bright and hot sparks. I used a cotton ball and I was shocked actually as it caught fire with my first strike, I really wasn't expecting it to do that at all.
To end this review off here's a video of unboxing and me using it and starting a fire:
| | |
| --- | --- |
| Grading | Scores Out of 10 |
| Overall | |
| Design / Aesthetic | |
| Value / Price | |
| Performance / Usage | |
Disclosure: This product was given to me for review by the company for review purposes only for free or at a discounted price.
To learn more about our review policy please visit this page HERE.