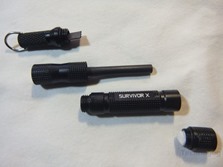 Camping, hiking, outdoors, survival, they all kind of blend together don't they? I believe in being prepared, but I'm not a prepper or survivalist, but you never know what might happen and just what you'll need in an emergency. Fire is one of the most basic and primal forces on Earth, without it we wouldn't be alive right now surely. Today for review I've got a great little product called the Survivor X which is a small fire starter that breaks into section with a magnesium bar, scraper and even cotton fire starter, everything you need to start a fire for camping or in an emergency. I really do like this product, it's very well made, and very handy I think. Read on to learn more…
Specifications and Features
SURVIVOR X Magnesium Fire Starter – Ultra Compact Pen-Sized Firestarter with Flint & Striker – Must-Have in Emergency Zombie Survival Gear Kit – 5,500°F Hot Spark [Premium Gift-Ready Packaging]
THE SECRET TO INSTANT FIRE
Looking for peace of mind in emergency survival situations?
Wanting that extra edge in the battle between life and death?
Needing to take charge of you and your loved ones' safety?
**SURVIVOR X Fire Starter is Made Just for You
– No gimmick – just the best darn ultra compact fire starter you can buy.
– Smaller than a pen – the most useful survival gear is the one that you can carry with you everywhere.
– Waterproof design – aerial aluminum construction with rubber gaskets.
– Instant fire – hot sparks reaching 5,500F and independently sealed cotton swab.
– Prepare like a survivor – for hiking, camping, hunting, boating, fishing.
**Save Your Life
Fire is one of the top priorities in an emergency situation, as the body can quickly lose heat, which leads to hypothermia – a potentially deadly scenario. Fire will also kill parasites in the water and food you consume, as well as keep the wild animals and pesky insects away in the dark. SURVIVOR X fire starter improves your chance of survival.
**Choice of Survival Experts
Experts agree that the most useful survival tool is the one you actually carry with you in an emergency situation. This is why SURVIVOR X fire starter is designed to be the size of a pen – small and light enough so you'll always have it with you.
**Product Specs
Length: 10.5cm (4.1in)
Diameter: 1cm (0.4in)
Weight: 25g (1.1 ounces)
Aerial aluminum + premium grade magnesium
Price: $10.99 (from Amazon at time of review)
The Review
The Survivor X fire starter comes packaged very well in a gift style box, inside you'll find the fire starter in a soft foam bed for protection. The bottom of the box has basic instruction on how to use it.
The whole fire starter is made of aircraft aluminum and it feels very solid, there's a knurled pattern on it to make sure you can grip it. On the end is a strong metal ring so you can attach it to a key ring or backpack or wherever to keep I handy. The fire starter itself is just slightly over 4 inches long and it only weighs a little over 1 ounce so it's very portable and easy to take with you in your pocket or bag.
The whole bar can be separated into four parts by unscrewing them. Each section has a rubber seal to keep water out so the Survivor X will be ready when you need it.
In the end cap you'll find just a little bit of cotton, a very little bit, but it should be more than enough to use as a fire starter. The end cap also has a rubber seal on it to keep water out and keep the cotton dry. You can easily refill the cotton with regular cotton balls if need be.
The top end is where you'll find the scraper which is a strong piece of metal but it also has a serrated edge on it that is sharp enough to use to cut string or even rope if need be. This end cap also has a rubber seal on it to keep water out.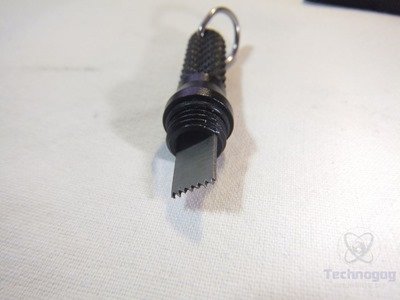 The magnesium bar is about 1.5 inches long and you'll need to scrape off the black coating to use it. One feature I very much like is the fact that the section covering the magnesium bar can be screwed onto the back of it so you'll have a better grip to use it.
Once you remove the black coating the scraper works easily to produce large, bright and hot sparks. I used a cotton ball and I was shocked actually as it caught fire with my first strike, I really wasn't expecting it to do that at all.
To end this review off here's a video of unboxing and me using it and starting a fire:
Conclusion
I really like this product, I was pleasantly surprised by just how easy I could actually get a fire started with it.
The Survivor X is well made and it works great and it's got everything you need for camping or an emergency right there in a small and very portable package.
I very much like the fact that there are rubber seals on all the section to keep the water out and I really like the idea you can fit the end piece onto the back to get a better grip on the magnesium bar while you're using it.
I think this is a just a great product overall and I can highly recommend it.

Pros:
+Small and portable
+Big and bright sparks
+Easy to use
+Very well made
+Seals to keep water out
Cons:
-None that I could find
| | |
| --- | --- |
| Grading | Scores Out of 10 |
| Overall | |
| Design / Aesthetic | |
| Value / Price | |
| Performance / Usage | |
Disclosure: This product was given to me for review by the company for review purposes only for free or at a discounted price.
To learn more about our review policy please visit this page HERE.