As the world becomes more digitally based, data management and protection is no longer a luxury but a necessity. Network Attached Devices are a great way to manage and backup personal or business data since they can act as central repositories. Over the past several years we at technogog have reviewed numerous such devices.
Synology is one such brand that markets NAS servers designed for home offices ranging up to large scale businesses. From our experience they have proven to be one of if not the best designers of network attached storage devices. While their hardware is top notch its their interface – DiskStation Manager (DSM) the OS of their NAS servers that makes these boxes special.
The Synology DiskStation DS713+ is the latest version of their small and medium size business oriented NAS. This model replaces the impressive Synology DiskStation DS712+, which we reviewed last year.
This NAS has advertised speeds of 202.3 MB/sec reading and 135.84 MB/sec writing speed under RAID1 configuration in a Windows environments via Link Aggregation. In addition, the DS713+ now has USB 3.0 ports that were found on their consumer DS213 models.
Besides upgrading the hardware with a dual-core Intel Atom D2700 processor clocked at 2.13GHz using 1GB of DDR3 memory. Synology has also updated DSM to version 4.2.
Synology uses an interface that should feel familiar to most Windows and Linux users since it is built on the Linux platform. New features found in DSM 4.2 include QuickConnect which bypasses port forwarding for the DS Cloud, DS Photo+, DS File and DS Audio, Cloud Station 2 that allows syncing of nearly unlimited shared folders for file sharing, for files up to 10GB, DS Photo+ which allows automatic upload your photos from your mobile device to your DiskStation.
For the business and power user, DSM 4.2 provides support for Amazon Glacier, an affordable backup to the cloud, LUN Clone and LUN Snapshot to help increase Admin productivity, VMware vSphere 5 VAAI certification, as well as certification for Windows Server 2012 on x86 models such as the Synology DS713+.
The best part of DSM 4.2 is a free upgrade for other Synology NAS box owners.
Synology DiskStation DS713+ Review
Synology shipped us a unit preloaded with two 1-TB hard drives packaged in a plain brown cardboard box as opposed to the standard Synology packaging. Checking online we see for its retail packaging Synology has switched to the green and white box as seen with the DiskStation DS213.
The Synology DS713+ is offered as a bare unit or with drives preinstalled. On the website is a list of compatible hard drives if you wish to buy a bare model. As a dual drive unit the Synology DS 713+ tops out at eight terabytes. Synology offers expansion bays with two and five bays. For instance the Synology DX513, a five bay expansion unit that allows up to 28 TB to be run off the DS713+. For even more capacity you can use external drives via the free USB 3.0 ports on the back.
Opening the box we find the Synology DiskStation DS713+ sandwiched between two foam inserts along with the power cord, AC adapter, two LAN cables, installation disk, Quick Start Guide and screws.
The unit is composed of matte black metal with glossy black plastic panels on the front and rear. Synology's design aesthetic has always aimed for a minimal and professional style and this NAS keeps that trend going. The Synology DS713+ feels right at home on one's desk or tucked away in a corner.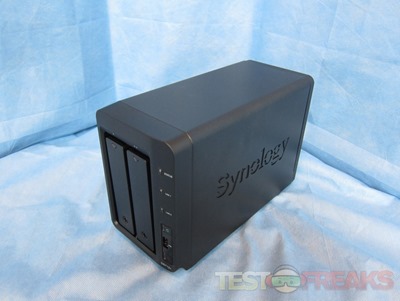 The Synology DS713+ measures 15.7 X 10.35 X 23.2 cm and weighs 3.7 lbs without hard drives installed. Its predecessor, the DS712+ came with an Intel Atom D425 single core processor clocked at 1.8GHz and 1 GB of DDR3 memory while this version packs a 2.13 GHz dual-core Intel D2701Atom CPU using the same amount of RAM.
In terms of appearance, the form factor of the DS713+ looks almost identical to its last year's DS712+. In fact when the two devices stand side-by-side the only differentiation between the front panel and sides is the Synology logo printed on the top front of the DS712+.
On the front of the NAS are two drive trays with hex locks to keep the hard drives locked into place. While not the most secure locking mechanism, these locks should deter any accidental or intentional removal of hard drives. Synology provides two keys for locking and unlocking these bays.
Our review box came preinstalled with two Seagate Barracuda 7200 RPM models. Adjacent to the right side drive are LEDS for Status, LAN1, LAN2, along with a USB Copy button, USB port and Power button.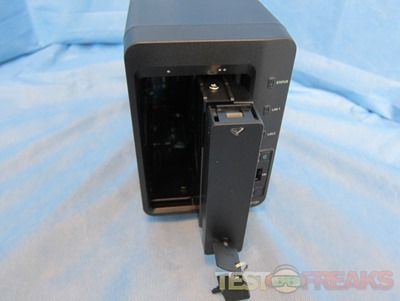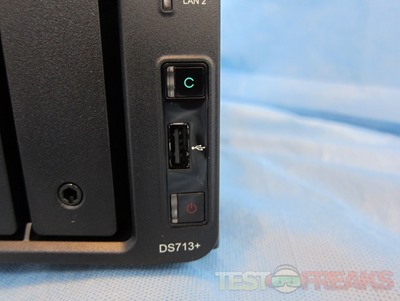 Here is a look at the inside of the Synology DS713+ without the drives in place where you can see the motherboard and a single laptop size stick of 1 GB DDR3. According to some online research the 1GB DDR3 memory module can be upgraded to a 2GB stick such as the Kingston KVR1066D3S8S7/2G.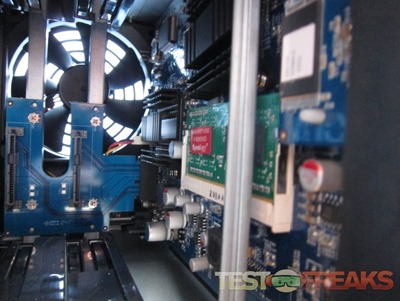 The sides of the DS713+ have the Synology embossed name with a mesh underlying it to help provide additional airflow.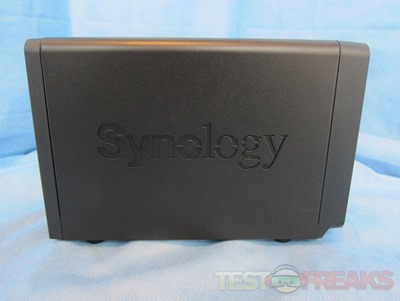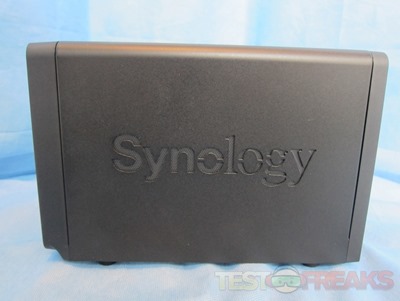 On the back of the Synology DS713+ we find a 92mm fan with a noise level of 19.2 dB (A), dual Gigabit Ethernet ports, eSata port, reset switch, a Kensington lock port and an AC input. The newest additions to this back panel are two USB 3.0 ports. Now you can take advantage if the faster USB spec when attaching additional storage to the NAS.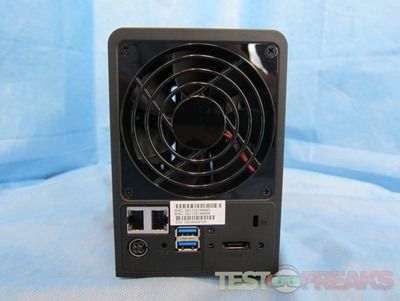 For those who wish to increase their storage capacity the available eSATA port can connect to either the five bay expansion DX513 or the two bay DX213.
Four rubber feet on the bottom keep the Synology DS713+ from sliding around