If you're looking for the best protection for your phone then one name usually pops to mind and that's Otterbox. I know when I spend a few hundred dollars on a phone or any other device I want it to be protected and I don't want some inexpensive or cheap case doing it, I want the best as I want to protect my investment. Really if you think about it, if you buy a smartphone it's an investment, not just some gadget, it's something that you're going to have with you all the time. These days our phones are our lives, they are our link to our personal and social lives, sometimes it's a bit too much so, but I guess it's not a bad thing. Today for review I have one of the latest cases from Otterbox, the Commuter Series, for one of the hottest smartphones on the market today, the HTC One. This is a case for those that want the best protection possible for their phones but yet still want to be able to access it with ease. The Commuter Series for the HTC One can fully protect your phone, the case is tough and sturdy and Otterbox was kind enough to even include a screen protector so your phone will be truly protected. Read on to learn more…
Otterbox Commuter Series Case for HTC One Review
The Otterbox Commuter Series case comes in a plastic box with a nice big window on the front and some information on the back for you to read about the case inside.
Inside you'll find the case in a clear plastic tray for protection.
The case comes with a small user manual and a small black folder.
Inside that little black folder you'll find the screen protector that Otterbox included along with instructions, cleaning cloth and a squeegee.
The Commuter Series case I got for review is black, but you can also get it in a white and gray color. The inside of the case is rubber to protect the phone from bumps and drops and pad it basically.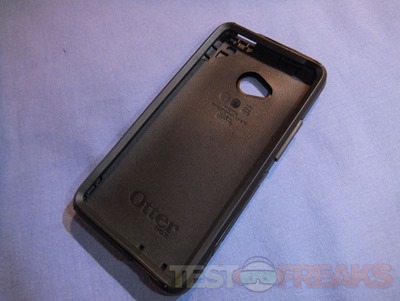 The back of the case is textured for grip and has a semi-gloss look to it. The back is hard plastic to protect the phone inside.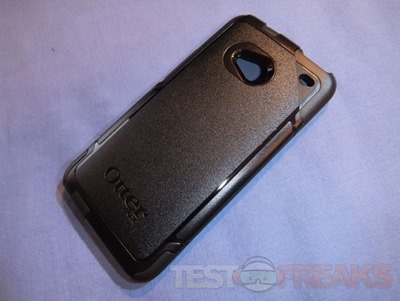 The Commuter case comes in two parts, the rubber soft inner case and the hard outer case.