One of the bad things about technology being so pervasive in our lives is the fact that there are people out there trying to do heinous things with it, to harm people essentially. A virus on your phone is a new thing, it's not something that common as it is with computers. Give it time though, those bad people are getting creative and I'm sure we'll be seeing more and more of them sadly. Technology is great for keeping us connected, but sometimes we can be a little too connected I think, especially our children. Personally I don't think small children should have phones but they do, and if you watch the news not all of the things they do with their phones is good. We need to keep checks on them and keep them safe by knowing what they're doing and who they're talking to.
Today for review I've got Total Defense Mobile Security which is an app for your smartphone that is anti-virus and much more than that. The software goes on your phone,  be it Android, Windows Mobile, BlackBerry or even Symbian. I've installed it on both my Android phone and my tablet for testing. It's much more than an app though, you can access your own account on the Total Defense website and see calls, texts, locate the device and even remotely wipe it among other things. It's certainly something to look into if you're a security conscious person, or like to know what's going on in your child's life.
Specifications:

You're always on the move and mobile security has become more important than ever! Protect your mobile phone with antivirus security that's in sync with today's on-the-go lifestyle. Protect yourself and apply parental control with filtering to safeguard your kids against mobile threats and predators. Whether you have Windows Mobile, Symbian, Android, or Blackberry, CA Mobile Security is the only security solution you need for your smartphone.
Key Features:
-Powerful anti-virus & anti-spyware detection & removal
-Remote lock & wipe for lost & stolen devices
-Remote backup of personal data with easy restore to new devices
-Remote GPS locate to find lost & stolen phones
-Anti-spam & firewall filters to eliminate unwanted messages
Parental Controls & Monitoring:
-Monitor activity on your child's mobile phone with full application, SMS, email and internet control
-View pictures by stored in the camera whether sent or received via text or email
-View content of text & email messages
-Block voice and message
-Filter communication from unwanted sources
Price: 1-Year $24.99
There's no box shots or anything like that as this is a download direct from the Total Defense website.  Install it and you get the little CA Mobile Security icon ready to go.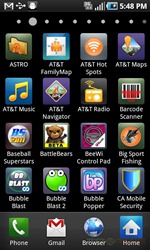 When you first load it up you'll se the status of the three programs that Mobile Security consists of, AntiVirus, Monitor and Control and Backup and Restore.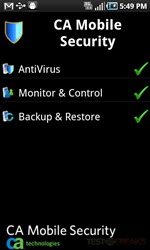 You can press the menu button up will pop a few basic options for Renew, Account Info, About and Settings. Renew is for renewing your subscription. Account info just tells you when your subscription expires, About tell you the version and Settings takes you to a popup with Update Settings, Auto Update Period and Data Roaming.
Clicking on AntiVirus will take you to the control panel with options for Scan Device, Scan for Spyware, Scan Files or Folder and Update Virus Signature. You can also press the menu button here for a popup menu with options for Periodic Scan, View Scan Log and View Detected Items.
One of the main purposes is AntiVirus or course and you'll want to run it as soon as you install the program just to be safe.  The first time will take a long time of course as it has to be thorough, and it will depend on how much stuff you have on your device as well.  You can see by the time at the top of my phone, the scan took quite while for me, almost two hours. Thankfully my phone is clean.
Under Monitor and Control you'll find the status of your settings.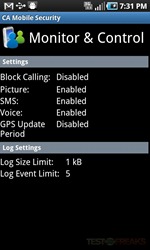 The next choice from the main menu would be Backup and Restore, both of which I think are self-explanatory. Tap on one and things start to happen.
That's mostly it for the actual app, but there' much more to do and see on the website under your account.
When you first login you're greeted with a status screen telling you things like how many messages, calls, events, applications and photos you have new. Across the top you'll see tabs for Home, Settings, Reports, Alert Setup and Support/Help. Below the tabs you'll have more choices for Lock and Unlock your device, Locate, Backup & restore, Wipe Device and Scream Locate. There's a little map off the right that can tell you your devices location. I think most of those across the top are self-explanatory as well. Obviously I've blacked out names and numbers for privacy reasons in the following screenshots.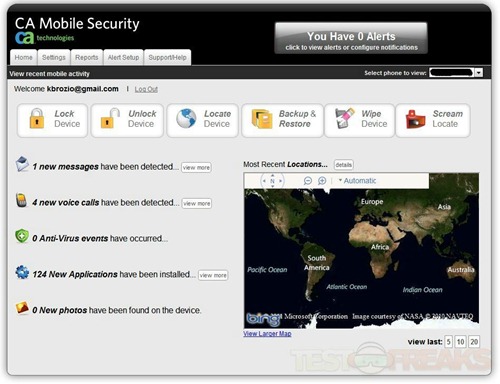 When you press Locate Device the website will send messages to your device to locate it, then a pop-up window appears and you'll be shown where your device is.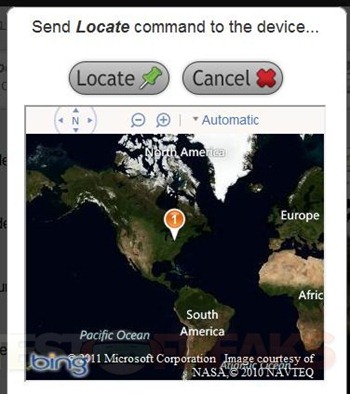 You can see your text message and calls sent and received along with the contacts in the phone.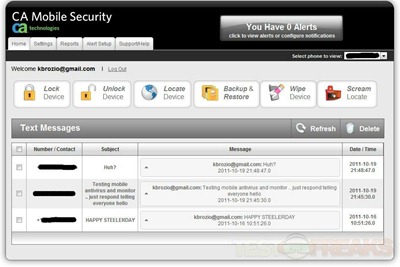 The website will actually let you uninstall programs remotely.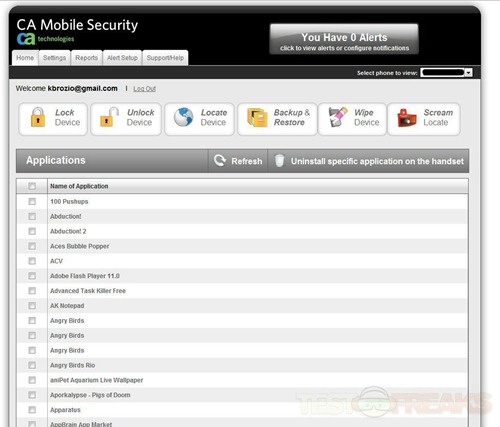 Under settings you'll find account management and handset management with check boxes to monitor or not monitor things.
Reports are just that, activity reports basically.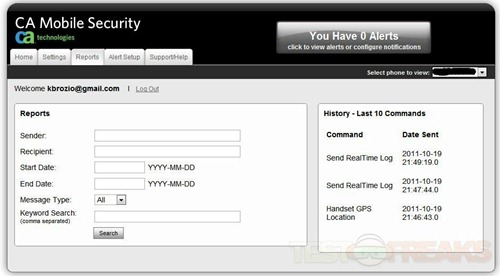 The last thing is Alerts which I found interesting.  You can search for things by keyword or address. There's a handy chart on the side for parents who aren't very tech or text savvy so you can know what your kids are actually saying when they use text speak. You can check the boxes to be alerted when when they text or someone texts them with one of the phrases.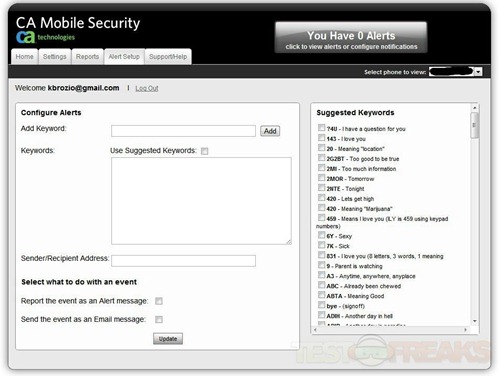 That's about the extent of it and for the price I think it's well worth it for what you get. It's $24.99 and you actually get three licenses for that, so you can install on three devices to monitor them.
One thing I did notice is that every time I turned my tablet on the anti-virus started running. You can go into the settings and change when it will run. I also noticed in Task Manager that the program is always running in the background no matter how many times you turn it off. This can be a good thing or a bad thing. Good so kids can't turn it off, bad as it's always using system resources.
Conclusion:
Total Defense Mobile Security is just like the name implies, a Total Defense for your phone or other device. It's mobile security to give you peace of mind on your own device or on your loved ones devices.
This app and website can help your locate your stolen phone, lock it and even wipe it remotely. This is a nice feature to have.
I'm a parent and my kids aren't old enough yet to own phone, 6, 9 and 10 years of age, but when they do have phones I'll be sure to have something like this on it. I want to know what my kid are doing and where they're doing it. This software provides a means of monitoring and even tracking your children or other loved ones to keep them safe and out of trouble.
Overall though I see this as a great all-on-one security solution for today's mobile lifestyle that we all seem to lead.
I can see this possibly being used for other than honest purposes though, like a spouse monitoring their significant others texts, messages and whereabouts and more.
Pros:
+Very simple to use
+Easy installation
+Great for keeping tabs on children
+Decent security measures for lost phone/device
+Inexpensive
Cons:
-Does use resources on your phone or tablet
-Can possibly be used for other than honest purposes
-Seems to run all of the time
| | |
| --- | --- |
| Grades: | |
| Overall | |
| Design | |
| Performance | |
To learn more about our review policy please visit this page HERE.