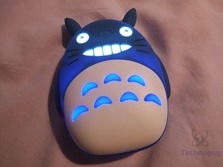 I've always loved anime and all things that go along with it and there's plenty of anime themed products on the market. My Neighbor Totoro is a very popular anime and today I have a Totoro portable power bank or external USB charger for your phone or tablet. Totoro is kind of big really, but it's cute and it has many LEDs on it that will light up while charging or not as you can just press the button to light them up when not charging. Totoro is well made and works great and it looks great too. Read on to learn more…
Specifications and Features
eShopMind 8000mAh Totoro Portable Power Bank External Charger Universel for iPhone 6 Plus 5S 5C 5 4S, iPad Air 2 Mini 3, Samsung Galaxy S6 S5 S4 Note 4 3,Nokia, Gopro, more Phones and Tablets – Blue
Cute 3D cartoon Totoro Animal Design
Light-weight, easy to carry
Universal fits for iPhone, iPod, Samsung devices, cell phones, tablet PC
With LED indication for Battery Status
Capacity:8000mAh Lithium Polymer Battery, Input Power : DC 5V-1.5A; Output Power : DC 5V-2.1A
The busiest traveling time of the year is about to start, and I've never met anyone who is completely satisfied with the battery life of his or her mobile device. The good news is there's a eShopMind battery pack (that is, juice packs) that offer many way
Size (LWH): 4.8 inches, 0.9 inches, 3.3 inches
Weight: 10.08 ounces
Price: $13.99 (from Amazon at time of review)
The Review
Let's start with a video unboxing and then move on from there:
The packaging is a very nice looking white box with gold colored line drawings and specs listed for you on the back.
Totoro is blue and white, but you can get other colors and he's rather large actually at 4.8 x 0.9 a 3.3 inches in dimensions and weighs in at a little over 10 ounces.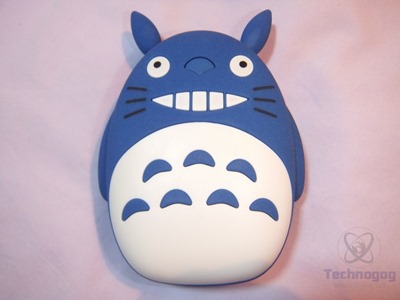 The back has a picture of Totoro and some basic specs. It says the battery is 12,000mAh but the specs say it's 8,000mAh, not sure what's up with that.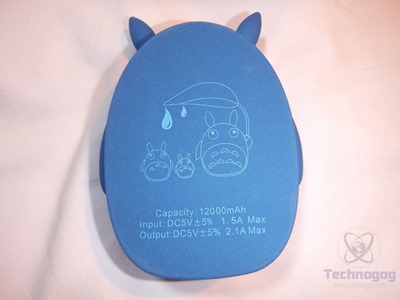 On the top you'll see the regular USB port for charging your devices and the microUSB port to charge the battery itself. There's also two holes so you can attach a lanyard or strap to it to take it with you.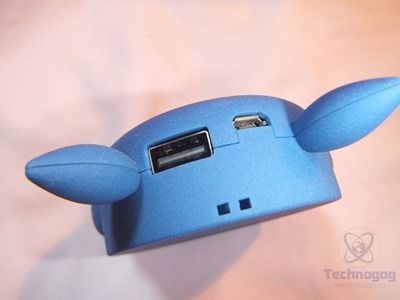 If you double tap the nose button everything lights up. If you press the nose once it's to check the battery, everything light up and then the teeth light up to show the battery level.
You'll need to charge the battery first with the microUSB cable and the teeth light up to indicate battery level and fill up as the battery fills up.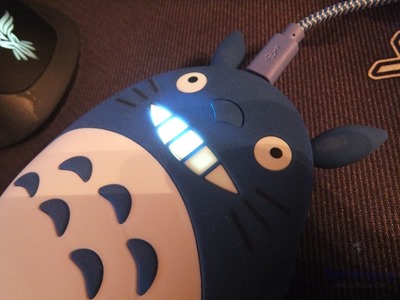 To charge your devices you just plug in a USB cable, press the nose button and your device will start charging.
While your device is charging the lights will fade in and out slowly to indicate charging.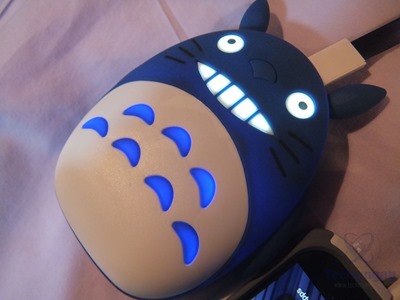 Conclusion
The Totoro power bank is one of those things that's just really amazing. Sure it's just a power bank inside but in this case it's what on the outside that counts.
If you look around you'll find all sorts of power banks out there on the market and they all pretty much look the same, rather cold and not what I would call fun, but Totoro is fun.
The power bank works great to charge your devices and it looks great doing it. If you're looking for a power bank that looks good, works and is fun, then I can highly recommend the Totoro power bank.
Pros:
+It's Totoro
+Lights up
+Seems well made
+Looks great
Cons:
-None that I can find
| | |
| --- | --- |
| Grading | Scores Out of 10 |
| Overall | |
| Design / Aesthetic | |
| Value / Price | |
| Performance / Usage | |

Disclosure: This product was given to us for review by the company for review purposes only, and is not considered by us as payment for the review.
To learn more about our review policy please visit this page HERE.