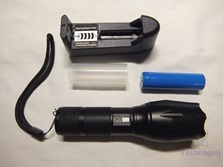 I have a thing for flashlights, I don't know why really, I just like to collect them, I have all sorts of them, different shapes and sizes and of varying brightness. Today for review I've got a flashlight kit from a company called TruPath and in the kit you'll find battery, flashlight, adapter, charger and even a sturdy padded carrying box. The flashlight itself is waterproof and very well made of aluminum so it should be able to stand most any conditions. The flashlight is rated for 2500 lumens but I highly doubt it's that bright, my 1000 lumen one is brighter, but it's still a bright light though, more than bright enough for any uses. Read on to learn more…

Specifications and Features
TruPath Brightest High Power LED Flashlight w/ Rechargeable 18650 mAh Battery & Adapter- Ultra Bright 2500 Lumens – Waterproof, Zoomable Torch – Best Tactical Flash Light for Camping/Blackouts & More
THE POWERFUL LED FLASHLIGHT YOU'VE ALWAYS WANTED
Light your way through that camping trip, home blackout, or tire change with the brightest
LED flashlight around! With a mix of tough design, straightforward functionality, long battery
life, and a cutting-edge optic system, the TruPath rechargeable flashlight is the last you'll need to buy.
– Shopping for the brightest flashlight in the market?
– Interested in a product durable enough to weather all your adventures?
– Want a flashlight you can easily carry around the place?
Then you'll love this high powered LED flashlight!
Most flashlights max out at 900 lumens. Ours manages to produce an unmatched 2500 lumens!
And it all has to do with our cutting edge light system. We've fitted this flash light with the latest
Cree XML T6 LED and a hi-tech focusing optic system, giving you incredible lighting power in
your hands.
Here are more reasons why this torch is a must-have:
– Features 5 lighting modes (high/medium/low/strobe/SOS).
– Adjustable telescopic handle for a spotlight or floodlight beam.
– Made with aircraft-grade aluminum for superior durability.
– 18650mAh lithium battery allows up to 8 hours of operating time.
– Adapter allows you to easily use 3 x AAA batteries (not included).
– IP68-rated waterproof design makes for safe use in the rain.
– Compact and lightweight build complemented with a wrist strap.
Price: $13.99 (from Amazon at time of review)
The Review
Let's start with a video unboxing and overview and move on:
The TruPath flashlight kit comes in a plastic box with locking clips on the front and foam padding on the top and bottom. It's fine for what it is, the box doesn't seal or anything but for storage it should do fine to protect what's inside.
Once you get everything unpacked you'll find the flashlight, charger, battery, and battery adapter.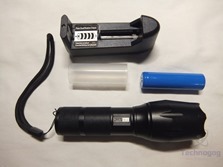 The charger is pretty much like all the other chargers I've seen that come with LED flashlights, it's spring loaded to hold the battery and the prongs fold in and out for storage and use.
The included battery is 2200mah in capacity which is fairly decent and should offer long run time. They do include a clear plastic adapter as well for you.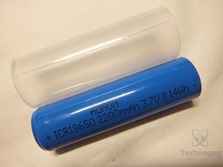 The flashlight is made of aluminum and it feels sturdy and well made. The light does have a wrist strap attached to it when you get it and the flashlight is supposedly waterproof, IP68 rated actually. IP68 means it's dust proof and it can be submerged under up to 1.5 meters of water for up to 30 minutes. It's safe to say you'll be able to use the flashlight on a rainy day and not worry about it.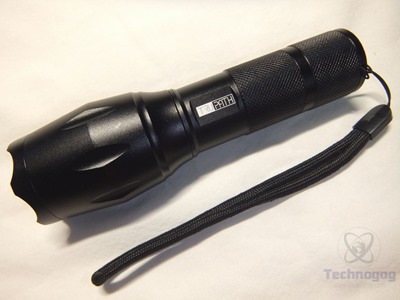 The flashlight is just under 5.5 inches long but the front extends in and out to focus the beam from flood to spot and when extended the flashlight is 56 inches long.
The front comes off so you can clean the lens if need be and I'm happy to say there is a rubber gasket in the front to keep the weather out. The lens is plastic and not glass though.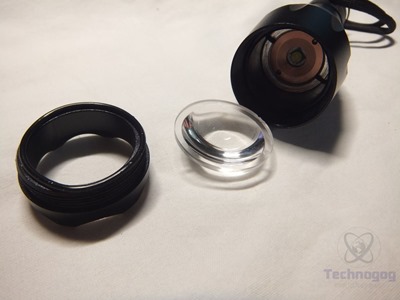 On the back end is the button, just a push button, rubber covered and it clicks audibly. The flashlight has modes for high, medium and low along with strobe and SOS as well. When you remove the tail cap you'll find another rubber gasket to keep water out and then inside of the flashlight is the three AAA battery adapter.
The charger has an LED on it that lights up red to indicate charging and then turns green to let you know it's done. Charge time depends on how much you use the battery of course, it took a good 8 hours to charge for me the first time.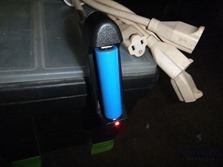 Conclusion
The TruPath LED flashlight kit isn't bad especially if you consider the price, it's only $14 right now on Amazon and I don't think that's too bad for the whole kit. It would make a nice gift for the outdoor type person or as a gift for emergency use to keep in the home or vehicle.
The storage box is a nice addition, you can just toss the whole thing in your car or bag and the flashlight will be safe.
The flashlight has rubber seals on both ends, which I'm happy to see as they will keep the water out. Lots of flashlights claim to be waterproof but after inspecting them you won't find two seals, only one.
I really have to question the 2500 lumens claim on this flashlight, I have 1000 lumen flashlight and it's much brighter than this one is.

Pros:
+Inexpensive
+Rubber seals on both ends to keep water out
+Includes AAA adapter
+Includes storage case
Cons:
-Not even close to 2500 lumens
| | |
| --- | --- |
| Grading | Scores Out of 10 |
| Overall | |
| Design / Aesthetic | |
| Value / Price | |
| Performance / Usage | |
Disclosure: This product was given to me for review by the company for review purposes only for free or at a discounted price.
To learn more about our review policy please visit this page HERE.