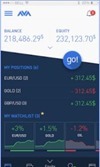 There is no doubt that online trading has become one of the most popular forms of investing money, and with good reason. The amount of choice it offers in terms of trading different markets is vast, and inexperienced traders can learn to trade properly with the piles of free educational material which now exists online.
AvaTradeGO is a mobile trading app which brings the world of online trading to the mobile device sphere, so here are some of its key features.
Trading Convenience
One of the most significant advantages offered by this innovative app is the convenience it can add to your daily trading schedule. AvaTradeGO can be used anywhere and anytime, affording traders of all different varieties a great deal more flexibility in their day to day trading routine.
It also means that dead time, such as waiting for a plane, can be put to good use, as you can manage your investment portfolio from the palm of your hand. So, the app essentially makes it possible for traders to ensure that their portfolio is with them wherever they go.
Market Analysis
As any seasoned veteran of trading will know, analyzing the markets is an essential part of the trading process, as without market information you are essentially gambling. AvaTradeGO offers a number of different tools for analysis which are both precise and up to date.
This means that traders can enjoy reading the markets and predicting future trends with ease and in real time, and the Market Trends feature can greatly help with this endeavor. Live price charts allow you to constantly monitor the market behavior of any given asset, meaning you can stay clued up at all times.
Demo Account
Another benefit of this app is that inexperienced traders can open a demo account on it, without having to sit behind a desktop computer for hours. A demo account allows you to practice trades without ever having to invest any real money, and having one in app format allows you to quickly learn the ropes during your spare time.
This is a unique feature, and it is not just aimed at inexperienced traders. Those traders who wish to explore new markets/market behaviors can also make good use of a demo account, so having this in the form of an app can really help to enhance the overall trading experience offered by AvaTradeGO.
Usability
The ease of use of this app really shines out, as the dashboard from which you access the main features is simple in nature, yet has everything you need to get started trading. User experience is undeniably an important aspect of any app worth its salt, and it is fair to say that AvaTradeGO excels in this respect.
With a slick design and an engaging format, the app offers traders an engaging and smooth trading experience, whilst allowing them to access all its features with ease.
So, AvaTradeGO is certainly one of the apps to look out for if you're serious about trading, and is sure to fulfill all your trading requirements.