Today for review I've a product from a company called Love Cases, and by the name you might guess they're all about cases to hold your stuff and protect it. They sent me over the Tuff-Love e-Volve Tuff Shell compact camera case for smaller cameras. It's not for any specific camera, just up to a certain size of them so it can work with many cameras out there today. The case is a hard shell style to fully protect your camera from drops and possibly getting crushed, within reason of course.

As usual we start with the packaging, nothing special here though, the case on a plastic backing wrapped in a plastic bag.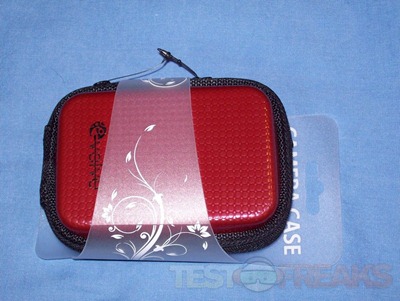 The case is red in color as you can see, it's actually called 'Claret Red'. The top has the e-volve logo on it and the bottom is plain. The case does have a texture to it, it looks like a bunch of circles to me. The case is a hard shell style, so you can push on it and there isn't much give so it should protect your camera from crushing possibly. It should protect from maybe sitting on it, or putting or dropping something on top of it, but you couldn't exactly run it over with your car.
The case has dual zippers on it and you'll notice a small ring on the top edge as well.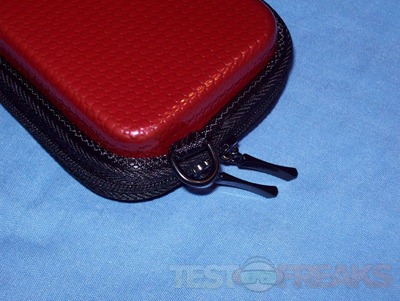 When I opened up the case I found a carabineer inside, that's what the little ring is for.
Opening up the case you'll find a soft surface that shouldn't scratch your camera or the LCD display. I like the sides that expand on the inside of the case, these are nice as your camera can't just fall out easily. This case is also designed in a way that the zipper won't ever touch your camera which is a great feature as it won't damage it.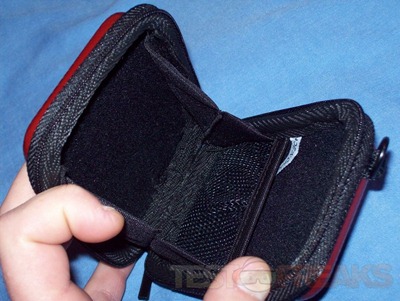 There's also a small mesh pocket inside for an extra memory card possibly.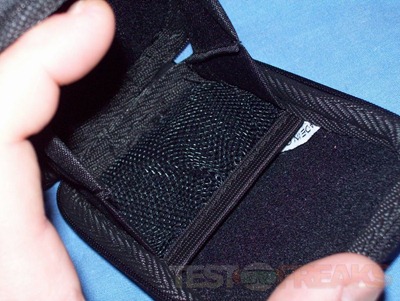 Specifications:

Tuff-Luv e-volve Tuff-Shell compact camera case
The E-volve Tuff-Shell from Tuff-luv is designed to be as attractive as possible whilst being as durable as possible. It's tough outer shell is designed to withstand blows, bumps and knocks. It's splash protection shields your compact camera from spilled beverages and other fluids. The soft material inside prevents scratches to your device whilst in-transit and also when being removed and inserted.
Inside the case you'll find an internal storage pocket for memory cards. On the back there is a carabineer belt clip for attaching the case to your belt, a bag or even a neck strap.
Compatibility: Supports devices up to 102 X 75 X 40 mm
Price: £14.99 / $23.76
It's a compact style camera case so I put one of my compact, point and shoot cameras in it.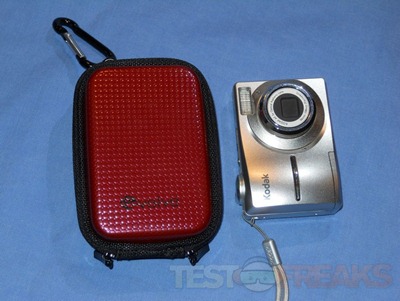 It's a tight fit in the case, but that's good I think as it won't move around a lot.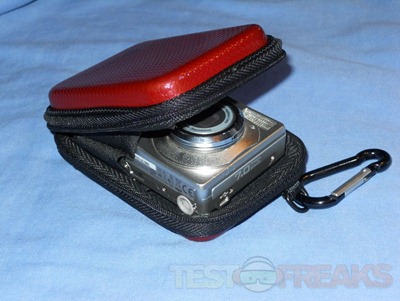 I like this case, I think it will do a decent job of protecting my camera from accidents. I can just toss it in my bag or right on the seat of my car and not worry much about something bad happening to it. Anything is better than the little bag I was using before though.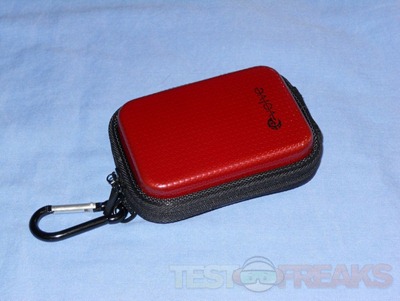 The only small complaint I could have is that there isn't  strap on it, but I think this is the kind of case that doesn't really need one as it's more meant to go inside of something else like you bag or purse and protect your camera.
I think it's one of the nicer camera cases I've come across, and I've owned a few of them in my time.
Conclusion:
The Tuff-Love evolve Tuff-Shell compact camera case is good a case I think. It has a sturdy out shell that should be able to protect your camera well from accidental bumps or possibly getting crushed. The inside of the case is soft and shouldn't scratch or damage your camera housing or its LCD screen. The case is fairly basic, but it's got some nice features, some thought went into the actual design of it I'm sure.
The price is about $24, and I think that's about right. It's a decent quality case that should last a while and protect your camera well.
Pros:
+Well made
+Solid case will protect camera well
+Soft inside to prevent scratches on camera or LCD
+Includes pocket for battery or extra memory card
Cons:
-No strap included
| | |
| --- | --- |
| Grades: | |
| Overall | |
| Design | |
| Performance | |
To learn more about our review policy please visit this page HERE.