Our cellphones have become much more than something just to talk to people with, they've become a source of information and entertainment. Having your phone on your desk is nice, but having it visible in a dock say is even nicer. You can charge and sync and see what's going on or use it to watch a movie or listen to music while you work. The HTC Titan is a big phone and it's a nice phone, the display is great for watching Netflix or other media but doing these things drains the battery. If you're going to be using it at your desk you could get a dock like the one I have for review today that will prop your phone up at an angle, charge it and let you sync as well. The product is from our friends and Mobile Fun and it's aptly named the Desk Dock for HTC Titan. So read on to learn more…

The dock just comes in a plain white box and it's wrapped in a plastic bag.
Inside of the box you'll only find the dock with UBS cable attached to it. The cable isn't removable.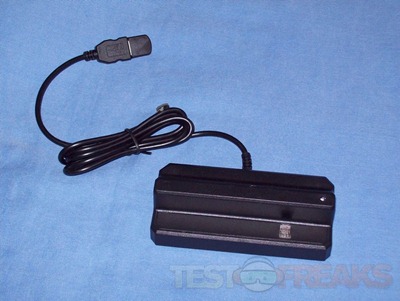 It's just a standard USB cable and it comes with a protective cover for the USB connector.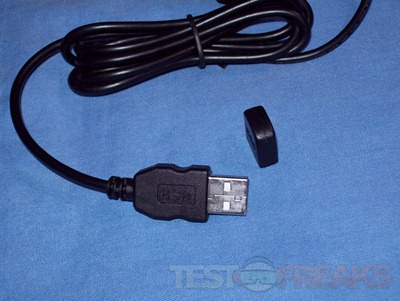 The dock is basically an inverted 'T' shape with a male microUSB connection on the front for the phone to connect with. There's also an LED indicator on the top edge. it's plastic and it's rather lightweight honestly.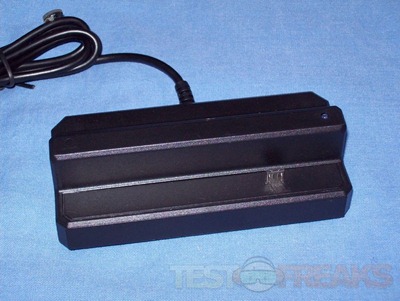 On the back edge you'll see where the UBS cable comes from and a female microUSB connection.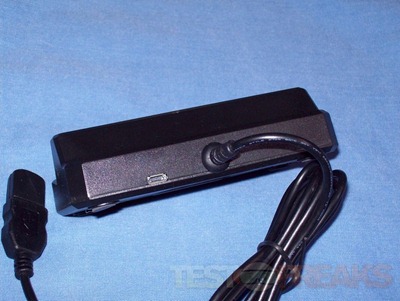 On the bottom is the identification label and four rubber non-slip feet.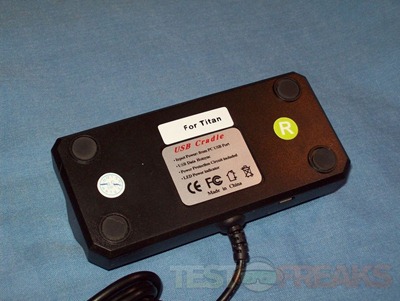 Specifications: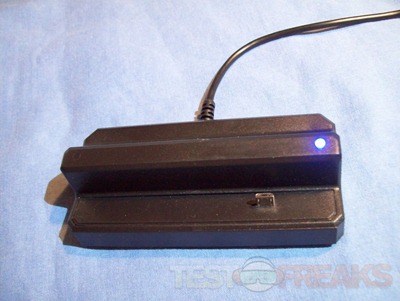 Here's my Titan on the dock from different views: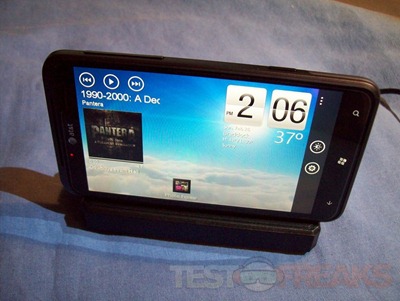 I also have the official HTC Titan dock, here's both of them together for comparison:
As you can see the HTC branded dock is larger and honestly looks nicer with its glossy finish. On the other hand though, that glossy finish attracts fingerprints and dust much more quickly than the flat finish of the Desk Dock. Picking them both up, you'll immediately notice a weight difference, the HTC dock is probably 2-3 times heavier than the Desk Dock and the HTC dock is larger. The downsides with the HTC dock are that it does not come with a USB cable and it's much more expensive, it costs twice as much.
The HTC dock also fits the Titan much better, it's a nice tight fit whereas the Desk Dock is smaller and basically it's just the microUSB connection that holds the phone in place. The HTC dock actually forms to the phone to support the phone itself.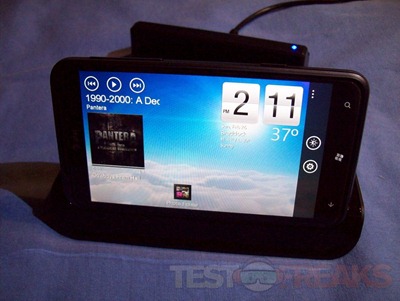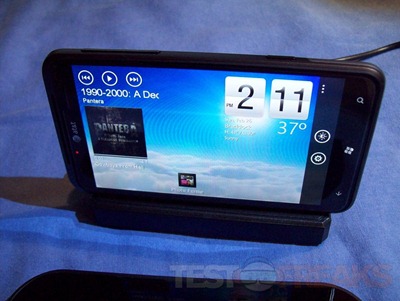 Neither dock can be used when I have a case on my Titan sadly. This can be annoying taking the case on and off every time you want to use the dock.
The specs mention that you'll need to connect a microUSB cable to the dock for syncing, but I found I didn't have to. The Zune software recognized my phone and was ready to sync just using the built-in USB cable.
Conclusion:
The Desk Dock for HTC Titan isn't a bad little product but it's not exactly a great one either. When compared to the official HTC Titan dock you'll find they both have strengths and weaknesses that you'll have to take into account if you're in the market for something like this. 
It is much less expensive than the official HTC Titan dock but the quality is nowhere near the same, you get what you pay for as it were.
I like the idea of a dock for my phone but personally I just don't like the hassle of having to take my phone out of its case every time I want to dock my phone. I've been using these docks for a while and a few times I've left the house without putting the case back on, and for me that's a no-no as I like to have my phone protected at all times.
Pros:
+Includes cable
+Syncs and charges
+Inexpensive compared to official HTC Titan dock
+Simple and easy to use
Cons:
-Lightweight
-Smaller than phone
-Can't use dock with case on phone
-Not exactly a tight fit
| | |
| --- | --- |
| Grades: |   |
| Overall | |
| Design | |
| Performance | |
To learn more about our review policy please visit this page HERE.