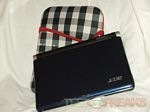 Today I've got a quick review for you of a product from a company called Uniea. They've recently introduced a new line of sleeves for netbooks called the U-Sleaf, January 4th actually and they have an MSRP of $19.99. These are made from neoprene and can be used alone or you can put them in a bag, but what makes them special is that they are reversible. The U-Sleaf I have today is is black and white on one side and solid red on the other. It's a simple product that will offer basic protection for your netbook from scratches and minor bumps. The U-Sleaf doesn't have any zippers or pockets, you just slip your netbook inside and you're ready to go.

There's no fancy packaging, it's just a large zip style vinyl bag. It's clear so you can see the sleeve through it.
The sleeve itself is nice and soft on both the inside and out as is to be expected since it's reversible. The one I got for review is a black and white checker pattern or plaid really on one side while the other is solid red.
There's just a fold or flap of material that keeps the U-Sleaf closed. It's neoprene so it's elastic and once you're netbooks is inside it's held tight.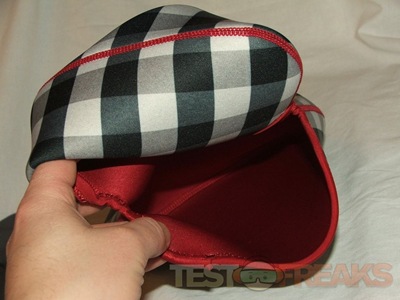 Specifications:
SIZE: W 280 x H 31 x D 195(mm)
WEIGHT: 2.8oz (80 gram)
MATERIAL: Neoprene
FEATURES:
* Fashionable, stylish design
* Lightweight neoprene construction
* Secure curve-shaped flap
* Stands alone or in your bag
* No more scratches for your laptop
Price: $19.95

So I stuck my Acer Aspire One D250 inside of the U-Sleaf to check it out, it fits nice and tight on the Aspire One.
As far as testing well, I put it in a bag with my other stuff, I took it with me in the car as is, just tossed it on my seat and my netbook seems no worse for wear. You have to remember it's not meant to offer full protection like a case or bag would, it's just a simple and easy way to protect your netbook from scratches when you don't want to carry a full sized case with you. If you want to travel light then this is the way to go. The U-Sleaf doesn't add really any bulk to your netbook so it will fit in other bags if need be. It's a nice way to add an extra layer of protection to your netbook.
Conclusion:
The U-Sleaf is one of those products that is simple and easy to use, there's not much to it, but it will get the job done.
It should offer good protection for your netbook from scratches from daily use. No It won't offer the protection of a full case, but that's not the point of it, it's a way to easily carry your netbook with you without the bulk of a case. If you just want to take your netbook with you and nothing else, then this would be a perfect way to do it.
I do like the fact that it's reversible so you can change the color or pattern depending on what mood you're in.
Pros:
+Seems well made
+Easy to use
+Should offer good protection for your netbook
+Reversible
Cons:
-None really
| | |
| --- | --- |
| Grades: | |
| Overall | |
| Design | |
| Performance | |
This product was given to technogog for review by the company for review purposes only, and is not considered by us as payment for the review, we do not, and never will, accept payment from companies to review their products. To learn more about our review policy please visit this page HERE.