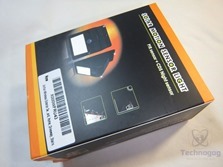 I've got a quick review for you today of another solar light from a company called Unifun. I like solar lights as no wiring needed and it's just easy to add light where you need it. This light though has some issues, it arrived with a broken LED, it's not very bright really, the sensor it overly sensitive and now it just stays on all the time and never turns off. So not off to a good start, read on to learn more..,.

Specifications and Features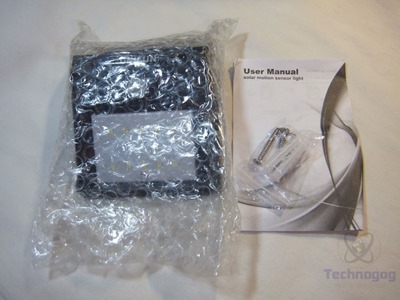 The light is triangle shaped with the solar panel on the top and the LED array on the bottom. There are 10 LEDs for lighting and above them you'll see the sensor and next to that is a tiny hole and inside is the main power switch to activate the light as it's powered off during shipping. Aesthetically it's not bad looking, it's a dark brown in color, almost black really and it's plastic but seems fairly well made for what it is.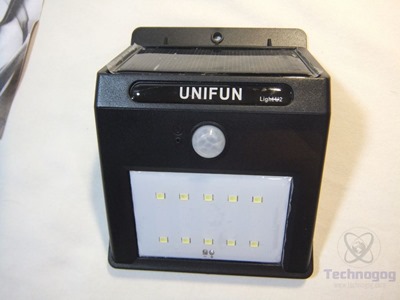 The back of the light is just plain, nothing there, just the back.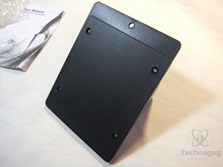 Just sitting at my desk for this review I found I could cover the sensor to simulate darkness and the LEDs came on and I noticed one of the LEDs was not working so that's not a good start. The light from the LEDs is very bluish and not really white at all.
Installation was fairly easy since there's only one hole for mounting but you may need extra tools like a drill as I did depending on where you're mounting the light. I installed the light off to the side of our house where we keep the garbage cans as we needed some extra light there as the porch light doesn't really illuminate that area. We live up on a hill and the front of the house and part of the sides is unobstructed and we get lots of sun the majority of the day so the solar panel charged just fine. I have other solar lights as well and they work and charge fine and I do have a bit of experience with solar products and proper placement for charging them.
Conclusion
The Unifun light seems well made for what it is, but sadly it really doesn't work as advertised, it's just not very bright and it arrived with one broken LED to start with.
I've had this light installed for almost a month now as I like to really test things like this before reviewing them. The first thing I noticed is that it's not very bright at all and doesn't provide as much light as I thought it would or should. The next thing I immediately noticed is that the LEDs give off a very bluish color light that I don't much care for really.
The first few days the light would constantly go on and off as it seems the sensor is just overly sensitive, there are bushes there and it seems when the wind blows they move and it sets off the sensor. After about two weeks I noticed that the light just never goes off, yes it just stays on now all the time once the sun sets and the sensor doesn't seem to do anything anymore and now it's much less bright than it was when I first installed it.
The specs say it should last for 12 hours, it doesn't, I get up at 4:30am so it's still dark and it's off most days and doesn't come on with motion as I've checked it several times. I know it's getting enough sun to charge the battery so that's not the problem there.
So overall from my testing this just isn't a good product in my opinion. I like solar lights, I think they're useful, but this one isn't sadly.

Pros:
+Seems well made
Cons:
-Doesn't last 12 hours
-Not very bright really
-Sensor is too sensitive
-Broken LED upon arrival
-Never shuts off at night
| | |
| --- | --- |
| Grading | Scores Out of 10 |
| Overall | |
| Design / Aesthetic | |
| Value / Price | |
| Performance / Usage | |
To learn more about our review policy please visit this page HERE.