Ok, first review of the New Year and it's a keyboard. It's not just any keyboard though, it's the Ultra-Slim Bluetooth Mobile keyboard from Verbatim. This keyboard is very thin and portable and it features the standard keys along with many special function keys as well. It can be used with Apple devices and many Android ones and any other Bluetooth device that supports HID profiles. This little keyboard is great for those that aren't yet quite accustomed to typing on a touchscreen and/or prefer typing on a real keyboard.

The keyboard comes in a small little box with pictures and specs on it.
Unpacking everything you'll find the keyboard, user manual, carrying case and USB cable.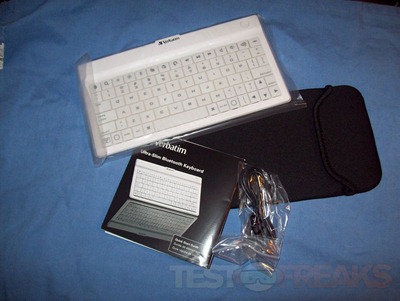 The UBS cable is the microUSB style like that used on most phones these days and it's used for charging.
The case I believe is neoprene, it's stretchy and provides a bit of protection for the keyboard.
The keyboard I got is white, but you can get it in black as well. There's only one button on the top, it's for pairing. It's a mobile keyboard so it's small with dimensions of about 8.75" x 4.75". At the thickest part, the top, it's about 1/4" thick.
The keyboard has all the normal keys along with function keys across the top and there's even a set of cursor keys in the right corner. There are keys for lock, search, brightness, cut, copy, paste, refresh, multimedia keys and ones for volume.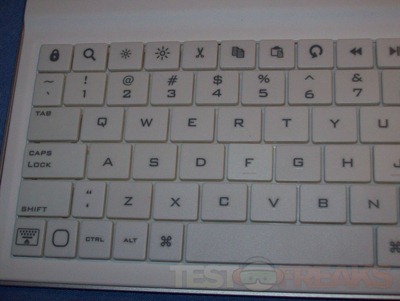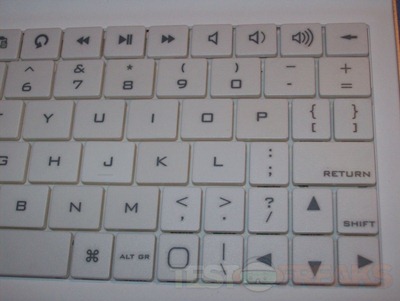 The back or base of the keyboard is metal and it has two small feet near the top edge. The metal is very stiff and the keyboard doesn't bend at all. I would think it would hold up very well inside a bag while transporting it. Overall the keyboard is nicely made I think.
On the top edge is where you'll find the microUSB port and the on/off switch.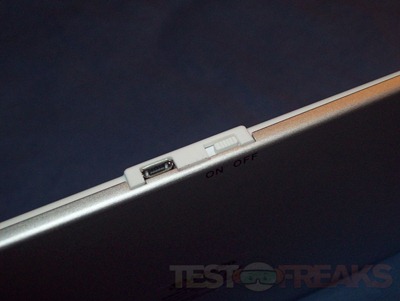 Specifications:

I don't have an iPad but I have Android devices. I used the keyboard with my Samsung Captivate phone and I also used it with my Le Pan TC 970 Android tablet. It worked fine with both of them, I especially liked it with the tablet. Connectivity was tricky as you create your own passkey and I hadn't even realized it so I was a bit frustrated until I did, but I got it connected and it works well.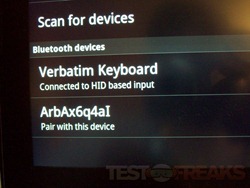 The Satechi stand I recently reviewed paired nicely with the Verbatim keyboard and my tablet.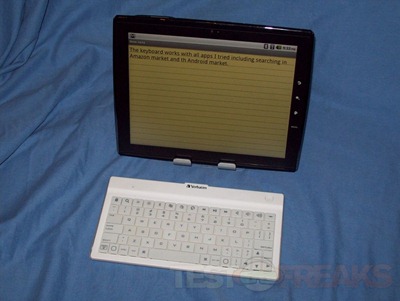 Every app I tried the keyboard with worked fine, I could type with no issues.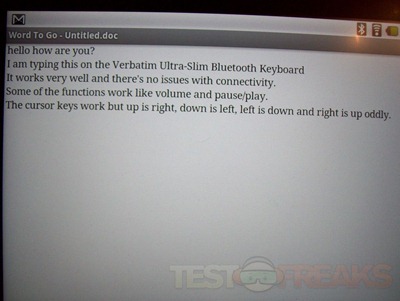 I did find that not all of the function keys worked but I didn't expect things like copy and paste to work. The volume buttons along with multi-media and even the search buttons did work for me.
Out of curiosity I tried it with my PS3 and it worked fine and I found the keyboard has decent distance, I could type from across the room.
The Ultra-Slim keyboard is small yes so it will take quite a bit to get accustomed to typing on it.  I honestly type faster on the touchscreen now than I could with the Verbatim keyboard but that's to be expected as I've got a lot of experience with the touchscreen.
The Verbatim keys are small and are close together so this does make typing difficult and I made plenty of errors while typing.
Most mobile keyboard I've run across are plastic and rather cheap honestly, so it's nice to see one that's so well made really.
So it's a quick review as there's not much really else to say about this product, it works and meets all of my expectations and even exceeds some of them.
Conclusion:
For a mobile keyboard the Verbatim Ultra-Slim is very sturdy, the metal backing really helps I think. Most keyboard are all plastic these days so it's nice to see one that's this well made. The keyboard works fine with the mobile devices I tried and even with my PS3 so that's a nice bonus. This keyboard can be used with virtually any Bluetooth device, at least those that support HID profiles anyway.
The cost is a bit on the high side maybe, but it is quality made and not some cheap plastic thing so it's worth it.
You will need plenty of practice typing on it as the keys are small and close together, but it's worth the time.
The carrying case is a nice addition as it will protect the keyboard while you're not using it or while traveling with it.
Pros:
+Very thin and lightweight
+Includes carrying case
+Works with Android devices
+Works with PS3
Cons:
-Not all functions work with all devices
| | |
| --- | --- |
| Grades: |   |
| Overall | |
| Design | |
| Performance | |
To learn more about our review policy please visit this page HERE.